FEBRUARY 2021
Since the last edition of the RCC Coasts and Ocean Observer, we have entered a new year and inaugurated a new president. While we celebrate newfound hope for ocean and climate action, we also aim to bring 2020's many layers of ocean news to the surface. One good thing from 2020: long-overdue efforts were made in promoting diversity and inclusion in marine science, with multiple campaigns over the past year celebrating Black representation in science.
On a much less positive note, record amounts of plastic pollution entered the ocean as single-use plastic disposal spiked during the COVID-19 pandemic. Other 2020 records unfortunately include record-high ocean temperatures, spelling trouble for temperature sensitive marine organisms such as corals and stirring up an unprecedented number of hurricanes that made landfall in the U.S. For more of the past year's top ocean news stories, check out this list curated by marine scientists from the University of California, Santa Barbara.
Despite grim numbers of ocean heat and plastic pollution, we hold renewed hope for ocean conservation and justice as the Biden administration establishes a new ocean-climate agenda.

During his first few weeks in office, Biden committed to pausing offshore oil and gas leases, protecting 30% of federal lands and ocean from development by 2030, and reviewing the Trump administration's efforts to open monuments such as the Northeast Canyons and Seamounts to commercial fishing. Biden has also committed to coastal restoration and doubling offshore wind energy by 2030. While we still have a ways to swim, change glimmers on the horizon.
RECENT NEWS
2020, New President, New Hope for our Ocean
President Biden Stands Up for the Ocean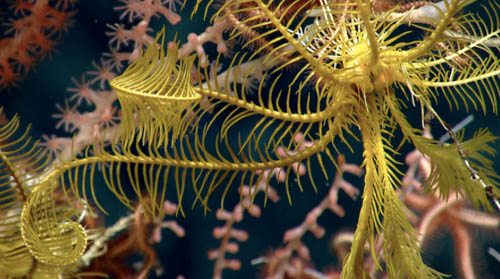 Common sense and science appear to have returned to United States environmental policy. In a flurry of executive orders during his first weeks in office, President Biden has committed to pausing oil and gas leasing on federal lands and offshore areas, rejoining the Paris Climate Agreement, reviewing the Trump Administration's efforts to shrink national monuments, and pledging to protect from development 30% of federal lands and ocean by 2030.
These are all momentous steps forward after four years defined by climate denial and scorn for science. The day one executive order to review the boundaries and conditions of several monuments, including the Northeast Canyons and Seamounts Marine National Monument, is an especially critical step. Taken together with the order to protect 30% of the ocean, there is certainly reason for optimism about the future of this vital resource. Read more at Our Daily Planet
The Ocean Under Biden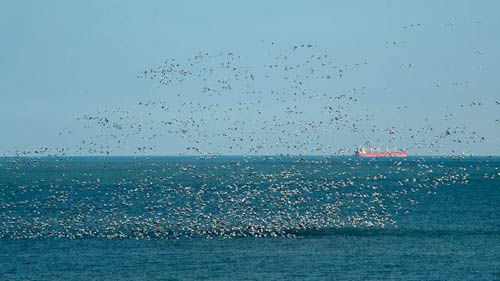 In 1890 the Census declared the frontier closed but in 1983 President Ronald Reagan established a new frontier, an Exclusive Economic Zone (EEZ) stretching 200 miles out from America's shoreline. At 3.4 million square miles it's an area larger than our continental landmass.

Unfortunately for almost four years President Trump has treated the nation's ocean frontier as little more than a gas station and a garbage dump as he attempted to open up 90 percent of U.S. coastal waters to oil and gas drilling despite bipartisan opposition from governors of coastal states. His administration also undermined environmental laws and regulations from clean water standards to mercury emissions in ways that continue to threaten U.S. coastal jobs, wildlife and seafood.
So, what can we expect from a Biden-Harris administration when it comes to our public seas and blue economy that's worth an estimated $373 billion? Read more at The Hill
An Ocean and Climate Agenda for the New Administration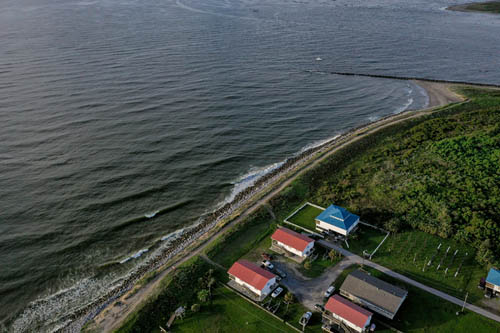 Climate change is having profound effects on the ocean, as scientists have extensively documented. Coral reefs are dying, rising seas are flooding coastal communities, and fishermen are seeing their livelihoods threatened as fish seek cooler water. The ocean, however, provides opportunities to fight back. Globally, ocean-based climate solutions have the potential to provide up to one-fifth of the reductions in greenhouse gas emissions necessary to limit the world's temperature rise to 1.5 degrees Celsius, which scientists say is necessary to lower the risks associated with warming.
The next administration should take the following 20 steps in its first 100 days in order to recommit to climate leadership, reduce emissions and improve the United States' climate resilience, decrease pollution and increase fuel efficiency, and protect marine life and the national ocean economy. Read more at Center for American Progress
Oceans and Climate Change
WRI Gives Countries a Step-by-Step Guide to Ocean-Based Climate Action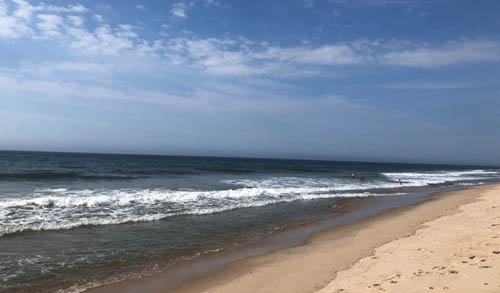 A new paper released by the World Resources Institute (WRI) in collaboration with seven other environmental organizations outlines the ways that the ocean, often thought of as a victim of climate change, can be utilized to best combat global rising temperatures. Researchers identified four main sectors with high potential for the mitigation of carbon emissions as well as other economic and environmental benefits: marine conservation, oceanic and coastal fisheries, marine transport, and ocean-based renewable energy.
Why This Matters: We've written a lot about how the sea level is rising, and the ocean is warming, fueling stronger storm systems, and declines in biodiversity. WRI's comprehensive guidance on how the ocean can still be a major player against climate change offers a breath of fresh air. Read more at Our Daily Planet
Climate Change Pushed Ocean Temperatures to Record High in 2020, Study Finds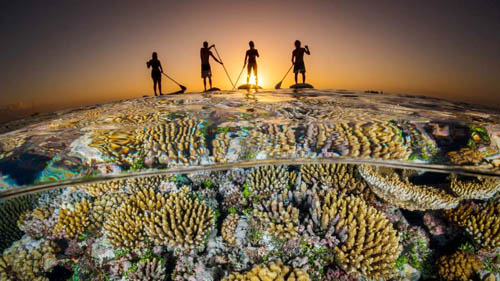 The world's oceans absorbed 20 sextillion joules of heat due to climate change in 2020 and warmed to record levels, a study has found.

That quantity — expressed numerically as 20,000,000,000,000,000,000,000 joules — is equivalent to the energy from 10 Hiroshima atomic bombs being released every second of the year.
Report co-author Kevin Trenberth, from the US National Center for Atmospheric Research, said oceans absorbed more than 90 per cent of the solar energy trapped by greenhouse gases.
"There's a tremendous amount of energy that's actually involved in this — it's not surprising that it has consequences," he said. Read more at ABC News
Environmental Injustice: Hog Waste Pollutes NC Waterways
Hog Farm That Spilled 1 Million Gallons of Feces, Urine Into Waterways Had Been Warned of Lagoon Problems
DC Mills Farm has familial ties to another operation that incurred a record fine.

A Jones County farm that spilled an estimated 1 million gallons of hog feces and urine into a tributary of the Trent River shortly before Christmas had been cited twice in the past year by state regulators because its lagoon was too full.
DC Mills Farms, along N.C. Highway 41 west of Trenton, received a Notice of Deficiency in February 2020 and a Notice of Violation in July, according to state environmental records.
Donnie Mills, who co-owns the farm with his wife, Christian Lanier Mills, raises hogs for Smithfield Foods. The farm is permitted to house as many as 3,520 hogs at a time. Read more at NC Policy Watch
Plastic Pollution
RCC and National Coalition Urge Biden to Stop Throwaway Plastics That Are Inundating the Oceans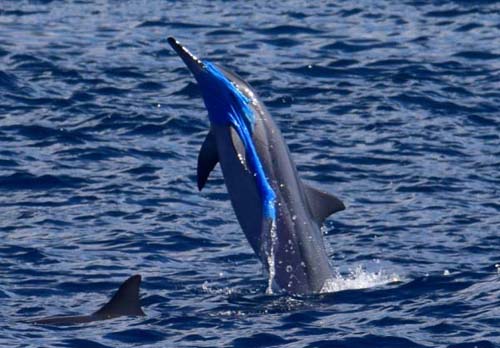 With plastics pollution rising and recycling in decline, the Rachel Carson Council, along with a coalition of more than 550 community and conservation organizations, called on President-Elect Joe Biden to shut down production of throwaway plastics, from single-use water bottles to foam take-out food containers.

In an eight-point "Presidential Plastic Action Plan" unveiled in an online conference on Tuesday, December 8, the Plastic Pollution Coalition urged the incoming administration to stop expansion of plastic production facilities and make use of up-to-date science and technology to assess the safety of plastic products in the environment and for humans. Read more at RCC
Deadliest Plastics: Bags and Packaging Biggest Marine Life Killers, Study Finds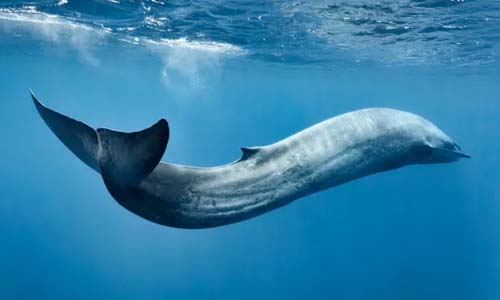 Wide-ranging review finds whales, dolphins, turtles and seabirds at mortal risk from marine debris.

Plastic bags and flexible packaging are the deadliest plastic items in the ocean, killing wildlife including whales, dolphins, turtles and seabirds around the globe, according to a review of hundreds of scientific articles.
Discarded fishing line and nets as well as latex gloves and balloons were also found to be disproportionately lethal when compared with other ocean debris that animals mistakenly eat.
The review, by the Australian government's science agency, CSIRO, found ingesting plastic was responsible for killing animals across 80 different species. Read more at The Guardian
Marine Life
Empty Seas: Oceanic Shark Populations Dropped 71% Since 1970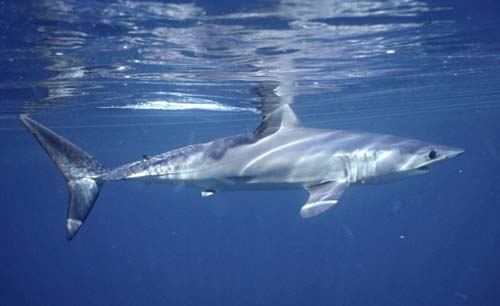 When marine biologist Stuart Sandin talks about sharks, it sounds like he's describing Jedis of the ocean. "They are terrific predators, fast swimmers and they have amazing senses — they can detect any disturbance in the ocean from great distance," such as smells or tiny changes in water currents.

Their ability to quickly sense anything outside the norm in their environment helps them find prey in the vastness of the open ocean. But it also makes them especially vulnerable in the face of increased international fishing pressure, as global fishing fleets have doubled since 1950.
"You drop a fishing line in the open ocean, and often it's sharks that are there first — whether or not they're the primary target," said Sandin, who works at the Scripps Institution of Oceanography. Read more at AP News
Rising Temperatures Driving a Shift to All-Female Sea Turtle Populations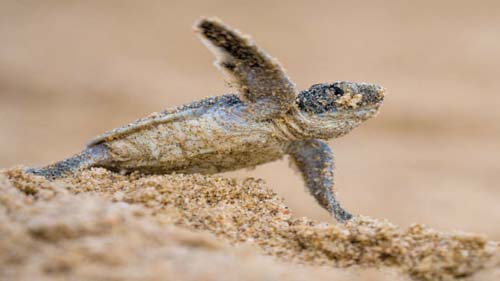 Whether marine turtles are born male or female is dependent on the temperature of their nest during incubation. As global temperatures rise, scientists have found that the sand around the Red Sea is now warm enough to cause hatchlings in the area to be born almost entirely female, threatening the future survival of the region's sea turtle population.
The region is home to five out of the world's seven species of sea turtles, including endangered green turtles and critically endangered hawksbill turtles.
Scientists estimate that sea turtle nests need to be around 29.2 degrees Celsius (84.6 degrees Fahrenheit) to produce a 50:50 sex ratio as embryos develop in the eggs. Above that temperature, embryos predominantly become female. Read more at Yale Environment 360
How Climate Change is Reducing Numbers of Humpback Whale Calves in the North-west Atlantic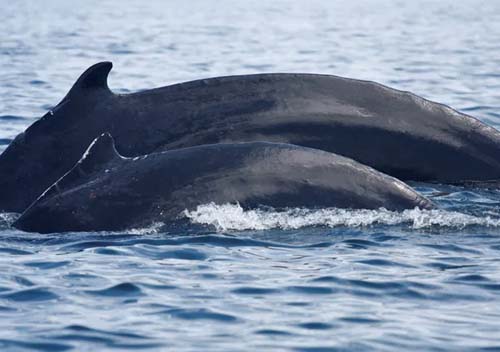 Climate change is having a serious impact on the world's oceans in various ways, ranging from its devastating effects on tropical coral reefs to melting polar sea ice. But until now, it wasn't known how these changes could be affecting whale populations.

Globally, humpback whales are increasing in numbers following the end of commercial whaling, but the populations in the northern hemisphere are not recovering to the same extent as those in the southern hemisphere. Our new research confirms that a North Atlantic population has shown a significant decline in the number of calves over the last 15 years.
The Gulf of St Lawrence in Quebec, Canada, has experienced major environmental changes as a result of warmer water and a dramatic reduction in sea ice. Read more at The Conversation
Marine Protected Areas
How Marine Protected Areas Help Safeguard the Ocean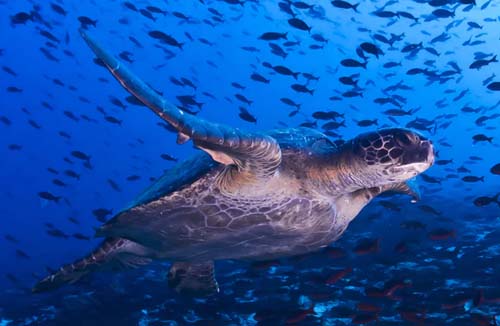 The ocean quietly unites global communities in a profound way. And yet, the ocean faces more threats today than ever before in history.

The facts and predictions are staggering. More than 25 per cent of the world's fisheries are overfished, and most are operating at a maximum sustainable level with no room for those fisheries to expand.
The rate of ocean acidification, which happens when the ocean absorbs too much carbon, far exceeds what is natural. By the turn of the century, more than half of the world's ocean species could face extinction. Read more at The Conversation
Countries Fall Short of U.N. Pledge to Protect 10% of the Ocean By 2020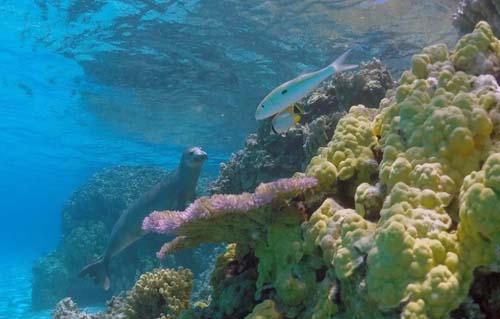 Covering a swath of ocean larger than Peru around coral reefs, golden beaches and rocky atolls in north Hawaiʻi, Papahānaumokuākea Marine National Monument is one of the world's largest marine protected areas — and the biggest in North America.

This UNESCO World Heritage Site is home to endangered Hawaiian monk seals (Monachus schauinslandi), two dozen species of whales and dolphins, and green sea turtles (Chelonia mydas), among thousands of other creatures.
Even as countries fall well short of meeting a U.N. goal to protect 10% of the world's oceans by the end of this year, marine protected areas (MPAs) like Papahānaumokuākea show what effective conservation can look like, said Aulani Wilhelm, who worked to build and manage the MPA as an official with the U.S. National Oceanic and Atmospheric Administration. Read more at Mongabay
Deep Sea Mining
Deep-sea 'gold rush': Secretive Plans to Carve Up the Seabed Decried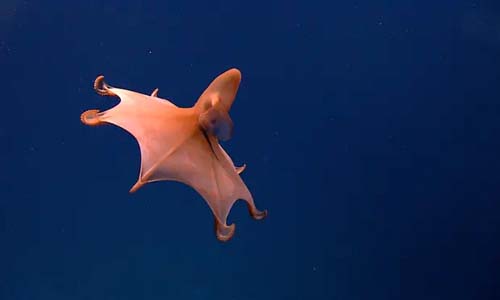 Private mining firms and arms companies are exerting a hidden and unhealthy influence on the fate of the deep-sea bed, according to a new report highlighting the threats facing the world's biggest intact ecosystem.

An investigation by Greenpeace found a handful of corporations in Europe and North America are increasingly dominating exploration contracts, mainly in search of cobalt and nickel, and have at times taken the place of government representatives at meetings of the oversight body, the UN's International Seabed Authority (ISA).
Greenpeace said this undermines effective environmental management and fair distribution of risks and rewards from the ocean floor, which some states and companies want to open up for exploitation next year. Read more at The Guardian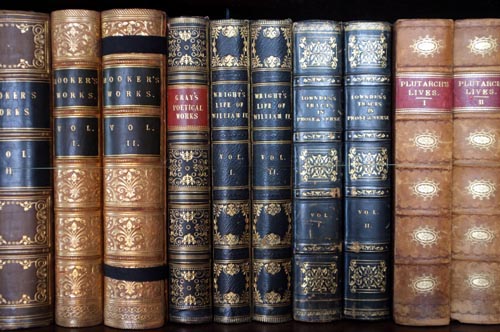 BOOK REVIEWS
The Other: Octopuses, Empathy and the Scientific Imagination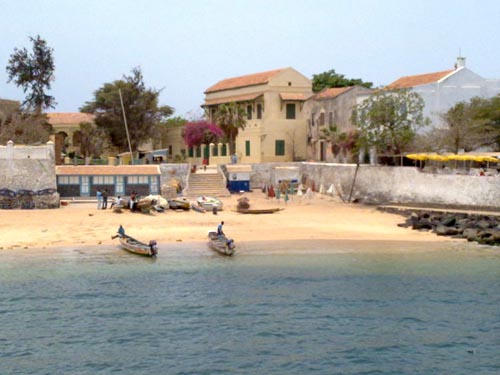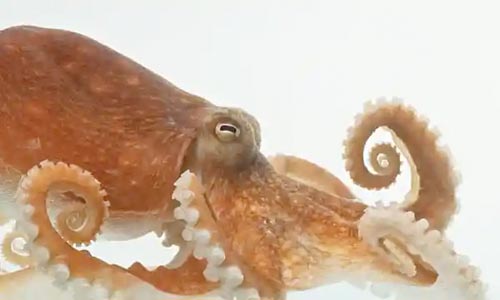 A strapping Senegalese, mask on forehead, is striding, out of sun-drenched water, smiling and dripping on a tiny beach in Dakar near the ferry to Ile de Gorée. Dangling from each hand is a wet, shining, red-brown octopus about the size of a large mop. It was the first I had seen a live octopus outside an aquarium. Thus began my serious interest in these marvelous, alien creatures who have become a symbol of intelligence in species other than human beings.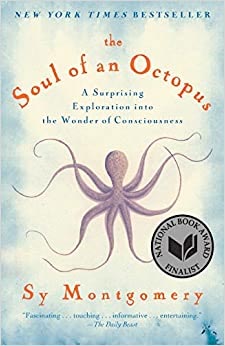 I first read about them in the much-acclaimed best-seller from Sy Montgomery, The Soul of an Octopus, which seems to have set off the current octopus craze.

Her engaging non-fiction narrative drew me in, led me to more books, more curiosity, about how this eight-armed, underwater combination of Einstein, Houdini, and the varied looks of Lady Gaga evolved. As with Rachel Carson's depictions of her unlikely leading characters, Scomber, the mackerel, and Anguilla, the eel, in Under the Sea-Wind, my fascination with the lived experience and consciousness of other creatures, however strange, increases my empathy and depends on narratives that combine wonder and imagination, cutting-edge science, and intense intellectual curiosity. These are qualities I look for in books for both general readers and for courses designed to engage non-science students, or to open up and expand the understanding and empathy of science majors.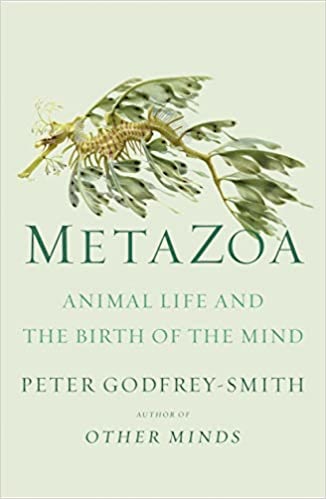 The culmination of my own explorations stimulated by the octopus is the newest and most challenging book from Peter Godfrey-Smith, Metazoa: Animal Life and the Birth of the Mind. Godfrey-Smith, the scuba-diving philosopher, has a central chapter on the octopus in which he declares that octopuses indeed have consciousness. This is not just a "response to their sheer complexity, and those active eyes with large brains behind them." Having closely observed them for over a decade, he can state that "octopuses show an attentive engagement with novelty, including novel behavior by humans, and much of what they do is not at all routine. They seem to undergo moods – stressed, inquisitive, playful."
In Metazoa, Godfrey-Smith carries off a tour de force, building on his earlier work like the intricate edifices of clam shells in the Pacific site called Octopolis. In stylish prose, he recounts the evolution of movement, action, cognition and finally consciousness in all of animal life from single-celled organisms to the different evolutionary branches that include cephalopods and humans. As he recounts the latest findings and understandings of evolution like an amiable and popular college lecturer, he entwines in his narrative how we humans, how philosophers and scientists, have thought about evolution and about thinking itself. As someone not trained in philosophy, I found Metazoa steadily opening my mind and introducing me to the history of science and philosophy. As with my introduction to the life of the octopus, I wanted to know more.
Like the more widely known E.O. Wilson in Consilience and other works, Godfrey-Smith is a materialist, a sociobiologist whose argument that even consciousness and culture are products of physical evolution is generally resisted by humanists. But his clarity and calm explanations, however challenging, touched me, trained in both the humanities and science, in ways I had not suspected when I first sat down to read.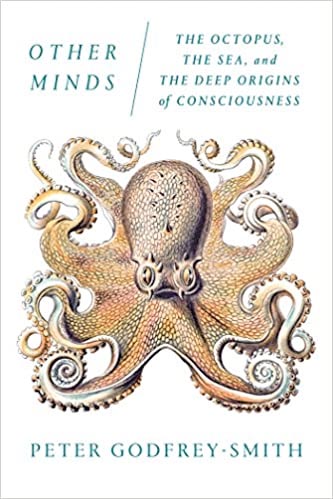 Metazoa is complex enough, however invitingly written, that is likely best used in graduate work or upper-level seminars. For undergraduates, Godfrey-Smith's fairly recent paperback edition of Other Minds: The Octopus, the Sea, and the Deep Origins of Consciousness is livelier, more focused and accessible. It remains the better choice to entice and entertain while stretching the mind and spirit with octopuses, cuttlefish and color photographs, as well as briefer, dazzling dives into evolution and the history of science and philosophy.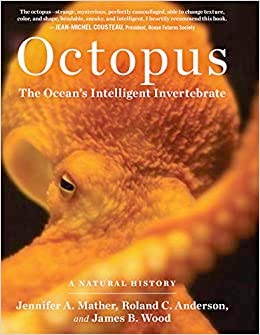 I said I began my smart octopus reading some years ago with The Soul of An Octopus. But only recently did I find out there is an earlier missing link to the rising consciousness about octopuses and underwater intelligence that came out in 2010 and is now in its seventh printing. For an introductory book on the octopus that is the ancestor of more complex species like Metazoa, Octopus: The Ocean's Intelligent Invertebrate: A Natural History by Jennifer Mather, Roland Anderson and James Wood -- a professor and two educators from aquariums – offers a swift, straightforward text with wonderful color plates. Octopus is a good way to start off those uninitiated in marine science, biology or the critical questions of whether other creatures, however strange, can think and feel and be deserving of our empathy.
—Bob Musil is the head, with Kendall Jefferys, of the RCC Coasts and Oceans Program
Environmental Thriller? Chilly Winds: A Chincoteague Intrigue by Brooks Birdwell Yeager
I worry when critical social issues like international environmental negotiations or corporate greed and pollution are available to students and the public mostly through the wonky jargon and dreary details of specialized academic courses or the weighty pronouncements of experts.
Rachel Carson penned blockbuster best-sellers, distained specialization, fought pollution and greed, and created science and policy as literature. And before she was famous, she visited, researched and wrote an eloquent and elegant booklet in 1947 on the Chincoteague National Wildlife Refuge as part of a series for the U.S. Fish and Wildlife Service called Conservation in Action.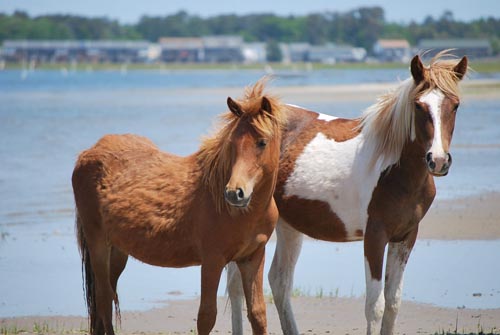 It is at Chincoteague, better known for its wild ponies and the perennially popular children's book, Misty of Chincoteague that former State Department environmental treaty negotiator Brooks Birdwell Yeager has set down his burnt out, hard-drinking, woman-loving hero, Taz Blackwell, in his fast-paced, richly plotted and nature-filled first novel, Chilly Winds: A Chincoteague Intrigue.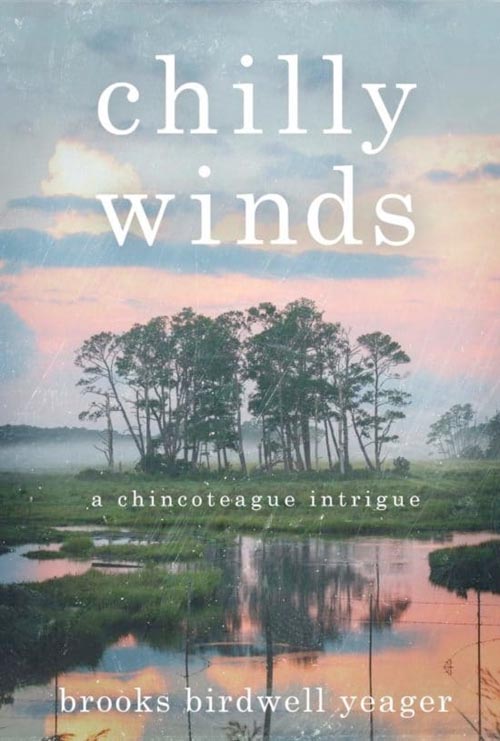 Except for the crisp writing, replete with birds, beaches and ecological detail, Yeager has produced a book and a hero poles apart from Rachel Carson's world. While romancing and trying to get sober, Blackwell uncovers clandestine efforts by a Chinese mining conglomerate interested in, and willing to destroy, the spare beauty and ecosystems of Chincoteague. And what is the connection to the Russian ambassador and his beautiful mistress who takes a more than passing interest in Blackwell? As the pace and dangers of these intrigues pick up, Yeager has Taz reveal the environmental damage that must be thwarted and neatly explain the environmental policies, negotiations and treaties that the bad guys are trampling.
Part Erin Brockovich, part James Bond, part A Civil Action, and part guide to whiskey, wine and the wonders of the natural world, Chilly Winds is a refreshing, engaging choice for interdisciplinary undergraduate environmental studies, international relations, English and creative writing, or for just reading in your favorite armchair with a glass of Taz's favorite Maker's Mark.
—Bob Musil is the author of Rachel Carson and Her Sisters; Washington in Spring; and the editor of the forthcoming annotated, illustrated new edition from Rutgers University Press of Rachel Carson's first book, Under the Sea-Wind, with his Introduction and updated marine science.
Ian Urbina, Outlaw Ocean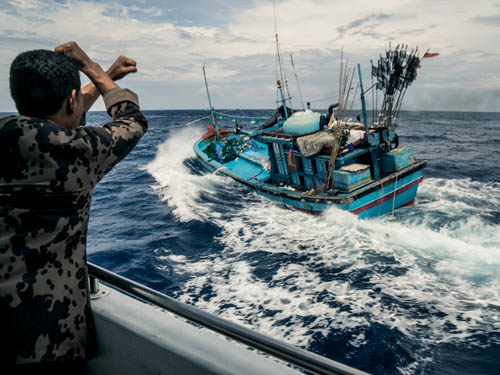 "For all its breathtaking beauty, the ocean is also a dystopian place, home to dark inhumanities. The rule of law––often so solid on land, bolstered and clarified by centuries of careful wordsmithing, hard-fought jurisdictional lines, and robust enforcement regimes––is fluid at sea, if it's to be found at all."

The oceans inspire myriad emotions: wonder, awe, reverence. Sentiments that Rachel Carson surely felt when she gazed at its watery surface from the dock of Woods Hole or traipsing tidal pools in Maine. But a lesser known darkness lurks beyond the beauty of the shores, a darkness that Ian Urbina brings to light through his sharp eye and investigative skills honed by years reporting for top news outlets such as the New York Times. In Outlaw Ocean, Urbina peers into oceanic spaces where few have ventured, exposing the mingled beauty and brutality of the ocean. Though about half of the world's population lives within a hundred miles of the coast and 56 million people work on fishing boats at sea, few are aware of the lawlessness of the high seas, which remained ungoverned. Beyond the realm of labor laws or regulations, the high seas is a place where workers are exploited, trafficked, and bound by debt. Enforcement is lacking on the high seas, allowing cruelty against human workers and marine life to proliferate undetected. Urbina reports around the world, revealing various activities taking place outside national waters: brutal treatment of trafficked workers on the high seas, Sea Shepherd's policing of illegal fishing and whaling, and cruise ships dumping oil.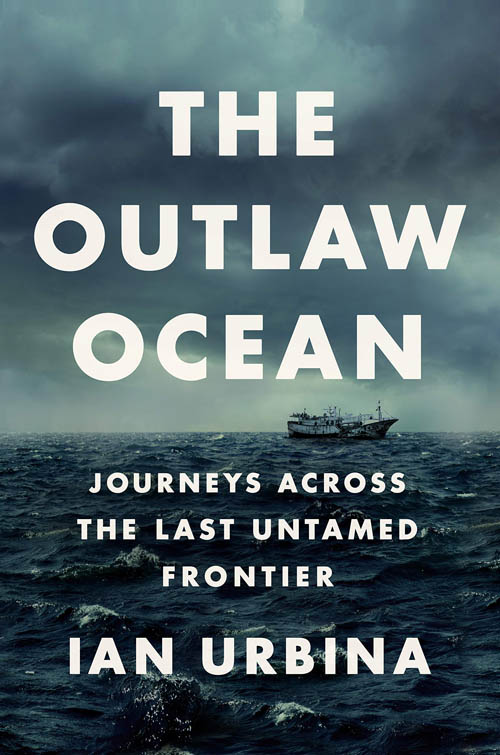 This book is not an easy read but an invaluable one that highlights the void of ocean governance, human rights, and ocean conservation on the high seas. After reading Outlaw Ocean, it is clear we cannot have one of these things without the others. "The ocean is outlaw not because it is inherently good or bad but because it is a void, like silence is to sound or boredom is to activity. While we have for centuries embraced and touted life that springs from these waters, we have tended to ignore its role as a refuge for depravity. But the outlaw ocean is real, as it has been for centuries, and until we reckon with that fact, we can forget about ever taming or protecting this frontier," Urbina writes. That said, Outlaw Ocean does not simply leave the reader with a troubling portrait of a lawless sea. Rather, the end of the book provides a list of organizations and initiatives that fill these regulatory gaps. While no one person can tackle the immensity of these problems, there are ways to help, which starts, with recognizing problems that have persisted largely unnoticed, veiled and obscured by the distance and remoteness of the high seas – a distance this book effectively shortens. Read more and purchase
In addition to the book, you can also read Urbina's reporting on the Outlaw Ocean in the New York Times.
Kendall Jefferys is the editor of the Observer, an RCC Presidential Fellow and a 2021 Rhodes Scholar.
Call for Artwork!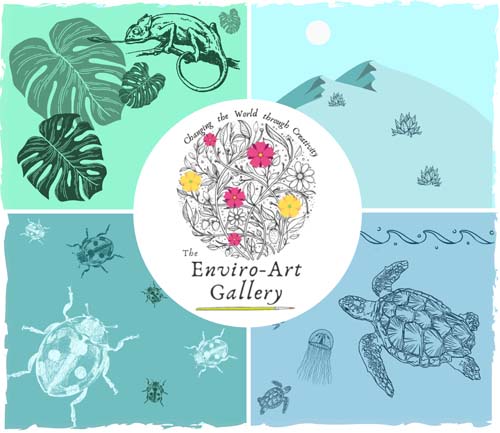 Are you an environment-inspired artist? The Duke University Enviro-Art Gallery is seeking submissions from artists around the globe!

About the gallery: Through the use of a variety of media and artistic styles, the Enviro-Art Gallery works to provide a relatable and easily absorbable method for environmental awareness and activism. This year the Enviro-Art Gallery is going VIRTUAL and GLOBAL. It will consist of a singular virtual gallery space filled with environmental artwork from around the world, testimony videos and art process videos. In April, there will be a speaker series of professional environmental artists.
This gallery accepts artwork from all artists and all types of media. If you would like to join the movement and see your work as part of a larger call for environmental awareness, submit here
Artists may submit as many pieces as they like.
Films & Events
Film: A Plastic Ocean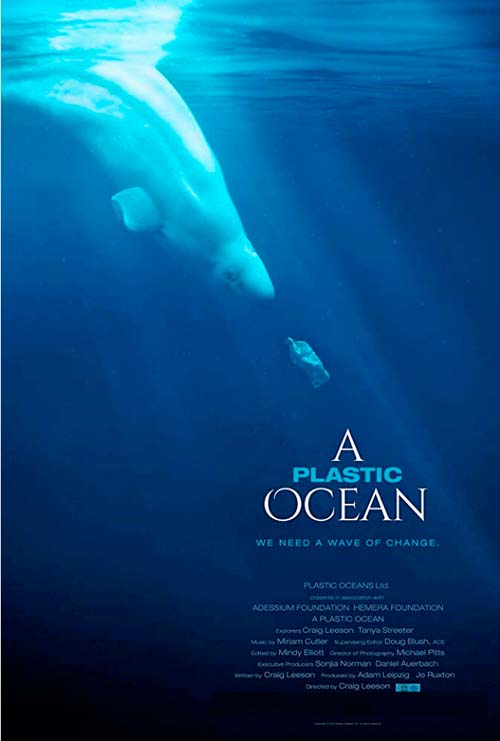 A Plastic Ocean is a new award-winning feature length documentary brought to you by a group of dedicated scientists, film-makers, social entrepreneurs, scholars, environmentalists and journalists, that explores the fragile state of our oceans and uncovers alarming truths about the consequences of our disposable lifestyle.

A Plastic Ocean documents the global effects of plastic pollution and highlights workable technologies and innovative solutions that everyone - from governments to individuals - can do, to create a cleaner and greener ocean.

A Plastic Ocean has been selected for screenings at international conferences and festivals around the world including at the Smithsonian Institute and the International Union for Conservation of Nature, where the film was seen by former US President Barack Obama and environmentalists Sylvia Earle and Jane Goodall. Click here to watch the trailer
Sea Story Time: Marine Science Through Storybooks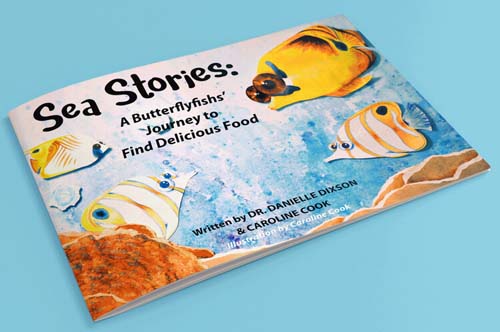 As part of World Read Aloud Day, Delaware Sea Grant Marine Education Specialist David Christopher and Dr. Danielle Dixson, associate professor at the University of Delaware's School of Marine Science and Policy and children's book author, will kick off the first of a series of three virtual events titled "Sea Story Time: Marine Science Through Storybooks."
On Wednesday, February 3rd at 10 am EST, Dr. Dixson will read her book, A Butterflyfish's Journey to Find Delicious Food. The series is appropriate for children in Pre-K through 1st grade and is geared towards individuals, classrooms, education centers, and libraries. Register here
Living Shorelines, Breakwaters and Dunes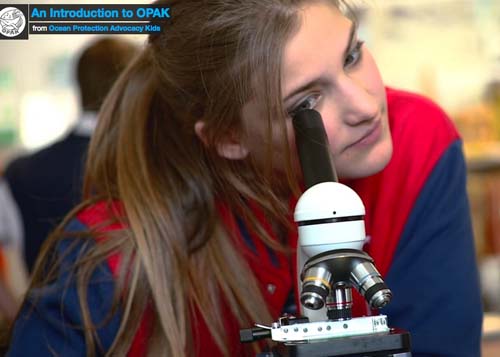 On Thursday, February 11th at 7 pm EST, join Ocean Protection Advocacy Kids for a talk by Carl Alderson a Landscape Architect/Restoration Ecologist for the National Oceanic and Atmospheric Administration (NOAA) and US Department of Commerce at the JJ Howard Marine Science Lab in Sandy Hook, NJ. Through his career, Carl has provided planning and technical design guidance to coastal habitat projects through various local, state and federal programs. These projects and programs attempt to strike a balance between human and wildlife cohabitation in highly developed urban estuaries and marine environments. Before joining NOAA in 2002, Carl led a team of NYC scientists in a decade-long effort to acquire, protect and restore tidal and freshwater wetlands, marine bird and fish habitat as compensation for natural resources damages resulting from oil spills in NY Harbor. Register here
Coral Reef Adaptation and Connectivity in MPA Networks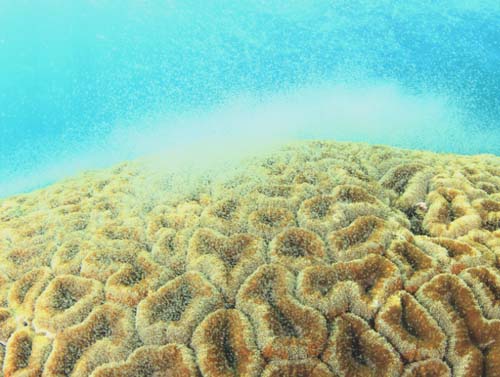 n Thursday, February 25th at 1 pm EST, listen to Helen Fox of Coral Reef Alliance, Lisa McManus of University of Hawaiʻi at Mānoa, and Lukas DeFilippo of University of Washington School of Aquatic and Fishery Sciences and NOAA Alaska Fisheries Science Center present their research on coral adaptations to climate change. Their framework was applied to coral populations in the Caribbean, Southwest Pacific, and Coral Triangle to determine the characteristics of individual reefs that lead to persistence or decline under climate scenarios and test the efficacy of marine protected areas (MPAs) in these three regions. They also used eco-evolutionary simulations to explore scenarios of coral propagation, transplantation, and assisted evolution and identified potential benefits and risks of these interventions. One implication of this work is that MPA networks can promote persistence by protecting coral populations adapted to diverse environments so that corals with evolutionarily favored traits reproduce and spread throughout reef networks. Register here
___________________________________________________________________________________

The Rachel Carson Council depends on tax-deductible gifts from concerned individuals like you. Please help if you can.

Sign up here to receive the RCC E-News and other RCC newsletters, information and alerts.