June 2021: World Oceans Day Special Edition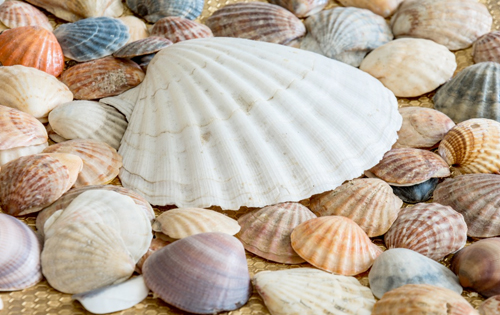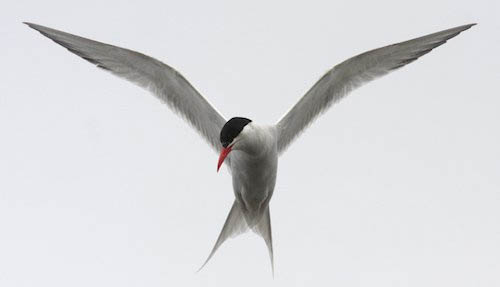 I was a child on Long Island jumping waves and making sandcastles at Jones Beach when Rachel Carson's huge best-seller, The Sea-Around Us, swept into the American consciousness. I collected shells from the wrack line – scallops, razor clams, whelks, moon shells and more. I watched endless, wheeling gulls and terns, worried about sand sharks and jellyfish, and saw unforgettable beauty as hundreds and hundreds of Monarchs gathered in the dunes to begin their mysterious migration.
Every day was World Oceans Day to me then. I saw no need to celebrate, or protect, something as awesome as the sea. Now you and I must do both. As you look, read, listen, and take action throughout this special edition of RCC's Coasts and Ocean Observer, you will be joining with ocean lovers worldwide. Your guide, and our new lead for the Coasts and Ocean program, is Audrey Magnuson, who with me, edits The Observer.
As a child, Audrey developed her love for the ocean visiting California beaches where her parents had grown up by the Pacific. She was inspired to make the ocean come alive for others by her beloved 6th grade teacher, Patty Black, who had her students turn the entire classroom into a replica of a coral reef! Now Audrey combines her love for the ocean and her passion to protect it through marine science and public policy at Duke and as a RCC Presidential Fellow who chose World Oceans Day as the theme for this, her inaugural issue.
Let's plunge in.
Bob Musil – President & CEO, the Rachel Carson Council

Happy World Oceans Day from the Rachel Carson Council! Today and throughout the month, let's reflect on the power, complexity, and vulnerability of our coasts and vast oceans.
When it comes to climate change, the oceans continue to demonstrate devastating impacts as waters warm. This month, meteorologists indicated that climate change continues to worsen tropical storm seasons in the Atlantic—bad news for coastal and island communities and marine ecosystems alike. Additionally, the marine environment in the Gulf faces another deadly algae bloom caused by warming waters. Three years ago, Florida saw a similar bloom which killed off 200 tons of marine life.
Meanwhile, politicians and climate advocates are turning to the ocean to make a clean energy transition possible. The Biden administration signed off on a plan for the US's largest windfarm off the Massachusetts coast and announced plans for new offshore wind development in California. From coast to coast, Americans can expect to see windfarms on the horizon. In this edition of the Coasts and Ocean Observer, find the latest ocean news, events, podcasts, and recommended reads from the RCC.
Breaking Waves, Breaking News
California and Massachusetts to Kick-start U.S. Offshore Wind Development
Biden unveils offshore wind plan for California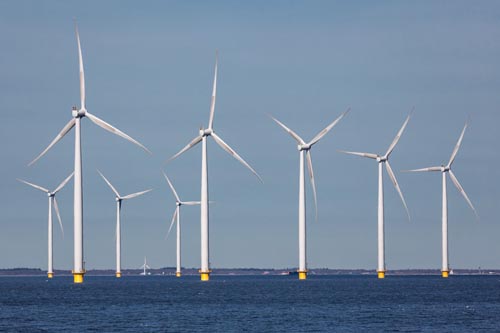 The federal government plans to open more than 250,000 acres off the California coast to wind development, the Biden administration announced Tuesday, as part of a major effort to ramp up the nation's renewable energy and cut its climate-warming emissions.

Under the plan, the administration would allow wind power projects to be built in federal waters off the coast of Central California northwest of Morro Bay, as well as at a second location west of Humboldt Bay. Officials estimate that the two areas combined could generate 4,600 megawatts of electricity — enough to power 1.6 million homes.
The government's plans represent a "breakthrough," said Gina McCarthy, President Biden's senior climate change advisor. "It's an announcement that will set the stage for the long-term development of clean energy and the growth of a brand-new made-in-America industry."
Gov. Gavin Newsom praised the plans, noting that California had spent years trying to advance offshore wind power under the Trump administration, with no success. The state, he said, will accelerate its own environmental review process in order to speed up the projects, which he estimated would be built at least 20 miles offshore with enough space for roughly 380 wind turbines. Read more
Biden Administration Approves Nation's First Major Offshore Wind Farm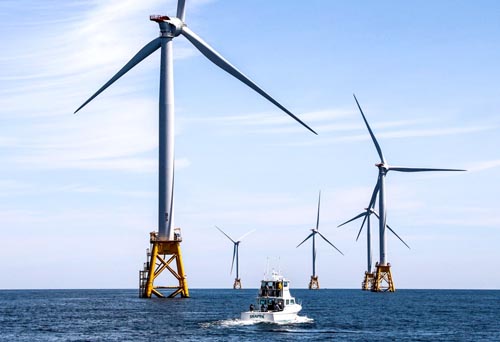 The Vineyard Wind project, off the coast of Massachusetts, would generate enough electricity to power 400,000 homes.

Construction on the nation's first commercial-scale offshore wind farm is expected to begin this summer, after the Biden administration gave final approval Tuesday to a project it hopes will herald a new era of wind energy across the United States.
The Vineyard Wind project calls for up to 84 turbines to be installed in the Atlantic Ocean about 12 nautical miles off the coast of Martha's Vineyard, Mass. Together, they could generate about 800 megawatts of electricity, enough to power about 400,000 homes.
The project would dwarf the scale of the country's two existing wind farms, off the coasts of Virginia and Rhode Island. Together, they produce just 42 megawatts of electricity.
In addition to Vineyard Wind, a dozen other offshore wind projects along the East Coast are now under federal review. The Interior Department has estimated that by the end of the decade, some 2,000 turbines could be churning in the wind along the coast from Massachusetts to North Carolina. Read more
Storm Predictions Spell Trouble For the Atlantic Coast…
Climate Change May Be the Cause
Scientists Predict an 'Above Normal' Atlantic Hurricane Season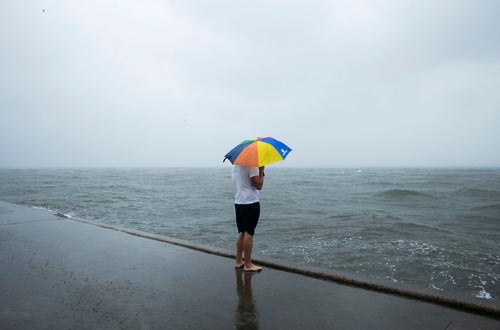 The forecast, which follows a record season in 2020, arrives as hurricanes are becoming more destructive over time.

Federal scientists on Thursday forecast that 2021 could see in the range of 13 to 20 named storms, six to 10 hurricanes, and three to five major hurricanes of Category 3 or higher in the Atlantic. Ben Friedman, the acting administrator of the National Oceanic and Atmospheric Administration, said, "an above-normal season is most likely."
Hurricane season runs from June 1 until Nov. 30, though the last six years have seen storms form before its official start.
This year's announcement comes after a record-shattering 2020 season of 30 named storms — so many that we ran through the alphabet for only the second time and resorted to using Greek letters.
Hurricanes have become more destructive over time, in no small part because of the influences of a warming planet. Climate change is producing more powerful storms, and they dump more water because of heavier rainfall and a tendency to dawdle and meander; rising seas and slower storms can make for higher and more destructive storm surges. But humans play a part in making storm damage more expensive, as well, by continuing to build in vulnerable coastal areas. Read more
Subtropical Storm Ana Forms, First Named Storm of the 2021 Atlantic Hurricane Season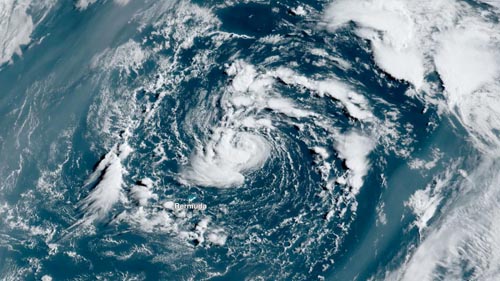 The 2021 Atlantic hurricane season is officially off to an early start: Subtropical Storm Ana formed in the waters 200 miles northeast of Bermuda at 5 a.m. EDT Saturday. Ana's formation date of May 22 comes over a week before the official June 1 start of the Atlantic hurricane season and marks the seventh consecutive year that a pre-season named storm has formed. The previous record was four consecutive years, set in 1951-1954. Although the National Hurricane Center has not changed the June 1 start date of the Atlantic hurricane season, it did move the launch date of its daily Tropical Weather Outlooks to May 15 starting this year.
Satellite loops on Saturday showed that Ana had a modest area of heavy thunderstorms that were slowly increasing in areal coverage. Some of this activity was concentrated near the center of the storm, which is characteristic of a tropical storm. However, Ana was entangled with an upper-level low pressure system, which caused a substantial amount of heavy thunderstorm activity to be well removed from the center of circulation, characteristic of a subtropical storm.
Wind shear over Ana was a moderate 10-15 knots on Saturday, sea surface temperatures, SSTs, were a chilly 21 degrees Celsius (70°F), and the atmosphere was fairly dry, with a relative humidity at mid-levels of 45%. These marginal conditions for development were offset by very cold temperatures aloft, which helped create the instability needed for Ana to generate the heavy thunderstorm activity required to be designated a subtropical storm. Read more
Deadly Algae Blooms, Urchin Mobs,
Living Fossils, and More on Marine Life
3 Years Ago, A Massive Algae Bloom in Florida Killed 200 Tons of Marine Life. It's Threatening Again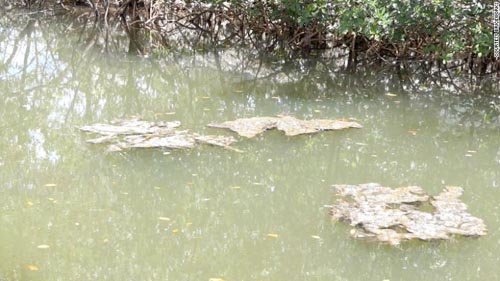 It's not just tourists who invade Florida in the summer.

The colorfully named, obnoxious -- and sometimes deadly — microorganisms known as red tide and blue green algae also take advantage of the change in temperature to proliferate. And it causes major problems.
Both types of algae bloom are starting to make their presence known along some of southwestern Florida's most beautiful shorelines. Whether they're moving in for the summer or just teasing remains to be seen.
Many of those who make their living on the water are fairly sanguine about it.
"I believe red tide is going to be here with us every summer," said Rafael Rios, who has owned a charter fishing boat out of St. Petersburg for 15 years but said he has been fishing the waters of Tampa Bay for 40 years. "There's years we don't see any. There's years we see a lot more."
Red tide and blue algae come from different microorganisms. Red tide is caused by the Karenia brevis species while a report issued to Manatee County commissioners recently identified the cyanobacteria Lyngbya as the cause for the local blue green algae outbreak.
Both are toxic. Read more
Urchin Mobs Team Up to Butcher Sea Stars That Prey on Them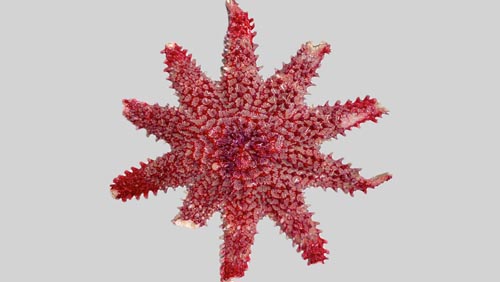 The spiny invertebrates pin the sea stars' arms in an overwhelming predator-prey role reversal.

Sea urchins are underwater lawnmowers, their unabating, vegetarian appetites capable of altering whole nearshore ecosystems. But the spiny invertebrates will also sink their teeth into something a bit more challenging — and dangerous — new research suggests.
In a first, researchers recently discovered urchins attacking and eating predatory sea stars. The observations flip a classic predator-prey script, researchers report in the June Ethology.
In 2018, marine behavioral ecologist Jeff Clements and his colleagues were at the Kristineberg Marine Research Station in Fiskebäckskil, Sweden, studying common sun stars (Crossaster papposus). At one point, Clements wanted to separate one of the sun stars for a short while and needed aquarium space. He placed the starfish in a tank containing about 80 green sea urchins (Strongylocentrotus droebachiensis).
"I thought, 'Okay, there's a bunch of sea urchins in there, these guys are predators of urchins, nothing's gonna happen,'" recalls Clements, of Fisheries and Oceans Canada in Moncton. The urchins, he says, hadn't eaten anything in two weeks. Read more
'Living Fossil' Thought Extinct For 273 Million Years Found Thriving on Ocean Floor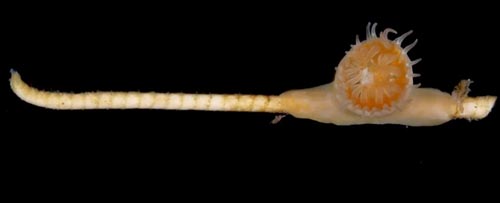 A symbiotic relationship between two marine lifeforms has just been discovered thriving at the bottom of the ocean, after disappearing from the fossil record for hundreds of millions of years.

Scientists have found non-skeletal corals growing from the stalks of marine animals known as crinoids, or sea lilies, on the floor of the Pacific Ocean, off the coasts of Honshu and Shikoku in Japan.
"These specimens represent the first detailed records and examinations of a recent syn vivo association of a crinoid (host) and a hexacoral (epibiont)," the researchers wrote in their paper, "and therefore analyses of these associations can shed new light on our understanding of these common Paleozoic associations."
During the Paleozoic era, crinoids and corals seem to have gotten along very well indeed. The seafloor fossil record is full of it, yielding countless examples of corals overgrowing crinoid stems to climb above the seafloor into the water column, to stronger ocean currents for filter-feeding. Read more
Sea Birds Are Today's Canary in the Coalmine—
and They're Sending Us an Urgent Message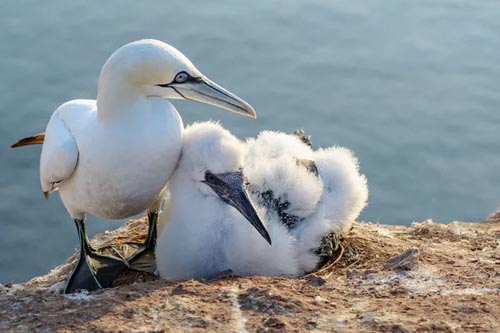 Just as caged canaries once warned coal miners of the risk of carbon monoxide poisoning, free-flying seabirds are now warning humanity about the deteriorating health of our oceans.

Seabirds journey vast distances across Earth's seascapes to find food and to breed. This exposes them to changes in ocean conditions, climate and food webs. This means their biology, particularly their breeding successes, can reveal these changes to us on a rare, planet-wide scale.
We collated and analysed the world's largest database on seabird breeding. Our findings reveal a key message: urgency in the Northern Hemisphere and opportunity in the south.
The Northern Hemisphere ocean systems are degraded and urgently need better management and restoration. Damage to Southern Hemisphere oceans from threats such as climate change and industrial fishing is accelerating, but opportunities remain there to avoid the worst. Read more
Up and Down Florida's Coasts, Some Manatees Still Struggle With Starvation After
Peak Die-off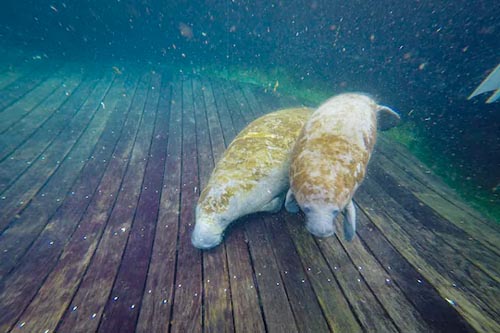 Even as temperatures have warmed this spring and some Florida manatees have left the Indian River Lagoon, where many of them died this winter without enough food to eat, researchers are finding survivors up and down the coast struggling with prolonged effects of starvation.

"This event is not over yet. We are still picking up occasional cases with the effects of starvation," said Martine de Wit, a veterinarian in the state's marine mammal pathology lab. Cases have been documented as far as Georgia, she said. "These animals started to eat, but their bodies could not resolve those effects of prolonged starvation."
As of mid-May, 738 manatee deaths had been recorded this year, according to reports from the Florida Fish and Wildlife Conservation Commission. The total is nearly triple the five-year average for the same time period. Fewer manatees, 637, were reported dead all of last year.
About 300 of the manatee deaths have happened in Brevard County, the state says, where scientists believe years of sea grass losses led to manatees not having enough food where many of them winter near warm discharges from power plants. Read more
Investigating Our Plastic Footprint…
Who is Responsible and Where is the Plastic Now?
Just 20 Companies Produce More Than Half of the World's Single Use Plastics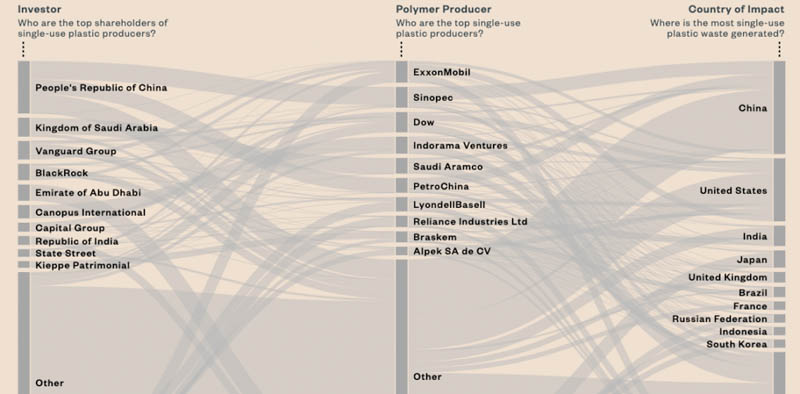 A new study published Tuesday found that just 20 companies are responsible for more than half of all single-use plastic pollution. The Plastic Waste Makers Index names some of the world's largest plastics manufacturers and notes that many are backed by a small pool of financiers. The study — and its detailed index of producers, banks, and countries — highlights the root of the world's plastic pollution problem: oil companies and those that bankroll them. More Americans are advocating to change our nation's "throwaway" culture, but experts say there's only so much that individuals can do in the face of global corporate plastic supply chains.
Why This Matters: Plastic produces carbon emissions at nearly every point of its lifecycle. For decades, consumers have been told they could change the tide of plastic pollution by reducing, reusing, and recycling, but while they sorted their bottles, companies and governments failed to invest in recycling programs. Now, 72% of all plastic in the U.S. ends up in landfills despite many consumers' best efforts, and plastic production is expected to grow by 30% in the next five years. Experts and advocates advocate for extended responsibility from petrochemical companies, emphasizing that plastic must be treated as a valuable commodity not only by consumers but also by manufacturers. Read more
Amazon to Vote on Revealing Retailer's Plastic Footprint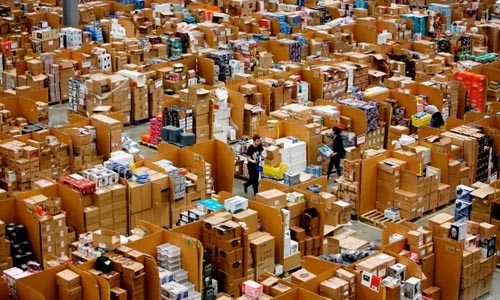 Move follows report saying online retailer generated 210,000 tonnes of packaging that ended up in oceans.

Amazon is under pressure to reduce its plastic footprint, as shareholders prepare to vote on Wednesday on a resolution calling for it to disclose how much of its plastic packaging ends up in the environment.
The resolution, co-proposed by the activist shareholder group As You Sow, calls on the world's largest online retailer to provide a report by December 2021 showing how much plastic packaging is attributable to its activities, and what actions it has taken to tackle the issue. Amazon's board of directors have recommended that shareholders vote against the proposal.
Last year a report by Oceana, a conservation group, estimated that Amazon had generated 210,000 tonnes (465m lbs) of plastic packaging waste in 2019, including enough air pillows to circle the Earth 500 times, and that up to 10,000 tonnes of plastic entered freshwater and marine ecosystems that year.
Amazon has disputed Oceana's figures, accusing the group of "dramatically miscalculating" its use of plastic, saying it had used "about a quarter" of the figure quoted. The company claimed to have reduced the weight of outbound packaging by more a third and eliminated more than 1m tonnes of packaging material since 2015. Read more
Delaware River May Be Dumping More Plastic Into Ocean Than Any Other
U.S. Waterway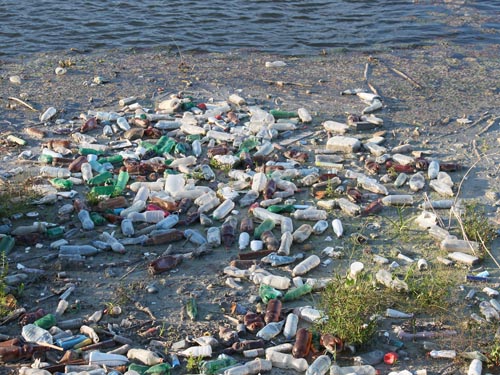 New report cites large number of landfills in region as part of the problem, along with population density, river size.

Each year just over 283,000 pounds of plastic waste are carried by the Delaware River and ultimately dumped in the ocean.

That puts the Delaware at the low end of the 1,656 rivers the authors of a new paper published in the journal Science Advances say contribute 80% of the plastic waste that ends up in the sea.
The study, which underwent two years of peer review, was funded by The Ocean Cleanup, a Dutch nonprofit that has gained international attention — though some might say notoriety — for its attempts, so far unsuccessful, to build a collection device to clean up the Great Pacific Garbage Patch, a swath of Pacific Ocean where currents have created a large concentration of plastic trash. The paper refines to a great degree a pair of 2017 studies that claimed between 10 and 20 rivers account for the vast majority of the riverine-derived plastic waste that ends up in the oceans. Read more
Events: World Oceans Day and Week
Capitol Hill Oceans Week 2021 hosted by the National Marine Sanctuary Foundation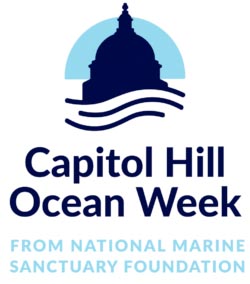 When: June 8-10

Three days of events designed to spark national conversations around racial equity in the movement to conserve our oceans and Great Lakes.

"Capitol Hill Ocean Week (CHOW), hosted by the National Marine Sanctuary Foundation, gathers people together from across the U.S. and around the world to engage in a dialogue on how to sustain the health of our ocean and Great Lakes. This year, on June 8-10th, the conference will focus on building a more racially equitable and just movement for ocean and Great Lakes conservation. CHOW is open to the public and free to attendees."
World Oceans Day 2021 Celebration: A Conversation with the UNDP 2020
Ocean Innovators
When: June 8, 7:30 AM EST
The UNDP will host a virtual celebration of World Oceans Day, highlighting innovations in policy, technology, and regulation that came out of their Ocean Innovation Challenge launched in January of 2020. His Royal Highness Crown Prince Haakon of Norway will facilitate engaging conversation about the future of ocean sustainability, exploration, and preservation with the first class of UNDP Ocean Innovators. Tune in to learn about how these innovators are turning their dreams into reality to protect our oceans for centuries to come.
Check for local events!
Explore more events happening locally and around the world HERE. Also, check in with your local marine sanctuary, aquarium, or coastal community organizations to find opportunities for coastal cleanups, movie screenings, petitions, and more!
Take Action!
Sign on: Conserve 30% of Oceans by 2030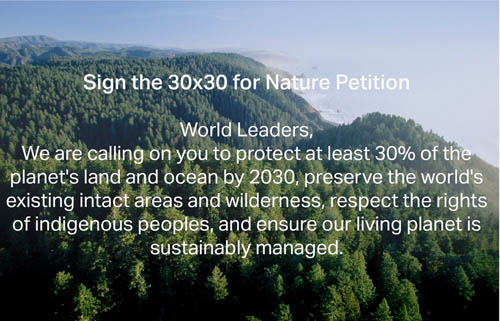 The 30x30 policy initiative aims to protect 30% of oceans by 2030 to preserve vital marine ecosystems, slow the effects of climate change, and maintain a livable world. The Biden Administration has made this pledge a cornerstone of their conservation efforts along in coalition with dozens of other world leaders. "Top scientists say we need half of the planet in its natural state to prevent the extinction of one million species, stay below 1.5°C, and safeguard all people that rely on nature to survive and thrive. We can start by protecting 30% by 2030. But it is not enough to just have scientists call for it. We need people to come together from all over the planet and call for urgent action." Take Action!
Sign on: Pass the Break Free From Plastics Bill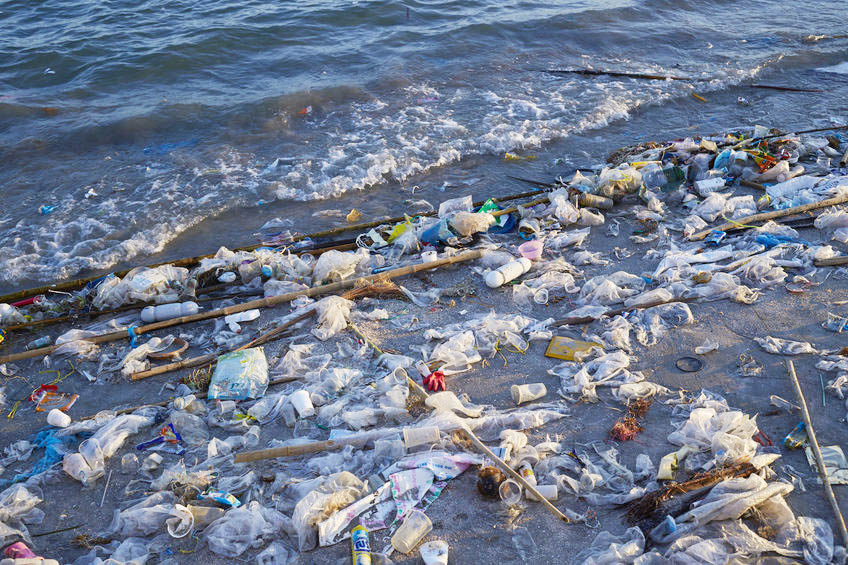 Every year, the U.S. mismanages 2.24 million tons of plastic waste, leaving it to flood into our oceans, lakes, and rivers. As the world's largest producer of plastic pollution, the U.S. must take strong action to stop plastic pollution at the source.

Our recycling systems were not designed to keep up with the catastrophic rate of plastic production today, and these systems continue to fail under the pressure. Plastic waste now fills our coastlines and the shores of countries overseas where we export our waste.
Plastic is pollution. We should regulate it as such!
The Break Free from Plastic Pollution Act (H.R. 2238/S. 984) has been reintroduced in the US House of Representatives! This act would ban non-recyclable single-use plastics, require plastic producers to be responsible for the waste they create, improve the state of US recycling, and much more. Tell your representatives to vote for H.R. 2238/S. 984 and protect our coasts and oceans from plastic waste.

Books
Robert Ballard, Into the Deep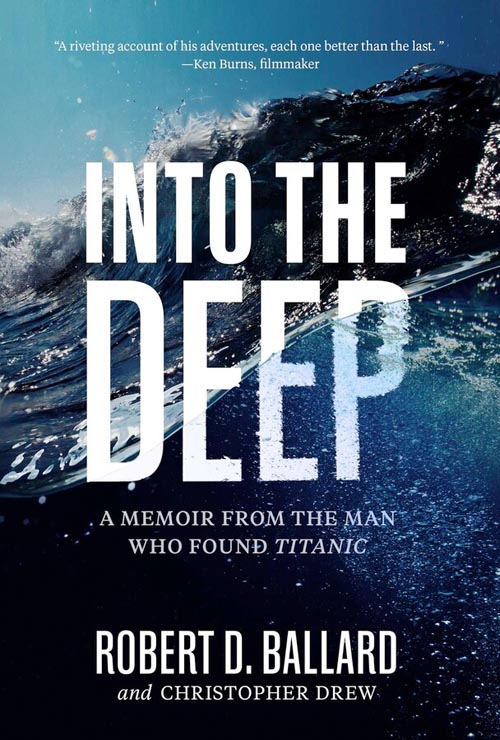 In a career that's spanned more than 60 years, Robert Ballard has conducted over 150 underwater expeditions and made countless significant scientific discoveries. But the renowned oceanographer says he's made peace with the fact that he will probably always be known as "the man who found Titanic." According to Ballard, his mother predicted he'd never be able to escape that "rusty old boat" when he called to tell her he'd located the famous shipwreck in 1985. In his memoir, "Into The Deep," Ballard recalls walking into the premiere of the 1997 movie "Titanic" with the film's director James Cameron, who turned to him and said: "You go first. You found it." Read more
Kim McCoy, Waves and Beaches: The Powerful Dynamics of Sea and Coasts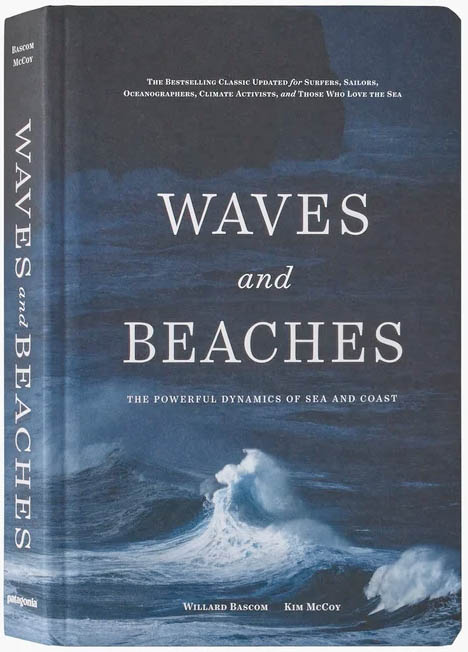 The Nature Guys podcast caught up with oceanographer Kim McCoy to talk about his new edition of the classic oceanography textbook, Waves and Beach. McCoy has partnered with Patagonia for this new edition with the goal of detailing the impacts that seas and coasts have on every corner of life on earth. The new edition includes the newest findings in relationships between climate and other additions that emphasize the modern-day relevance of ocean studies for everything from sustainable development to national security. McCoy expertly marries the science of the living and nonliving worlds at play in the oceans to paint an incredibly nuanced view of the oceans as we understand them today. For more on McCoy's writing journey and highlights from the book, click here for his conversation with the Nature Guys podcast.
Podcasts
Podcast Series Recommendations For Every Kind of Ocean Enthusiast
For the social ocean lover: Marine Conservation Happy Hour

Who said you can't discuss marine conservation issues over a couple of drinks? If you're a social science talker, you will enjoy this relatable podcast which documents interesting conversations between marine conservationists and scientists while they unwind in their local pub.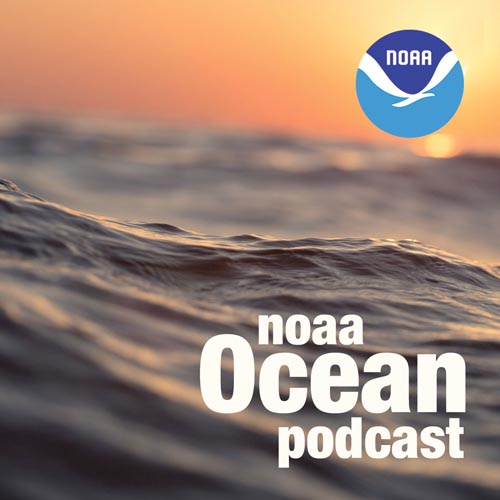 For the ocean science stickler: NOAA Ocean Podcast

Learn from NOAA's expert scientists, fresh out of the field to learn about the latest breaks in marine research and news. Want to learn more about how NOAA uses lasers uses to map marine landscapes and anticipate threats? Curious about the science behind the destructive capabilities of microplastics? Interested in how what it looks like after a hurricane hits? If so, this is the podcast for you.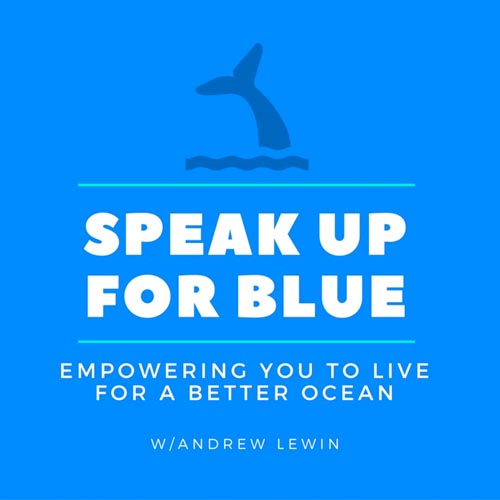 For the marine activist: Speak up for the Ocean Blue

What does it mean to be a voice for the oceans? This podcast takes you around the world to learn from ocean conservation projects working on every issue from overfishing to climate change and beyond. Stay up to date on how you can be a better ocean advocate by tuning into Speak up for the Ocean Blue.

The Rachel Carson Council depends on tax-deductible gifts from concerned individuals like you. Please help if you can.

Sign up here to receive the RCC E-News and other RCC newsletters, information and alerts.