A Newsletter on Campus Events, Research, and Civic Engagement
Growing Number of Colleges Announce Intent to Reopen in Fall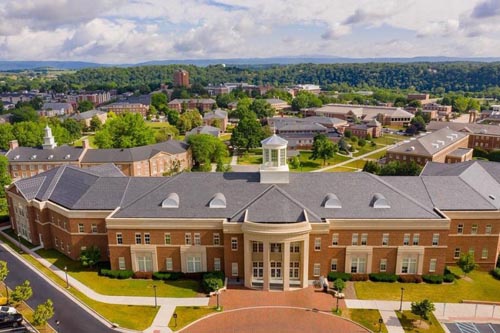 Several colleges have announced their intention to reopen campuses this fall, including Radford University, which said it will be "completely open," including student housing and dining.

A growing number of colleges plan to reopen in the fall, but some used language that was more definitive than previously seen in higher education so far in the crisis.
Uncertainty continues to persist about the viability of the fall semester for many colleges and universities. Baylor, Radford, and Wheaton have announced this week that they intend to reopen and resume in person classes for the fall semester. Other schools are planning to be remote, however, and are working to better prepare students and faculty for further online learning. Read more at Inside Higher Education
Oxford University Passes Resolution Banning Investment in Fossil Fuels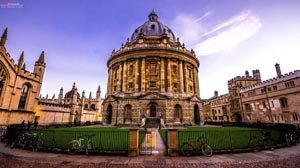 Oxford University has passed a motion requiring its endowment fund to divest from all direct investments in fossil fuel companies, and end future investment in funds that primarily hold stock in fossil fuel companies. The motion further requires endowment managers to request evidence of plans to achieve net-zero carbon dioxide emissions from companies across Oxford's entire portfolio of investments.

"The preamble to the resolution hails it as a chance to put Oxford "in a strong position to act as a world leader on climate conscious investment" in partnership with "the best available research on climate conscious business practises." Read more at The Oxford Student
Earth Day at 50: An Interview with John Kerry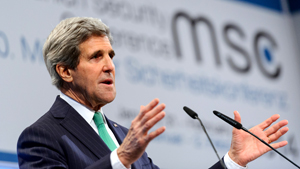 In a video interview with Yale Dean Indy Burke, former Secretary of State John Kerry reflects on five decades of environmental progress since the first Earth Day and the difficult work ahead.

After returning from service in the Vietnam war in 1970, John Kerry '66 immediately jumped into civic life. But his first foray into advocacy wasn't as an outspoken critic of the war, a role that would bring him into the national spotlight; it was helping to coordinate the first Earth Day celebration in Massachusetts. Read more at Yale School of Forestry & Environmental Studes
American University Announces Full Financial Divestment from Fossil Fuel Stocks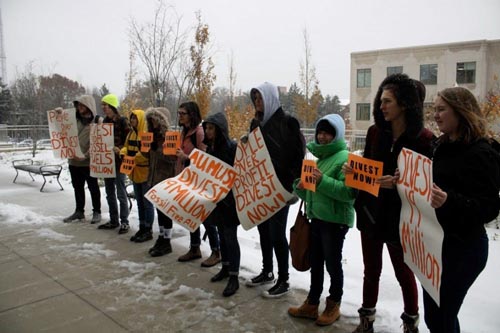 American's decision comes after a decade of student outcry. The university has fully divested all of its public fossil fuel investments from the endowment, AU announced in a press release Wednesday morning.

The University has had no direct investments in these stocks for several years, the press release stated, but over the last few months the Board of Trustees has sold off the final $12.9 million of fossil fuel exposure within the University's public endowment portfolio. This was done by selling $350 million in commingled and index funds, where the indirect investments were located, and using the proceeds to invest in non-fossil fuel holdings. Read more at the Eagle
Student SNAP Waivers Denied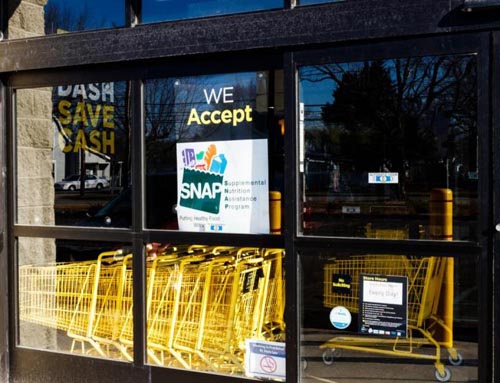 Federal food assistance requires too much of college students, advocates say. States requested waivers for these requirements during the pandemic — and were denied. Advocates have long argued against requirements college students must meet to be eligible for the federal Supplemental Nutrition Assistance Program, or SNAP.

Dozens of states pleaded the same case as the coronavirus pandemic spread throughout the country. The federal assistance program requires students who attend college at least half-time to work 20 hours per week to qualify. As the pandemic causes a recession and unemployment skyrockets, state officials said students are being left in the lurch. But the U.S. Department of Agriculture's Food and Nutrition Service agency denied the states' request. Read more at Inside Higher Ed and see RCC's "Left in Limbo" below.
Two Pennsylvania Colleges Hit Carbon Neutrality Goals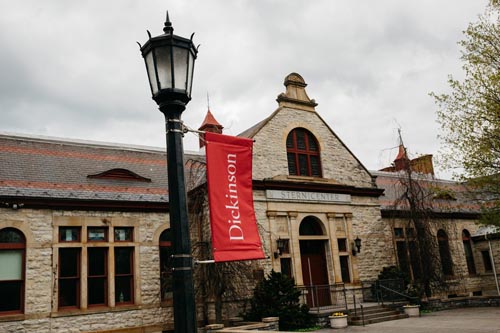 Two Pennsylvania colleges are now carbon-neutral — joining only a handful of other schools with the same achievement nationwide. Allegheny College in northwestern Pennsylvania and Dickinson College in central Pennsylvania hit their goals in April.

In 2008, each college was generating nearly 19,000 metric tons of greenhouse gases. To reach net-zero, they relied on a mix of energy efficiency measures, renewable energy projects, and purchasing credits to offset what they still emit.
Pennsylvania is the fifth largest carbon emitter in the United States at 215 million metric tons as of 2017.
Scientists say greenhouse gas emissions must be cut dramatically to avoid the worst effects of climate change. Read more at State Impact Pennsylvania
New Cascadilla Solar Farm Sustainability Powers 20%
of Cornell University's Annual Electricity Usage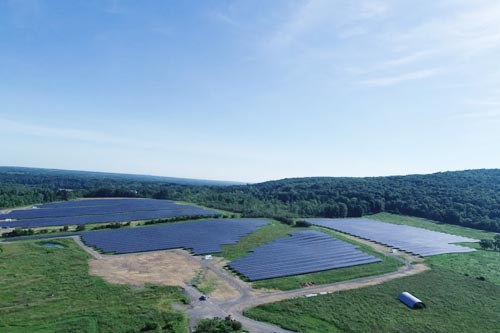 In a new step towards sustainability, Cornell celebrated the opening of its sixth, and largest, major solar project on January 17.

The newly-minted 18-megawatt Cascadilla Community Solar Farm will be responsible for generating 20 percent of Cornell's energy, making strides towards the University' goal of becoming entirely carbon neutral by 2035.
Cornell participates in a voluntary set aside program of New York's Regional Greenhouse Gas Initiative, a cap-and-trade style program that allows Cornell and other participants to claim renewable energy credits. Read more at The Cornell Daily Sun
Resources
The Mid-Atlantic Climate Change Education Conference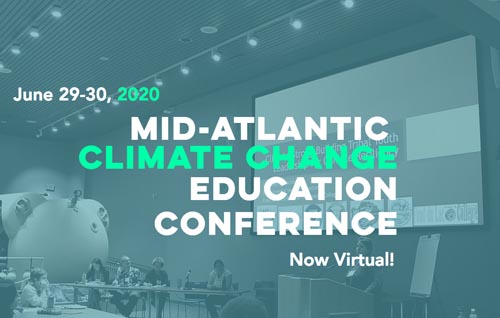 The Mid-Atlantic Climate Change Education Conference (MACEE) is a unique convening of formal and non-formal educators to share and learn about the latest trends in climate change education.

The MACCE Conference will be hosted virtually on June 29-30.
The agenda outline is available here. All attendees are asked to RSVP through the website.
Rachel Carson Council Extends Fellowship Deadline!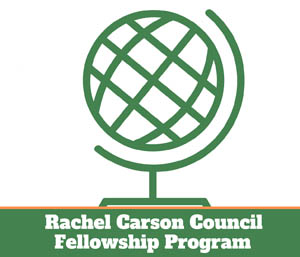 Friday, May 8th, is the new, extended deadline to apply to the Rachel Carson Council Fellowship program.

The Rachel Carson Council Fellowship Program is a paid opportunity designed for students who have a passion for sustainability and environmental justice. As part of the program, students will work on a campaign or project on your campus to promote sustainability over the course of the next academic year. Students accepted into the program will receive a $2000 for their work over the course of the year and have the opportunity to gain grassroots organizing skills. Click here to apply. Read more about our current fellows work here.
Books and Essays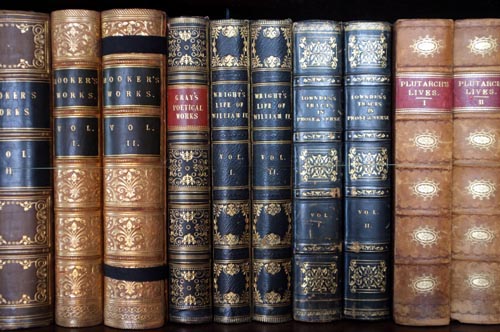 Rachel Carson was an avid reader, a major piece of whose personal library is in the archives of the Rachel Carson Council. She believed that imagination and the cultivation of feeling and ethical action were critical in perilous times.
The Bird Way: A New Look at How Birds Talk,
Work, Play, Parent, and Think
Jennifer Ackerman (Author)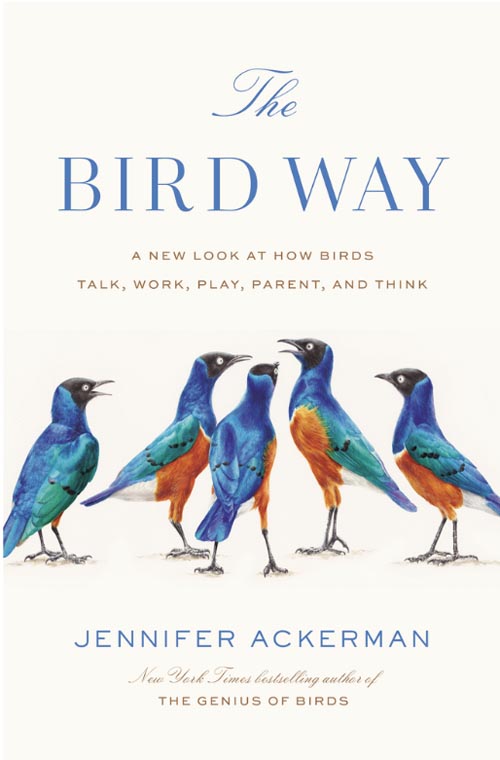 From the New York Times bestselling author of The Genius of Birds, a radical investigation into the bird way of being, and the recent scientific research that is dramatically shifting our understanding of birds—how they live and how they think.

"There is the mammal way and there is the bird way." This is one scientist's pithy distinction between mammal brains and bird brains: two ways to make a highly intelligent mind. But the bird way is much more than a unique pattern of brain wiring, and lately, scientists have taken a new look at bird behaviors they have, for years, dismissed as anomalies or mysteries. What they are finding is upending the traditional view of how birds conduct their lives, how they communicate, forage, court, breed, survive. They're also revealing the remarkable intelligence underlying these activities, abilities we once considered uniquely our own—deception, manipulation, cheating, kidnapping, infanticide, but also, ingenious communication between species, cooperation, collaboration, altruism, culture, and play. Read more at Bookshops
The Sound of a Wild Snail Eating
Elisabeth Tova Bailey (Author)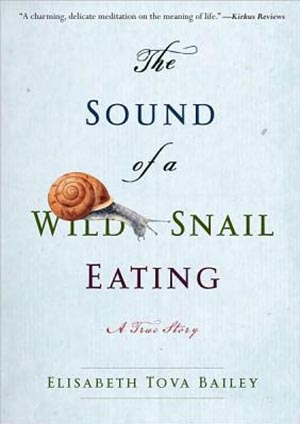 In a work that beautifully demonstrates the rewards of closely observing nature, Elisabeth Tova Bailey shares an inspiring and intimate story of her encounter with a Neohelix albolabris--a common woodland snail.

While an illness keeps her bedridden, Bailey watches a wild snail that has taken up residence on her nightstand. As a result, she discovers the solace and sense of wonder that this mysterious creature brings and comes to a greater understanding of her own place in the world.

Intrigued by the snail's molluscan anatomy, cryptic defenses, clear decision making, hydraulic locomotion, and courtship activities, Bailey becomes an astute and amused observer, offering a candid and engaging look into the curious life of this underappreciated small animal.
The Sound of a Wild Snail Eating is a remarkable journey of survival and resilience, showing us how a small part of the natural world can illuminate our own human existence, while providing an appreciation of what it means to be fully alive. Read more at Bookshops
From the Rachel Carson Council
Left in Limbo: College Food Insecurity, Job Losses and Waste Rise Amid COVID-19. Can our Food System Handle It?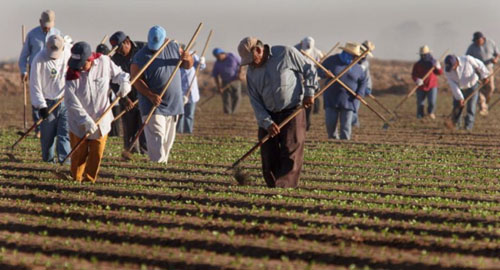 Picture this: You're a college student working a few part-time jobs and going to school full time. You barely make enough money to cover tuition expenses, groceries, gas money, and textbooks. You are living paycheck to paycheck. You hear about a virus spreading in China, but you aren't that concerned and are preoccupied with your own day-to-day worries. Then March, 2020 comes around. You are kicked off your campus, scrambling to go home as your classes transition to an online format. Those part-time jobs you had? Gone. Apparently, you're not an essential worker. Your parents don't have the extra income to help support you any longer; they have the rest of your family to support. Oh, and your on-campus housing and meal plan aren't being prorated, so you have to apply for unemployment and SNAP to afford groceries. You're an adult after all, you should be able to take care of yourself on your own…right? Read more at RCC
College and University Divestment Campaigns: Organizing and What to Expect on Your Campus
College and university divestment campaigns tend to conjure up images of radical student groups organizing direct actions. Yet campaigns have multiple tactics and tools in their boxes. Here are some that worked in North Carolina -- and might work for you once campuses are able to safely reopen.

Keep in mind that there are multiple moving pieces and bureaucracy that make campus divestment campaigns unique with a different strategy needed for each school. Students and student leaders eventually graduate, leading to frequent turnover that will take significant time for recruitment, replacement and training. Each campus also has its own set of bureaucratic rules and regulations. They become more complex the bigger the school, and even more so if the college or university is part of a wider system. This often results in internal campus systems and bureaucracies quite resistant to change. Particularly resistant schools might be even more aggressive in discouraging students, for example, by monitoring student communications and discouraging gatherings. Every campus culture is unique; so, too, will be their reaction to your campaign. Create a carefully-designed strategy that fits your campus culture. Read more at RCC
Action Alert!
Stop Strip Mining in the Protected Cumberland Plateau!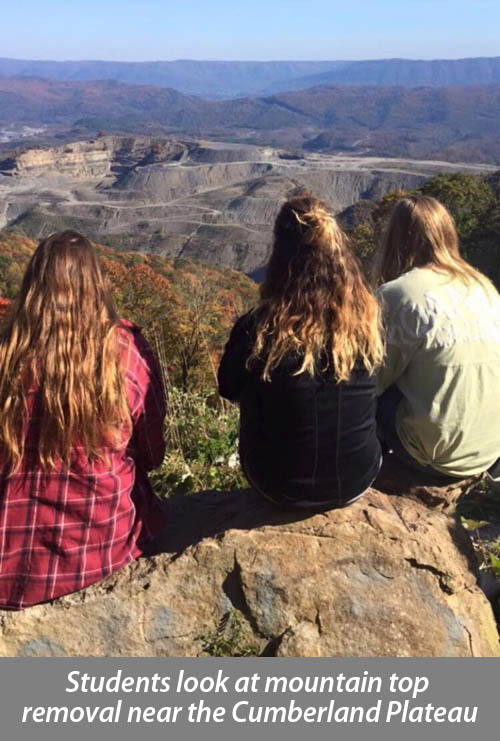 Click here to contact Michael Castle
The Trump administration is considering opening 75,000 acres of the pristine, protected Cumberland Plateau in Tennessee to strip mining for coal. The Cumberland Plateau forms a natural break covering three states: Kentucky, Virginia, and Tennessee. It's filled with forests, waterfalls and wild places. The proposal calls for a ridgetop mine, a form of surface mining. Many terms are used to disguise the impact of surface mining: strip mining, open-pit mining, or mountain top removal. But the end result remains the same: the utter destruction of the pristine waterways and natural spaces, drinking water, and the health of communities in Appalachia.

Contact Michael Castle, head of the Knoxville Office of Surface Mining and Enforcement. Ask him to prevent the destruction of this wonderful part of Appalachia and America! Click here to contact Michael Castle
RCC Campus Programs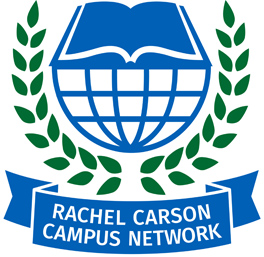 The mission of the Rachel Carson Campus Network is to build and deepen critical connections between campuses, communities, and advocates with the goal of advancing environmental health and equitable policy.

Do you know about the different programs RCC offers to campuses? Bring one of our staff members to campus for an advocacy workshop or our President Robert Musil as part of our campus lecture series. Read more at RCC

Want to create change? Support our work here.