A Newsletter on Campus Events, Research, and Civic Engagement
March 2021
It has been a full year since the coronavirus began to upend American life and campuses. As the months, cases, casualties, and deaths have piled up, so have the headlines marking the passing of colleagues, the closing of departments and colleges, and the revamping of classes and curriculum. Despite these stark differences and difficulties, administrations, faculty, staff, and students have persevered in finding ways to keep our campuses and communities centers of thought, resilience, engagement, and change.
And, as we see in this issue of the RCC Campus Dispatch, the climate crisis has not, and should not, be overshadowed by COVID-19. RCC Fellows and campus activists continue to push for an end to fossil fuel investments, to fight food insecurity, to save our coasts and oceans, and more. Read on to hear their voices directly in a selection of RCC Fellow essays. You will see why our young RCC campus leaders are helping to launch and lead a new RCC campaign against fossil fuel investments and for truly renewable ones called Money Talks. You may be, in fact, or know of someone who might be, part of our next cohort of young environmental and justice leaders. Applications for the new group of 2021-2022 RCC Fellows are now open and available in this issue and at RCC Fellowship Application.
Among the books, films, and other resources in this issue, you will find a rare gift -- an elegiac and elevating work on our loss of sounds and song in the wild that is worthy of Rachel Carson. Kathleen Dean Moore's Earth's Wild Music: Celebrating and Defending the Songs of the Natural World is at once an appreciation of nature and a call to action. It should be required for every college, for every one of us.
We hope that this issue of the RCC Campus Dispatch will once again lead you to find, and share with us, your resources, reflections, stories, news, ideas, art, or projects, that brought success, as well as struggle, in sustainability and those things – nature, beauty, spirit, imagination -- that give us sustenance.
— Bob Musil and Mackay Pierce
Send items, news, short essays, and blog pieces to mackay@rachelcarsoncouncil.org
On Campus
UW-Platteville to Build Largest State-owned Solar Array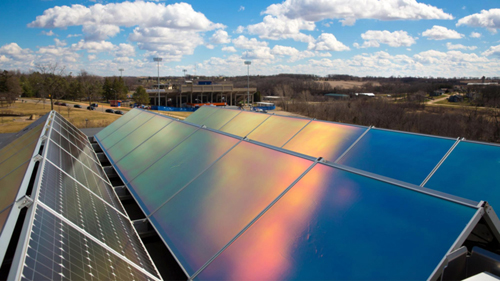 The University of Wisconsin-Platteville received state approval Thursday to construct a 2.4 megawatt solar array in Memorial Park. This will be the largest solar array owned by a Wisconsin state agency and will make the university the sixth-highest on-site producer of renewable energy among higher education institutions in the nation, setting UW-Platteville apart as a leader in its commitment to renewable energy.
"We are excited to take this momentous step in our commitment to sustainability," said Chancellor Dennis J. Shields. "These efforts will save taxpayer money and have a lasting impact on future generations of Pioneers. I am proud that UW-Platteville can serve as a model of innovation and pave the way for other state agencies to follow suit." Read more at University of Wisconsin Platteville
New Center is at the Heart of Virginia's Transition to
Clean Energy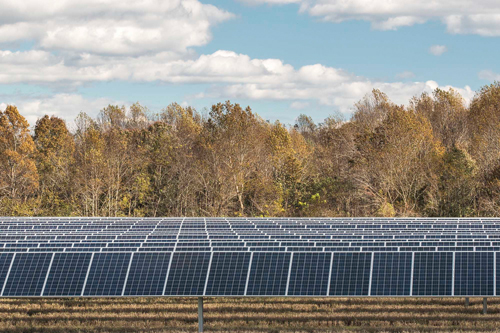 Some of the most successful mergers are often the ones that occur organically – and that appears to be the case with the University of Virginia's Weldon Cooper Center for Public Service's Energy Transition Initiative.

The union between the Cooper Center's Virginia Clean Energy Project and its Virginia Solar Initiative, announced during last month's Virginia Clean Energy Summit, is designed to leverage UVA's expertise in the sustainable energy space.
Arthur Small, who had been serving as the project manager for the Virginia Clean Energy Project, and Elizabeth Marshall, who had been heading up the Virginia Solar Initiative, decided that combining the two entities would be best way to help Virginia get to net carbon neutrality by 2050 Read more at UVA today
New Power Purchase Increases Georgetown University's Renewable Energy Efforts
Two-thirds of the university's electricity needs will be provided through a new recently approved Power Purchase Agreement (PPA).

The 15-year agreement allows Georgetown to annually buy 100,000 megawatt-hours of electricity from 11 existing solar plants. The facilities are located in Maryland and New Jersey and are within the PJM, a regional transmission organization that coordinates the movement of wholesale electricity in all or parts of 13 states and the District of Columbia.
"We are very excited to announce this new PPA, a welcome addition to the multi-pronged strategy we are using to achieve our ambitious sustainability goals while supporting the common good and promoting good stewardship," says Geoff Chatas, the university's chief operating officer. "Finding a way to provide two-thirds of our electricity needs with significant cost savings to the university is a great step in that direction." Read more at Georgetown University
At Yale, New FedEx-supported Center to Focus on Climate Change Solutions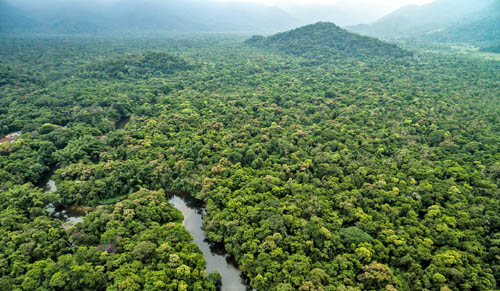 A $100 million gift from FedEx will help fund a new center at Yale University focused on developing natural solutions for reducing atmospheric carbon. The Center for Natural Carbon Capture will support and accelerate research across academic disciplines, helping to establish a more sustainable and healthier future for our planet.

The center is a key aspect of both Yale's broader Planetary Solutions Project — a campus-wide effort to develop integrated, powerful solutions to Earth's climate and biodiversity crises — and the ambitious goal from FedEx to achieve carbon neutral operations globally by 2040.
"At FedEx, we have a responsibility to take action in addressing climate change," said Frederick W. Smith '66, chairman and CEO, FedEx Corp. "We have created a roadmap to achieve our carbon neutral goal that includes helping to establish the Center for Natural Carbon Capture. Yale has a deep reservoir of expertise and researchers working on this shared problem, which makes it the ideal place for this important work." Read more at Yale News
Divestment
USC Ups Commitment to Sustainability With New,
Fossil Fuel-free Investment Strategy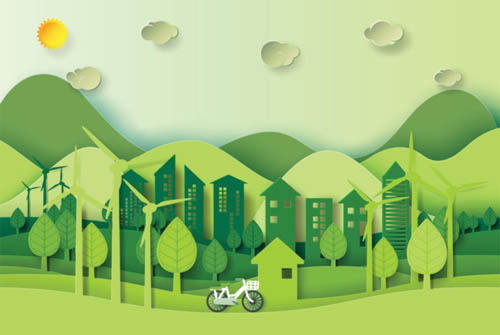 The Investment Committee of the USC Board of Trustees voted on Feb. 4 to freeze making new investments in fossil fuels and to liquidate current fossil fuel investments over the next several years.

These investments are primarily in long-dated private partnerships, which are illiquid in nature. As such, the liquidation process will take several years to manage in a financially prudent manner.
The university also will create an Advisory Committee on Investment Responsibility, formed with members of the Trojan community. It will review ethical and social concerns raised by the USC community and advise the Investment Committee on key issues that pertain to the endowment's investments. Read more at USC News
Students at Vanderbilt University hold Protest to Divest from Fossil Fuels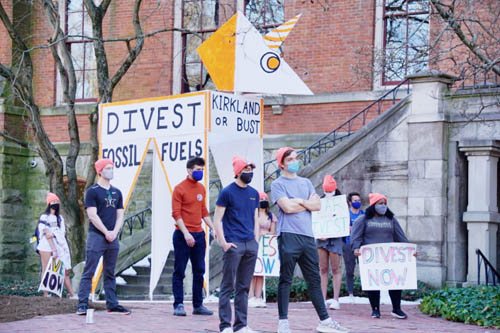 "Hey, hey! Ho, ho! Fossil fuels have got to go!"

Over thirty student protesters chanted these words as they marched from the campus Central Library to Kirkland Hall at Vanderbilt University. The protest was designed to get the administration to seriously consider divestment of the university's endowment from fossil fuels.
Fossil fuels are significant drivers of climate change. The release of carbon dioxide and methane from fossil fuel combustion, exacerbates the Greenhouse Effect, resulting in increased absorption of heat and higher average temperatures globally. Warmer temperatures will mean more extreme weather events, a climate refugee crisis, increased likelihood of famine, reduced water capacity, mass extinction of ecosystems, and exacerbated global inequities. Read more at TN Holler
New Campus Divestment Action in a Difficult,
Socially Distant Era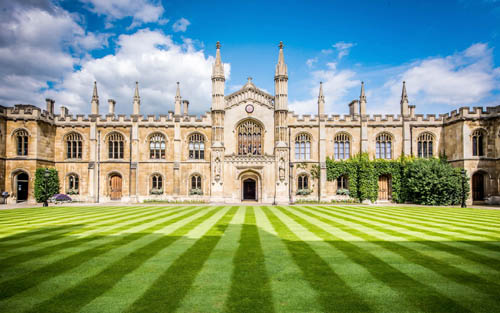 In early October, Cambridge University became the latest high-profile institution to declare its decision to divest from fossil fuels within the next ten years. Georgetown recently announced its intent to divest from public securities of fossil fuel companies by 2025 and to be fully divested from existing private investments in those companies by 2030. Amazing as these breakthroughs by noted campus administrations have been, such university commitments were brought about only after sustained pressure by student activists.
As a climate activist at Vanderbilt University, I have witnessed first hand the passion and drive students feel about climate change and how divestment from fossil fuels is seen as integral to combatting this ever-growing crisis. Yet, despite their dedication, student activists can't always prioritize their climate movement work on campus. Students have to juggle the financial burdens of their degrees, a semblance of social life, and, most importantly, the various challenges that come with being a student and social distance during a pandemic. Read more at RCC
Food Insecurity
Hunger-Free Campus Bills Have New Urgency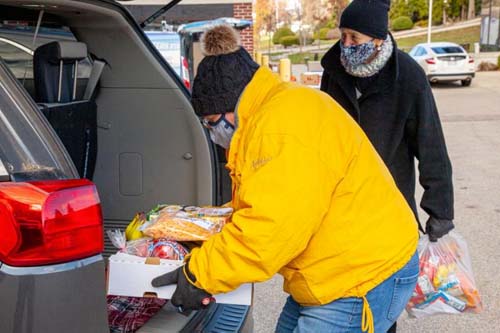 As the coronavirus pandemic and economic recession hammer food-insecure students, lawmakers in several states renew efforts to pass hunger-free campus legislation.

The coronavirus pandemic is reinvigorating hunger-free campus legislation in states including Maryland, Massachusetts and New York, where lawmakers recently proposed bills that would provide colleges with financial and administrative assistance for helping food-insecure students.
State lawmakers are becoming more aware of the needs of the diversifying student population, said Sunny Deye, director of the postsecondary education program at the National Conference of State Legislatures. Today's students were already more likely to be working adults, first generation and low income, and to require additional support with basic needs such as food, housing and childcare, Deye said. Read more at Inside Higher Ed
How University Gardens Fight Student Food Insecurity and Build More Sustainable Food Systems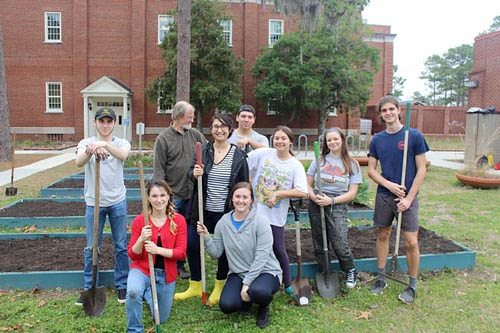 I'm watching the sunset as water glistens from the hose onto the freshly sprouted kale, mustard greens, and cabbage heads. I wave to friends who have stopped by to chat and eye the greenhouse plants and see how the crops in the raised beds have grown. People often stop us on their way to class or jogging to ask about the garden. They tell me how wonderful it is to see people gardening and working together outside. Longleaf pine needles lay scattered in the dirt amongst the crops and between the leaves and I brush them aside to weed. The sunflowers, flashing their yellow petals, dance in the light breeze as if to welcome me back. Despite it being midterm week and in the midst of a global pandemic my heart feels at ease and I'm able to catch my breath. I can still smell the freshly laid soil and fertilizer the garden club put in from our latest volunteer day. Read more at RCC
COVID-19 Lessons for the U.S. Food System?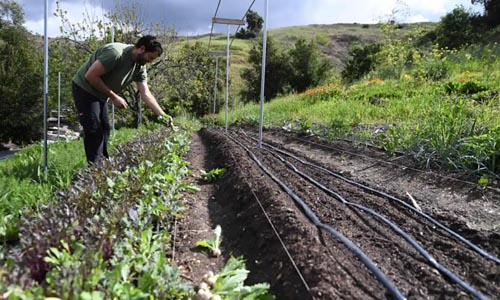 In 2020, the pandemic has stressed so many of the systems upon which our country relies. This is particularly true for food systems, with soaring rates of food insecurity among families like farm laborers working in close quarters over long hours in conditions ripe for the spread of the corona virus.

In the US, household food insecurity as a result of the pandemic and the subsequent economic crisis, has doubled to over 23% of households, rising from around 10.5% of households (estimated by the USDA in 2019). The primary risks to food security have included dramatic losses in income, disruptions within food supply chains (domestically and internationally), and other shocks affecting food production. Paired with inadequate relief, millions of people have been left unemployed and struggling to put food on their table. Read more at RCC
Books
Earth's Wild Music: Celebrating and
Defending the Songs of the Natural World, K

athleen Dean Moore
Click here to buy Earth's Wild Music
"The more clearly we can focus our attention on the wonders and realities of the universe about us, the less taste we shall have for destruction."
"It is not half so important to know as to feel."
— Rachel Carson
Kathleen Dean Moore's latest book, Earth's Wild Music is a direct descendant of Rachel Carson. It captivates and captures us from the very opening of its Preface. Moore has been a "nature writer" for fifty years who, like Mary Oliver, always rejoiced in the world. She used to be able to "go someplace wonderful, open your heart and your notebook and tell the truth." No longer. For even as Moore was celebrating this splendid world, "it was slipping away." Humpback whales "grew thin, starving in a warming, souring ocean." Now Moore, and we, must find ways to celebrate and mourn and save a dwindling natural world ravaged by climate change, species extinction, and, perhaps most devastating, the loss of sound and song from wild things and from ourselves. If to avoid destruction, as Carson says, we must focus on the wonders and the realities of the universe and feel them deeply, Moore has succeeded. Facts, science, scolding, are not enough. We must imagine and feel the loss of birdsong, of bats, and baleen whales. We must feel and act against a world of silence.
I wept over the haunting essay, "The Silence of the Humpback Whale." It begins with Moore's happy discovery of previously unrecorded wild sounds in the 1970s album, Songs of the Humpback Whales. I still recall my own astonishment and joy first hearing it. I used those whale sounds and songs for years in radio documentaries I produced. Now the whales in Southeast Alaska are visibly thin. They usually nurture about ten calves each summer. "Last year there was one baby, and it disappeared," Moore tells us. "Most likely it died and, too thin too float, sank to the bottom of the bay. Imagine the music of that dead baby whale, the scurrying crabs and clicking shrimp, the swish of hagfish, the rasp of shark skin against the small, flayed body."
But there is also joy, humor, and wonder in this volume of collected essays. In "The Love Child of Father Time and Mother Earth," Moore and her husband Frank are listening to red-breasted sapsuckers pounding on the eaves of their cabin. They don't mind being awakened in the middle of the night by such music. Moore sees the cabin as a huge drum on which the sapsucker, "the Ringo Starr of birds," performs. After Frank explains the hyoid bone and other scientific marvels that allow sapsuckers to pound happily away without injury, Moore, like Carson, sees them as the miraculous, almost divine, result of evolution that after millions of years has given us such marvelous beings.
You can't think these things up. Not even God would jerry-rig a hyoid bone. Not even God would think to tell a sapsucker that if he pecked holes in a hemlock's bark, the sap would ooze out, sticky enough to catch bugs and hold them there, so the sapsucker could swing by on the way home from work and pick up supper…
Moore's prose is by turns poetic, philosophical, and punctuated by wit and wisdom. Each sentence is scrupulously sculpted and polished, as if from marble. Her science is impeccable, the range of her knowledge, experience, wisdom astonishing. This is a work of a mature artist at the peak of her powers. Kathleen Dean Moore and Earth's Wild Music give us the music, the voice, the ability to feel wonder and empathy that we so sorely need. It will surely join that short shelf of classics that includes Mary Oliver and Rachel Carson. We rarely require texts, but if a campus-wide conversation is to be had about how we can and must respond in a time of coronavirus and of climate crisis, Earth's Wild Music is the place to start.
— Bob Musil, President & CEO of the RCC is the author of Rachel Carson and Her Sisters and Washington in Spring: A Nature Journal for a Changing Climate. He has taught writing, English, and Environmental Studies at a number of colleges and universities, most recently at American University. His current project is a new, annotated edition of Rachel Carson's Under the Sea-Wind.
A Book for the Biden Era: All Hell Breaking Loose:
The Pentagon Perspective on Climate Change, Michael T. Klare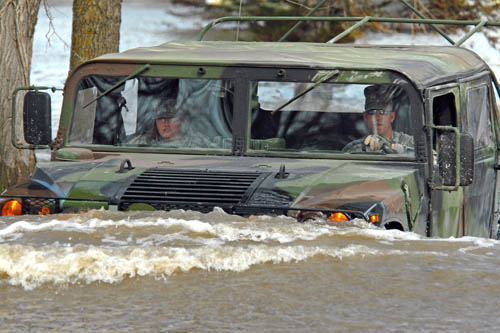 I still remember the surprise on the faces of my students at American University the first time Admiral Lee Gunn came to my class on global climate change with a brilliant talk and PowerPoint about the threat to U.S. national security, military bases, and our troops from storms, rising sea levels, and American strategic reliance on fossil fuels. My bright, progressive and peace-oriented students had never seen a high-ranking officer before. And they were agape and incredulous that the brass were so deeply informed, concerned and taking action against climate threats.
That was somewhere about a decade ago when global security expert Michael Klare, who also came to my class, was talking about his book, Blood and Oil, that drew the connections between the U.S. need for oil and our military involvements in the Middle East. The timing is perfect now for the paperback version of Klare's newest and fifteenth book, All Hell Breaking Loose: The Pentagon's Perspective on Climate Change.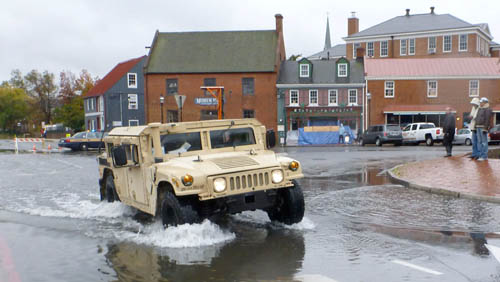 That's because the Biden Administration has named combatting climate change as an "existential threat" and top priority across the government, including the Department of Defense. Klare is the ideal introduction for undergraduates, including environmental activists, who may not yet have heard about the Pentagon's concerns. All Hell Breaking Loose clearly reviews, interprets and makes accessible what has now been years of analyses from the Pentagon, top brass, and think tanks like the Center for Naval Analysis. Such thinking, unfortunately, is still relatively hard to find in the mainstream media, on environmental NGO web sites, or in undergraduate courses on global climate change.
Klare, a retired Five Colleges' Professor of Global Security at Hampshire College and former defense correspondent for the Nation, whose views were once considered radical, these days is able to lecture at the National War College, the National Defense University, the Army and Navy War Colleges, Air University, Naval Postgraduate School and the Naval Academy at Annapolis. Now that progress in tackling climate change is possible under Biden-Harris and our military can be a major part of the solution, All Hell Breaking Loose should be required reading across the curriculum, especially at veteran-friendly campuses and those with ROTC units. The same is equally true for well- known "green" colleges whose activists should be able to tell a Humvee from a humpback.
-- Bob Musil, President & CEO of the RCC, is a former Army Captain who taught communications policy and communications for the Department of Defense, and, after refusing orders to Vietnam, led the NGO opposition to the Iraq War. He is the author of Hope for a Heated Planet: How Americans Are Fighting Global Warming and Building a Better Future.
Environmental Films
New 'Meltdown' Film:
A Different Kind of Greenland Ice Documentary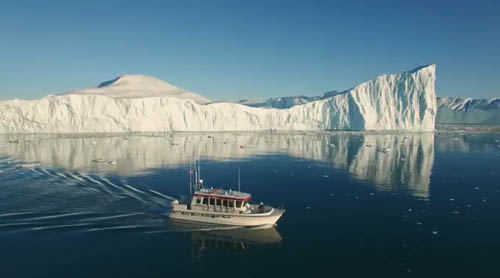 A famed photographer's vision and a YCC climate expert's insights make this vivid 67-minute video stand out from the crowd.

"Meltdown" – a new documentary featuring renowned art photographer Lynn Davis and climate communications expert Anthony Leiserowitz, made its online debut February 12. Shot on location in Greenland and directed and produced by Academy Award nominees Fred Golding and Mike Tollin, the 67-minute video differs significantly from many other videos on Greenland, its glaciers, and ice sheet. "It's not a scientific documentary. It's not an advocacy film. It's not a Hollywood disaster movie," Leiserowitz says.
The film is available for rent and/or purchase on a number of streaming services, including Amazon, Apple iTunes, Vudu, Xfinity, and other cable networks nationwide (not on Netflix). Rental and purchase prices vary somewhat among those services.
Resilience in Action: Highlights From a Virtual Eco Film Festival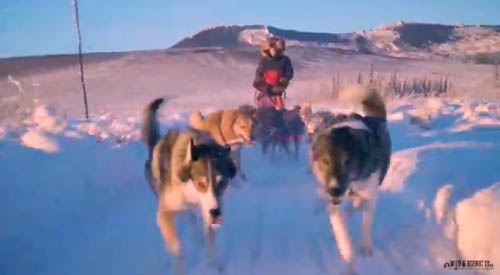 Nevada City, California. Amidst a historic pandemic and social unrest, watching the accelerating impacts of climate change on the silver screen could create a sense of helplessness – or deepen the resolve to act. Emphasizing the latter, "Resilient by Nature" was the official theme of the recent Wild & Scenic Film Festival, an entirely virtual affair this year as a result of the COVID-19 pandemic.
More than a tagline, a sense of resilience was palpable throughout the online event, from the festival's stirring poster art, through the 100-plus documentaries that emphasized solutions, and even into the Zoom-based lobby, where attendees could drop in for a trivia game, casual conversation about the films, or even a BYOB beer tasting.
Held by the South Yuba River Conservation League (SYRCL), the 19th annual festival also played up opportunities to act on climate and other environmental issues, from participating in virtual activism workshops to simply getting outside: Self-guided excursions included the memorable "It's All Newt to Me," a guide to local amphibians. Read more at EcoWatch
Fri., March 19; 8 p.m. ET, 5 p.m. PT | R.S.V.P. in advance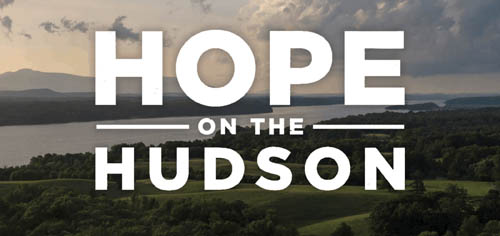 Join us on Fri., March., 19 at 8 p.m. ET, 5 p.m. PT for a discussion about the film, Hope on the Hudson. For many years, the Hudson River, like so many waterways across the U.S., was treated like an infinite waste barrel, a receptacle for poisonous chemicals, hazardous waste and trash of all descriptions. During the past forty years, thanks to a committed group of environmentalists and their agencies, the river has become markedly cleaner, a far more welcoming place for small business and community investment. While the river is still an under-utilized natural resource, increasingly it is used by boaters, kayakers, even swimmers as a recreational playground. But the river, in the words of Riverkeeper's John Lipscomb, the Hudson River, from Troy to Manhattan, has "had a foot on its neck" for more than one hundred years due to all that pollution and unmonitored industrialization. So despite all of the improvements the river and valley have witnessed thanks to the coordination of some of the savviest environmentalists in the country, there are still environmental risks and concerns. A unique multi-media project and collection of short films by Oceans 8 Films and the One Ocean Media Foundation exploring the Hudson Valley's environmental successes and continued concerns. Register to attend here.
How to Attend
R.S.V.P. in advance. Upon registration, you will immediately receive a Zoom link to join the discussion about the film, and you will receive the link to view the film between March 17 – 19.
About the Series
Phipps' Environmental Film Series is an exciting monthly event inviting community members to come together to view environmental films and documentaries. Each viewing will be followed by a dynamic discussion with film producers, scientists and environmental advocates, enabling attendees to share thoughts, consider various viewpoints and hear the experts' perspectives. The series aims to raise awareness of our relationship with the natural environment, and to use film as a platform for conversation, education and positive change.
RCC News
RCC Announces New Divestment Campaign and Report

Building on current work from members of our RCC Fellowship Program, our national RCC Campus Network, and original research and interviews, the Rachel Carson Council is excited to announce our newest campaign, beginning this spring, to link and expand campus and other NGO divestment and reinvestment efforts nationwide. Called Money Talks, our campaign will also produce a comprehensive report for educators, activists, and policy makers entitled "Money Talks: Strategy for the Movement from Fossil Fuels to Investment in Renewables."
As an organizing tool, divestment has served social movements for decades. In the fight against the climate crisis, divestment campaigns have become a central tool for students to press their institutions on their climate commitments, as well as to pressure businesses and state funds to divest from fossil fuels. In our new report, RCC will make the case that not only must we divest from the fossil fuel, but that we must also reinvest for a future fueled by renewable energy. Join with the RCC Money Talks campaign by sending contact information and news, resources, writing, and ideas for divestment and reinvestment to Mackay Pierce, Associate Director: mackay@rachelcarsoncouncil.org.
More from our RCC Fellows
Why Care About a Sea Turtle?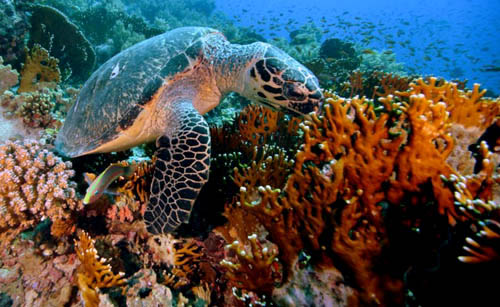 The wind whistled in my ears, rippling the sea lapping at the rocks below me. Under the wrinkled surface of the shallows, a green sea turtle swam languidly among the sea grasses. It was a small turtle, no larger than a dinner plate. I leaned against the railing of the sea wall, watching in rapture as the turtle ambled, in movements more peaceful and placid than the ocean, among the underwater meadows. I had walked along the sea wall almost every afternoon during my summer researching at the Duke Marine Lab, fixing my eyes on the water in hopes of spying some sign of a turtle: the flat, glossy back of a shell, a blip in the water's wavy signature.
When I finally saw the turtle, I stood in stillness as the sea-wind whipped around me. I remembered why I decided to pursue a degree in environmental science and a career in conservation. I chose this path to advocate for threatened species, to restore marine environments degraded by pollution and development. It is a path that led me to the very stretch of North Carolina coast that Rachel Carson wrote about in Under the Sea-Wind. Read more at RCC
The Clock That Ticks Down:
Climate Change Worry and Mental Health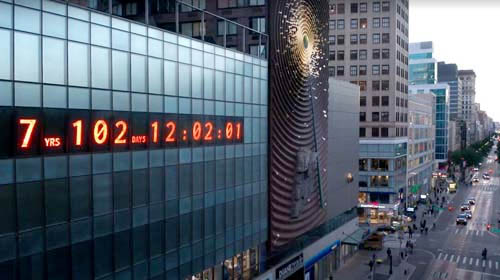 In September 2020, an art installation dubbed the 'Climate Clock' sat atop big-box stores like Nordstrom and Best Buy in New York City's Union Square, counting down the years, days, hours, minutes, and seconds until an unavoidable climate catastrophe. Installed for Climate Week, the Clock showed how much time is left to curb greenhouse gas emissions enough to keep the Earth under a 1.5 degrees Celsius temperature increase. Limiting global warming to a 1.5-degree increase, as noted by the UN Intergovernmental Panel on Climate Change in a 2018 Special Report, is necessary to avoid irreversible climate change impacts — sea level rise, increased disasters such as flooding and wildfires, and the complete devastation of coral reef ecosystems. In the midst of a global pandemic, as the clock ticked down, New Yorkers looked on helpless, worried and afraid.
Growing research shows that climate change poses a major risk to human health. As climate change increases in both frequency and intensity, humans are increasingly exposed to changes in their immediate environment through weather patterns, seasonality, and extreme events. Read more at RCC
Bigger Problems, Bigger Fish to Fry: Individual or Corporate Responsibility for Climate Change?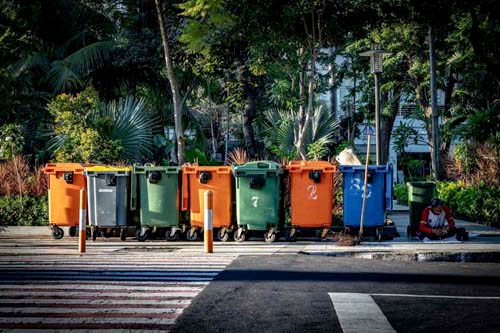 Debates on climate action often center around one question: Whose responsibility is it? More times than not, the burden of responsibility falls to the individual. You and I are expected to engage in sustainable practices such as taking shorter showers, buying local, and using reusable bags and water bottles. In theory, such efforts, as long as they are done by a majority of the population, can add up and make a significant dent in carbon emissions. Sustainable practices are also thought to "catch on" with family and friends, making the task of tackling climate change and its associated emissions within reach.
The belief that individuals should be doing more to stop climate change was evident in my survey research, introduced in my earlier RCC article, "Visualizing Climate Change." 420 undergraduate students at West Virginia University were asked about their climate change perceptions and beliefs in the Spring 2020 semester. Read more at RCC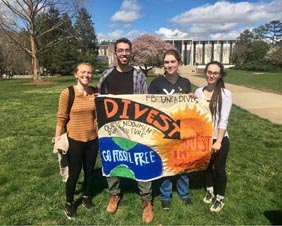 The RCC Fellowship Program is designed to identify outstanding students with a passion for environmental education, organizing and advocacy and provide them with financial support to carry out valuable projects or campaigns on behalf of the RCC. As a part of the program, students propose projects focused on sustainability and environmental justice that they wish to carry out on their campus or in their community. If accepted into the program, students will be supported over the course of the school year with mentorship from RCC staff and be given the opportunity to publish writings about their work.

Projects can and have involved organizing campaigns on divestment and reinvestment, lobbying on coastal and ocean protection; the arts and communications such as a series of podcasts on factory farms, curriculum development, community engagement, climate and environmental organizing and network building with Black, and LGBT+ communities; and campus sustainability construction and education for solar installations, campus and community organic gardens, food pantries, and food insecurity.
RCC Fellows become leaders and active participants in the RCC's National Campus program with over 5,000 active faculty, students, staff and administrators at 57 campuses. As part of the RCC team, Fellows also help build RCC's network of active students and faculty and publish and speak on behalf of a respected national organization.

Application Deadline April 30th
RCC RESOURCES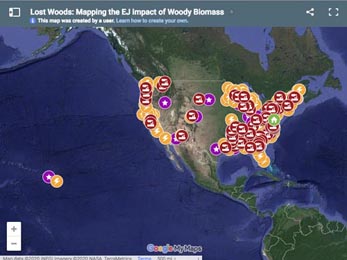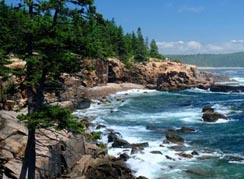 PS: Have you seen the new resources on our website? This summer, the Rachel Carson Council unveiled an interactive data map tracking the wood pellet industry. The RCC also launched our new Coasts and Ocean Program, highlighting many of the specific challenges facing our coastal communities and environments.
Find both here:
___________________________________________________________________________________

The Rachel Carson Council depends on tax-deductible gifts from concerned individuals like you. Please help if you can.

Sign up here to receive the RCC E-News and other RCC newsletters, information and alerts.