The Oceans Are Visibly Crying Out For Help!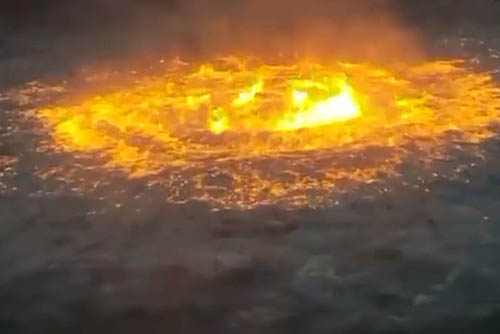 Most recently, you have probably seen images of the ocean quite literally on fire. Oil spills in the Caspian Sea and the Gulf of Mexico produced terrifying pictures of pools of fire floating on the sea, killing marine life with flames and smothering fossil fuels. And it's not just heat from burning flames hurting ocean ecosystems. Scientists are reporting that the recent Pacific Northwest heat wave likely cooked a billion seashore animals alive as shells continue to wash up on the shore from California to Canada. The oceans are visibly crying out for help.

Policy leaders seem to finally be listening. June (World Ocean's Month) was unprecedented for ocean action at the state, national, and international level. The U.S. passed groundbreaking policy to protect sharks from finning, expanded plans for offshore wind expansion from California to New Jersey, and joined global efforts to advance ocean protected areas. Individual states from Pennsylvania to North Carolina took concrete steps to phase out plastic bags, set ambitious offshore wind targets, and use natural prevention methods to minimize the impacts of sea level rise. And, the public is in favor: a bipartisan majority of Americans support increased funding for ocean-climate resiliency efforts. With a new infrastructure bill still on the table in Congress, it's time for policy makers to invest in blue jobs that support vulnerable coastal communities, preserve our oceans, and work towards climate justice goals. The ocean may be on fire, but we have the chance to create change!
Oil Leaks and Lobbyist Leaks
How Bankruptcy Lets Oil and Gas Companies Evade Cleanup Rules
"It's basically bankruptcy for profit."
A battle over who is responsible for cleaning up hundreds of oil and gas rigs in the Gulf of Mexico is quietly playing out in a bankruptcy court in southern Texas. The contestants in this game of fossil fuel infrastructure hot potato: Fieldwood Energy, an offshore drilling company attempting to offload more than $7 billion in environmental cleanup responsibilities; a group of oil majors including Chevron, Marathon Oil, and BP; and the Department of the Interior.
The Keystone Pipeline is Dead. The Next Target: Line 3
The announcement this week from the Canadian company TC Energy that it was pulling the plug on the Keystone XL pipeline project was greeted with jubilation by Indigenous groups, farmers and ranchers, climate scientists and other activists who have spent the last decade fighting its construction.
The question now is whether it will be a one-off victory or a template for action going forward — as it must, if we're serious about either climate change or human rights.
Coast Guard: "Large" Oil Leak During Georgia Ship Demolition
A large amount of oil has escaped a barrier after it was released while crews were dismantling an overturned cargo ship along the Georgia coast, the Coast Guard said Thursday. Coast Guard Petty Officer 2nd Class Michael Himes said it was hard to estimate how much oil leaked, but it has affected marsh grass along the shoreline. Crews noticed the leak around 8 a.m. while cutting away a fifth section of the Golden Ray, which capsized in September 2019 with about 4,200 automobiles in its cargo decks.
Exxon Lobbyist Caught on Video Talking About Undermining Biden's Climate Push
Indiscreet comments made by an Exxon Mobil lobbyist to undercover activists may figure prominently in upcoming congressional hearings about the role of oil companies in the battle against climate change.
Video clips released by the Greenpeace investigation project Unearthed show Keith McCoy, the oil giant's senior director for federal relations, talking frankly about Exxon Mobil's lobbying strategies. Channel 4 from the United Kingdom first reported the comments.
'The Ocean is Coming':
Sea Level Rise is Demanding a Response
From Coast to Coast
"The Ocean is Coming." A Chieftess Sees Her Islands Sink
"We binya and ain gwine nowhey! De sea ain gwine be hiya den we." "We won't be leaving this land. We will rise and remain." — from Gullah/Geechee.
The Gullah/Geechee Nation of the south Atlantic coast is one of the most climate-threatened peoples in the world. Its members are direct descendants of enslaved West and Central Africans brought to the United States to toil in remote wetlands — the Sea Islands — to produce indigo, rice and cotton.
A $26-billion Plan to Save Houston From Rising Seas
When Hurricane Ike made landfall in 2008, Bill Merrell took shelter on the second floor of a historic brick building in downtown Galveston, Texas, along with his wife, their daughter, their grandson, and two Chihuahuas. Sustained winds of 110 mph lashed the building. Seawater flooded the ground floor to a depth of over 8 feet. Once, in the night, Merrell caught glimpses of a near-full moon and realized they had entered the hurricane's eye.
Before Condo Collapse, Rising Seas Long Pressured Miami Coastal Properties
The Champlain Towers South building was recently found to have been sinking in the 1990s and may have continued to sink since then, according to Shimon Wdowinski, a professor at Florida International University's department of earth and environment who has studied the area. Wdowinski co-wrote a paper published in April 2020 that said satellite imagery showed a 12-story condominium building in the eastern part of the Miami Beach area had sunk by about two millimeters per year between 1993 and 1999. "I was shocked to see it collapsed," Wdowinski said.
New York Embarks on a Massive Climate Resiliency Project to Protect Manhattan's Lower East Side From Sea Level Rise
Some residents are wary of the $1.45 billion system of seawalls and floodgates that will elevate the East River Park and protect 110,000 New Yorkers from coastal storms and flooding. Carlos Jusino has lived in the Lower East Side of Manhattan for over 35 years and remembers Hurricane Sandy as the longest two weeks of his life. As the neighborhood flooded, his family was left boiling water on a gas stovetop. Without heat, every blanket in their apartment was in use.
How Oysters and Seagrass Could Help the California Coast Adapt to Rising Seas
Seawalls can make erosion worse. This California scientist is looking for another solution.
On a sunny afternoon in April, Katie Nichols crouched over the edges of a small oyster reef in Newport Bay, California, peering into the mud that had been exposed by the receding tide. Where all I saw was a jumble of interchangeable shell fragments, Nichols quickly spotted what she was looking for.
Coasts Are Providing Warning Signs
and Solutions to Climate Change
NASA Looks at Louisiana Delta System, Eyes Global Forecast
Erosion, sinking land and sea rise from climate change have killed the Louisiana woods where a 41-year-old Native American chief played as a child. Not far away in the Mississippi River delta system, middle-school students can stand on islands that emerged the year they were born.
NASA is using high-tech airborne systems along with boats and mud-slogging work on islands for a $15 million, five-year study of these adjacent areas of Louisiana.
Off California, Sea Otters Feast and Play a Part in Climate Change Battle
Sea otters are helping to keep marine forests healthy by feasting on the seaweed-loving urchins whose numbers have exploded off California's coast, researchers have found. Urchins have bred profusely after a disease wiped out their main predator, the sunflower sea star, and are overgrazing on nutrient-rich kelp forests that grow along California's cold shallow coastal waters and provide shelter and food for marine life. Those kelp forests are already threatened by rising temperatures and ocean acidification.
The Scientists Fighting to Save the Oceans Most Important Carbon Capture System
The population of kelp forests, which help clean the air, has fallen dramatically. That has environmentalists worried.
Frank Hurd gently parted the curtains of giant kelp that reached upward through the cold waters of the North Pacific, looking for signs of life. Kelp forests cover a quarter of the world's coastlines, stretching from Antarctica to Australia, Mexico to Alaska, providing food and shelter for thousands of species, while sucking carbon from the atmosphere.
North Carolina's Notorious Climate Change Law — the Rich Are OK, the Poor Aren't
Driving through Tyrrell County on the eastern coast of North Carolina, the impacts of climate change are clear. Roads flood regularly, cutting off people in isolated areas from their jobs, schools and basic necessities. Hurricanes and powerful storms are frequent, the most recent being Tropical Storm Claudette in June. The county sits at sea level and is surrounded by water on two sides — the Albemarle Sound to the north and the Alligator River to the east.
The vast majority of waste coming out of our precious national parks is ALL plastic bottles and other single-use plastic waste! How can we value our national parks while burying them in plastic waste that accelerates climate change, suffocates animal populations, and steals from funds we need to preserve those precious natural spaces? It's time for change.
Tell Interior Secretary Deb Haaland to make our national parks a green space leader by
Reducing plastic waste from national parks by 75%,

Banning the sale of plastic water bottles,

And ensuring all visitors have equitable, adequate access to free potable water.
CLICK HERE to take action!
Gillnets used for commercial fishing trap far more than intended. Over 70 important marine species have been caught, strangled, and killed in gillnet lines including dolphins, sharks, sea turtles — even whales. These dangerous fishing lines are a threat to all marine life in their path and can stretch for miles along our US coastlines.
Luckily, there are bipartisan bills in the Senate and the House to get rid of these killer nets NOW. The bill to end gillnetting was vetoed by President Trump in January of 2021 even after Congress passed it with bipartisan support! But now we can act to Stop the Strangle! Tell your representatives to support the Driftnet Modernization and Bycatch Reduction Act (H.R. 404/S. 273) to save our marine life.
CLICK HERE to take action!
FOLLOW us on Instagram and Twitter for more action items and ideas for how you can go plastic-free this July!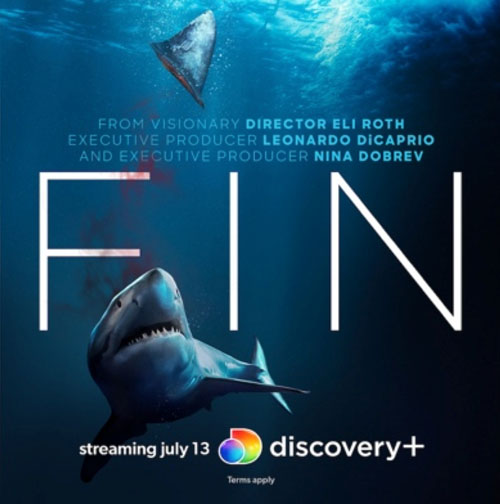 Premiere of The Fin
Start off Shark Week (July 11-18) right with the world premiere of The Fin, a harrowing new documentary from Eli Roth. Even though Roth normally specializes in horror, he claims that this real-life horror story about the mass killing of sharks is the scariest film he's ever created. The Fin aims to scare the public into mass action to protect these incredible creatures while we still can. You can stream The Fin on Discovery Plus starting July 13th, 2021.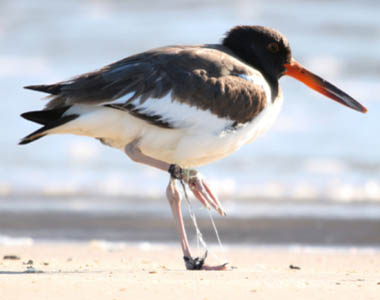 Let's Talk Trash: Plastic Pollution, Birds, and Our Oceans

Wednesday, July 14th from 4:00-5:00 PM Eastern

Plastic is everywhere. It has been found in the stomachs of seabirds thousands of miles from land and microscopic fragments have been recorded as literally raining down in protected areas in the western U.S. Use of plastics, including single-use items and packaging, has grown so much that every year 17 billion pounds of plastic enter the marine environment. But it doesn't need to be this way. Join American Bird Conservancy for a webinar about the effect of plastic on birds and oceans, what they're doing about it, and what you can do to help. RSVP for this event HERE
The Wall by John Lancaster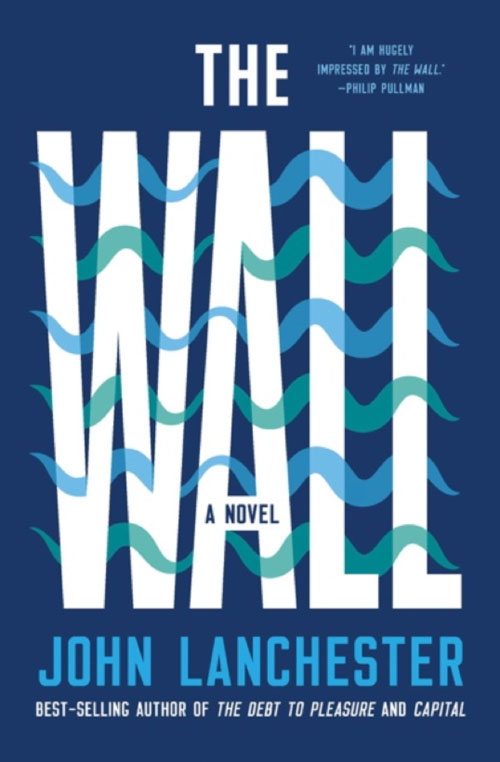 In a not-so distant future, a new generation only learns about the wonders of the shores, the joy of a beach day, and the ease of the ocean breeze through dated movies and television shows. To them, the ocean represents one thing: the savage world left behind after the Change. In this climate-ravaged dystopian world, Joseph Kavanaugh has been sent to the Wall—like every other 20-something— to defend his country from the Others who try to seek refuge inside of their walled-in country. Each day these Others, cast out in the endless sea, risk their lives seeking refuge inside of the Wall. Defenders have only one charge: to stand guard to keep the Others out or be put out to sea and face a certain death themselves.

Author John Lancaster expertly weaves together commentary on the devastating human impact of militarizing the environment and the desperate need for action towards climate justice by painting a picture of a world that failed to act in the face of the climate crisis. Our climate crisis. The Wall is certainly not an uplifting read, but it forces the reader to examine the most personal niches of our human connection to the environment and connect with the fact that we need nature to survive; nature does not need us. Read more
Seaspiracy, Netflix Documentary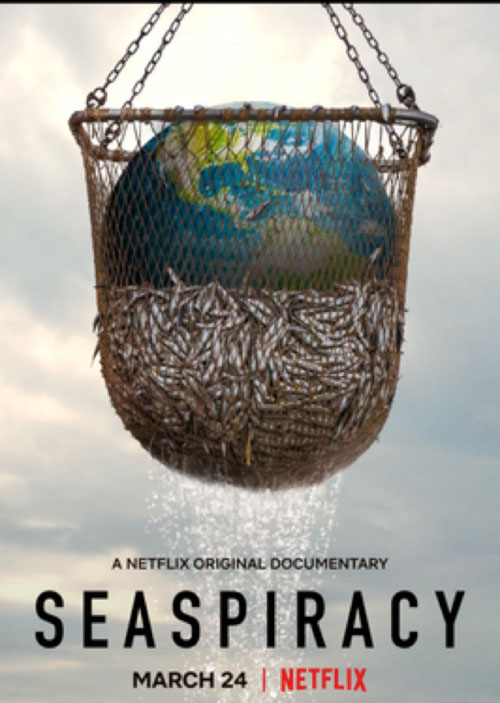 The trending Netflix documentary Seaspiracy explores the ultimate threat to the survival of our oceans: the destructive practices of the commercial fishing industry. Documentary film maker, Ali Tabrizi, begins his journey by trying to film the mass-murder of dolphins in secretive Japanese coves. But he discovers that the fishing industry as a whole—from illegal whaling to wide-spread tuna fishing to Marine Stewardship Council labels—is pushing our ocean ecosystems to the brink of extinction.

Seaspiracy will certainly make your stomach turn the next time you think about ordering a tuna fish sandwich, but does it accurately portray what's going on in the world of commercial fishing and ocean conservation? Many NGOs—like Oceana—have sharply contested many of the statistics and interview clips presented throughout the documentary claiming that they are misplaced, misquoted, or entirely inaccurate. The film also misses the mark in their call to action; it is out-of-touch to have 90 minutes dedicated to the harm coming from big industry only to flip a switch and call on viewers to change their own eating habits. Individual action can only go so far. We need to pressure policy makers and industry giants to take ocean conservation seriously. Read more
PODCASTS
"Oceanology" With Ayana Johnson, From the Ologies Podcast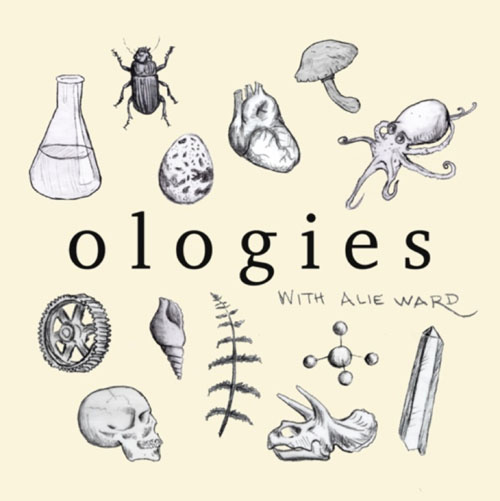 Marine biologist and ocean policy advocate, Ayana Johnson, sits down with Ologies host Ali Ward for an honest conversation about the state of the oceans, Johnson's professional journey, and where (if anywhere) there is hope for saving the planet. Ward and Johnson have a welcoming chemistry, and listeners will feel as though they just ran into them at a coffeeshop and got caught up in an hour-long conversation filled with rich information mixed with candid emotional reactions. Let's just say that the two women share several painful laughs about the doomsday scenarios facing our ocean environment. The conversation will inspire listeners to dig deeper into science and policy solutions, as Johnson does an expert job of blending the harsh realities of ocean crisis with hopeful notes about innovative global solutions and the magic quality of ocean life. Listen here

The Rachel Carson Council Depends on Tax-deductible Gifts From Concerned Individuals Like You. Please Help If You can.

Sign Up Here to Receive the RCC E-News and Other RCC Newsletters, Information and Alerts.