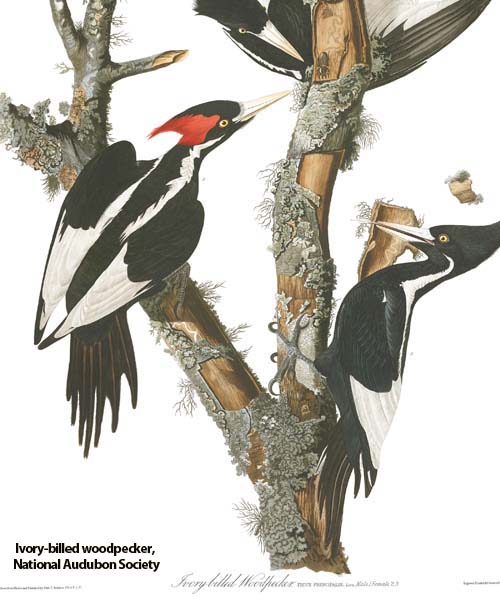 In September, birds took flight! The start of fall migration was packed with the ups and downs of bird news. From the sad news of multiple bird species announced as extinct to the uplifting reinstatement of important bird protections, this issue of Bird Watch and Wonder will help you catch up with our feathery friends.

On Wednesday, September 29th, we received the disturbing news that 23 species of birds, fish, and other wildlife are now officially presumed extinct. Nearly half of these 23 species are birds ranging from the beloved Ivory-billed woodpecker to the Large Kauai thrush. Eight of the extinct bird species come from Hawai'i alone with the remaining three from the U.S. Southeast and Guam. With changing climates, degrading habitats, and a variety of human threats, it is no surprise that birds are in danger, and that we are seeing extinctions increase.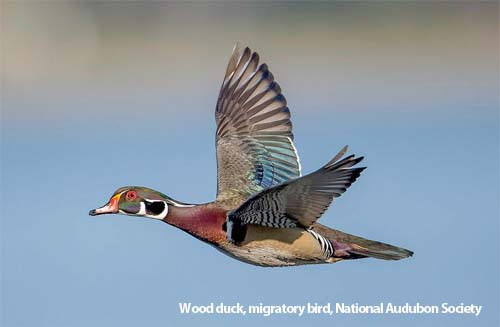 Nevertheless, it's not all bad news. Earlier this month, RCC members responded heavily to our action alert about the Migratory Bird Protection Act. This act aims to protect birds from killings as a result of accidental deaths from oil spills, explosions, and other careless corporate acts. The Trump administration had reversed this protection, but on Wednesday the 29th, the same day that 23 species were announced extinct.

Biden administration reinstated the protection against so-called inadvertent bird killing. Now the RCC and other organizations are pushing to make this protection permanent through legislation that cannot simply be changed by the next President.
For more bird news, books, films, and events, continue reading the October issue of Bird Watch and Wonder.
World Migratory Bird Day - October 9th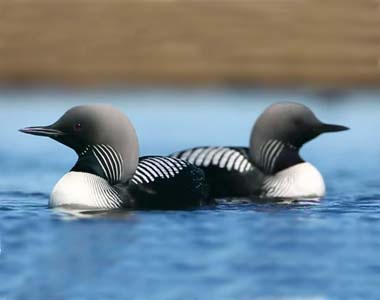 During this year's event, World Migratory Bird Day (WMBD) will imbue the activity of birdwatching, a past time enjoyed by some 86 million Americans, with deeper meaning. WMBD will teach participants at more than 700 locations from Argentina to Canada how to identify birds, how to connect with them, and how to delve deeper into bird biology, investigating such topics as the difference between birdsong and call, the mysteries of migration, and the astounding power of flight.

Celebrate World Migratory Bird Day on October 9th, 2021! Check out the event map to find events and activities near you. Read more
Global Bird Weekend - October 8th - 10th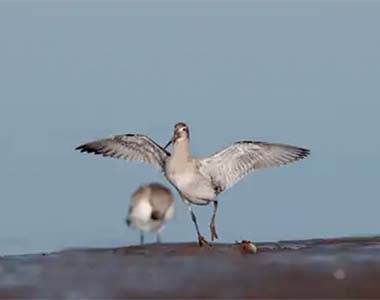 This weekend, celebrate birds with this 3-day event!

Read more about how you can get involved here.

FRIDAY 8 OCTOBER - Learn about birds across the world. Swarovski Optik are hosting another Global Bird Weekend Birding Live On Location event on Facebook. Watch for details!

SATURDAY 9 OCTOBER - OCTOBER BIG DAY. It would be great to think that as many people as possible are joining in! Go out birdwatching and submit all your bird sightings to eBird
SUNDAY 10 OCTOBER - Share your passion for birds and nature by taking a friend out birdwatching for whom this might be a new experience. If you are a guide, you might like to offer to take a local group out birdwatching around your area and inspire them to appreciate their surroundings.
Mindfulness Activities in Nature:
Try Bird-watching
Bird-watching can help bring a sense of calm and peace for those who observe the grace of a bird in flight or the beauty of its colorful feathers.
Birding helps people connect, often through friendly competitions to find the rarest breed or complete a checklist of local fowl. Ahttps://www.uchealth.org/today/mindfulness-activities-try-bird-watching/s a mindfulness activity, bird-watching has holistic healing properties, bird-watchers say.
See Where Birds Are Migrating in Real Time, in One Map
This bird forecast is way more fun than any weather app.
If you're like me, you're probably easily fed up with the weather forecast. It's often wrong or shows me what I don't want to see.
I'm here to tell you that there's a better forecast out there — a forecast for birds.
How Congress is Literally Going
to the Birds!
An ingenious guide teaches bird watching as a way of connecting disconnected people in Washington, D.C., to environmental and justice issues
It's 8:00 a.m. on the National Mall in Washington, D.C., and Tykee James is peering through his binoculars at the tips of tree branches, scanning for the slightest movement.
For the Birds: A Philly Teen Commemorates 1,500 Migrating Birds Killed Hitting City Buildings
A Philly teen used origami to commemorate the deaths of thousands of birds a year ago.
The goldfinch she saw killed when it flew into the glass of a tiger's enclosure at the Philadelphia Zoo made a deep impression on Victoria Sindlinger, though she was only 10 years old.
It's one reason she was so horrified last year when Philadelphia reported bird deaths on a much larger scale, but from the same cause.
Hawaii Loses Several Bird Species
to Extinction
We're going to do an unusual obituary today. This past week, 22 animals and one plant were recommended to be declared extinct and removed from the list of endangered species. That means that federal wildlife officials now believe none of them exist anymore anywhere on this planet. Hanna Mounce is the research and management coordinator for the Maui Forest Bird Recovery Project, and she joins us now. Welcome to the program.
Oil Spill Seeps Into O.C.'s Coastal Wetlands, a Critical Link Along Migratory Bird Route
The stench of petroleum permeated the air of Huntington Beach's Talbert Marsh on Sunday as crews in small boats and sealed inside protective uniforms heaved absorbent pads laden with oil as thick as brownie mix into plastic bags.
A day after a broken pipeline spewed roughly 130,000 gallons of post-productive crude off the Orange County coast, they were part of an effort to clean up oil that had gushed into a two-mile necklace of delicate coastal marshlands — Talbert, Brookhurst, Newland and Magnolia — at high tide early Sunday morning.
This Iconic Bird of the Everglades Is Moving to the 'Burbs
White Ibis are natural wanderers, traveling far and wide for a meal. But now some birds are scoring steady grub by settling in around people. What does that mean for the species' future—and what does it say about ours?
The sun is rising as Sonia Hernandez and three research assistants unload a canoe and inflatable paddle board. A University of Georgia wildlife disease researcher, Hernandez urges everyone to hustle; she'd like to embark for their destination—a cluster of tree-filled islands around a bend in the stagnant water—before the neighbors wake up.
Chicago's Rose the Piping Plover Hits the Beach in Florida Just in Time for World Shorebird Day
Fall migration is on and one of Chicago's famed Piping Plovers has arrived in Florida, just in time for World Shorebirds Day on September 6th. The plover, who is named Rose, was spotted last week at Anclote Key Preserve State Park off Florida's Gulf Coast, where she was met with a warm welcome by other shorebirds and plovers.
Piping Plovers have only recently returned to the Great Lakes region to nest, and at one time fewer than 20 pairs made the area their summer home.
Protected Too Late: U.S. Officials Report More Than 20 Extinctions
The animals and one plant had been listed as endangered species. Their stories hold lessons about a growing global biodiversity crisis.
The ivory-billed woodpecker, which birders have been seeking in the bayous of Arkansas, is gone forever, according to federal officials. So is the Bachman's warbler, a yellow-breasted songbird that once migrated between the Southeastern United States and Cuba. The song of the Kauai O'o, a Hawaiian forest bird, exists only on recordings. And there is no longer any hope for several types of freshwater mussels that once filtered streams and rivers from Georgia to Illinois.
Big and Burly, With a Supersized Orange Bill, the Once Rare American White Pelican is Migrating Through Illinois: 'It's just stunning to watch.'
Pelicans in Chicago? Increasingly, the answer is yes.
The American white pelican — a snow-white showstopper that weighs in at up to 30 pounds — has been spotted at Lake Calumet on Chicago's South Side. The birds have been seen flying over the busy Dan Ryan Expressway, the historic three-flats of Lincoln Park and the neat bungalows of suburban Berwyn.
The Lorax and the Peregrine
"When you break a single strand, you weaken the entire web". Simon Barnes, On The Marsh*
Join our web event, New Nuclear: What's at Stake for Wildlife, to learn more about the destructive impacts of nuclear power plants on ecosystems, habitats and the creatures who live and depend on them. Our event is on October 7. Register here to join, see local time and special guests.
Master Mimic: the Northern Mockingbird
"There is probably no bird in the world that possesses all the musical qualifications of this king of song, who has derived all from Nature's self." — John James Audubon, Birds of America.
A mockingbird can produce a wide variety of sounds and up to 350 unique songs! They are known for mimicking other birds and even human music and the sounds of machinery so it's not surprising their Latin name if Mimus polyglottos which translates to many-tongued mimic. Polyglot is a person who speaks many languages. At a recent outdoor event in a park I thrilled to a Mockingbird demonstrating its repertoire, singing for long stretches of time without repeating any one phrase.
The 'Lord God bird' is Gone: An Elegy for the Ivory-billed Woodpecker
The ivory-billed woodpecker, a majestic black-and-white bird that once nested in mature forests in the American Southeast and Cuba, was last indisputably seen in the United States in Louisiana in 1944. As decades passed with no plausible records, the bird has been assumed by most ornithologists to be extinct. And on Wednesday the inevitable happened: The U.S. Fish and Wildlife Service announced its intention to remove 22 animals, including the ivorybill, and one plant from the Endangered Species Act list because the agency considers them extinct.
Home Tweet Home: How an Illustrator Captured the Intricacy of Bird Nests
One day about five years ago, while she was clearing up her Somerset garden after a storm, Susan Ogilvy found a curious object under a fir tree. "I had no idea what it was," she recalls of the small, sodden green lump. "It clearly hadn't grown naturally; it had been made by something. I picked it up and brought it inside and put it on a wodge of newspaper and, as the weight of water drained out of it, it sprang up into this absolutely fantastic nest."
Reimagining the Common Loon
Building layer upon layer, mixed-media artist e bond coaxes the Common Loon from paper and ink.
When pondering which species to choose for this assignment, artist e bond consulted her mom. The Common Loon decisively won the maternal vote.
The white stipples and swatches adorning the bird's breeding plumage also appealed to bond, a California-based mixed-media artist. bond decided to reinterpret John James Audubon's exacting original through her own aesthetic of abstract shapes and patterns.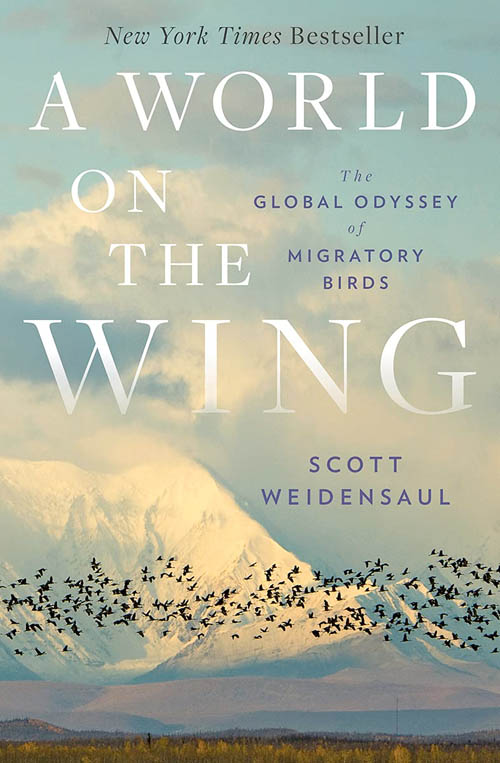 Scott Weidensaul's new book focusing on bird migration around the world is an ideal companion to his first volume from 20 years ago.

The grand spectacle of the fall migration continues. There's nothing like going out into the field to see the migrants and wish them farewell until the spring. But it's fun to read about migration as well to gain a broader perspective on the phenomenon.

My favorite book on migration has been Scott Weidensaul's volume – Living on the Wind: Across the Hemisphere with Migratory Birds – published in 2000. Weidensaul describes amazing example after example of migratory feats in his graceful, clear prose.

Bird migration is a popular research topic and our understanding has advanced greatly in the past 20 years. To review this new knowledge, Weidensaul has just published a new book, A World on the Wing: The Global Odyssey of Migratory Birds. Click here to purchase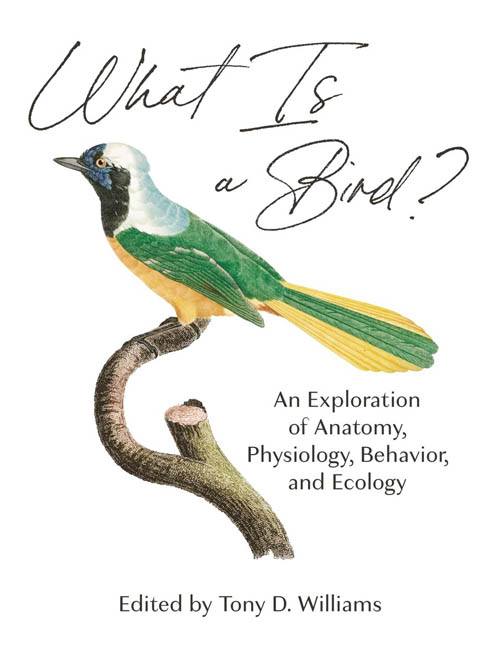 A comprehensive overview of birds, featuring clearly written explanations and lavish photographs and diagrams on every page.

Written by a team of seven scientists and edited by Tony Williams, a biology professor at Simon Fraser University, What Is a Bird? An Exploration of Anatomy, Physiology, Behavior, and Ecology (Princeton University Press; 2020: Amazon US / Amazon UK) combines cutting-edge science with lavish photography and informative scientific illustrations to enlighten the reader about the lives of birds, from common backyard sparrows to the most exotic birds of paradise. In this book, we learn why birds do what they do; why their bodies are built in specific ways; why they are so diverse. We also learn interesting details about particular species, such as how emperor penguins, Aptenodytes forsteri, breed successfully on glaciers during the blustery Antarctic winter when temperatures regularly plunge to -40oC; we discover how red knots, Calidris canutus, fly 12,000 kilometers non-stop from Alaska to New Zealand in less than 2 weeks; and how ducks, geese and swans swim for hours in icy water without freezing their feet off.

Birdwatching: 10 Movies About Birds, Ranked By IMDb Score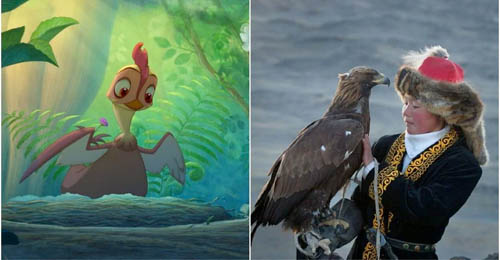 Plenty of the best bird-based films are documentaries, but there are some surprising hits for bird-lovers across all genres.

Since ancient times, birds have served as major symbols in human stories. They can symbolize peace, death, hope, fertility, wisdom, motherhood, and even the working class. How they are associated with so many symbols is a mixture of their diversity as well as human superstition and fascination.
Like any connection humans have with their world, the associations we have with birds have been part of the film industry for some time. Even in movies that are not centered on birds, minor birds can often take on a memorable role, like the giant eagles in Lord of the Rings or Hedwig in the Harry Potter series. Read more

The Rachel Carson Council Depends on Tax-deductible Gifts From Concerned Individuals Like You. Please Help If You can.

Sign Up Here to Receive the RCC E-News and Other RCC Newsletters, Information and Alerts.