A bimonthly newsletter on campus happenings,
research, and civic engagement
Elon University hosts forum on drinking water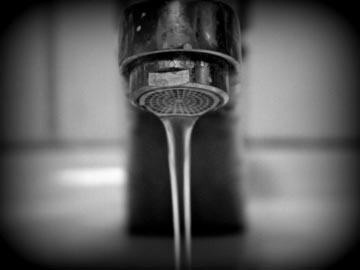 "'Safe' doesn't mean zero risk, and it hasn't ever," Rebecca Sadosky said at the drinking water forum hosted by Elon University. Sadosky, the state Drinking Water Safety Program Director, spoke about drinking water standards and development of regulations for drinking water. Another speaker, Mike Borchers, added that 80,000 synthetic chemicals are in use, but fewer than 2,000 have been tested for their cancer causing ability, and roughly 2,000 new chemicals are introduced every single year.
Updated climate action plan presented to Lafayette Board of Trustees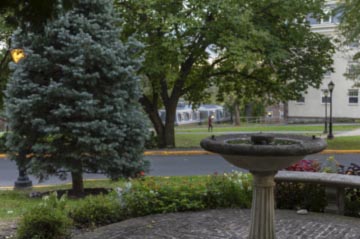 Following student led rallies in the 2015-2016 school year and the creation of a Sustainability Office, Marie Fechik-Kirk, Director of Sustainability, presented the new climate action plan for reducing Lafayette's carbon footprint to the board of trustees. Before the presentation, representatives from environmental groups around campus collected signatures for a petition supporting the new plan and establishing the community's commitment to achieving carbon net neutrality.
Middlebury faculty vote to support divestment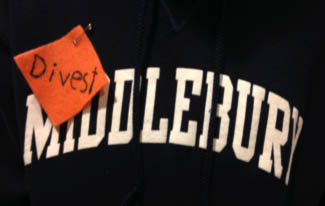 In a victory for Divest Middlebury, the Vermont college's faculty voted to endorse the Student Government Association (SGA) fossil fuel divestment bill. The proposal, which passed by an 86-7 vote, officially affirms the faculty's shared support for the divestment proposition. The SGA proposal will be discussed at a Board of Trustees meeting in January.
St. Edward's University students rally in solidarity with youth climate lawsuit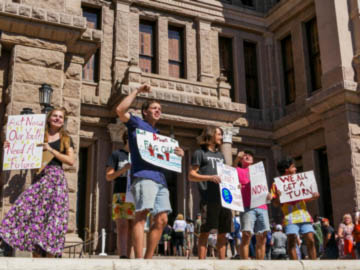 The SEU Students for Sustainability took to Austin to stand in support of the historic #YouthVGov climate lawsuit. The movement spanned over 70 events occurring across 40 states, rallying at courthouses in solidarity for the Juliana v. U.S. trial. The rally was attended by many St. Edward's students, including a speech presented by SEU student Camila Rojas. Students held signs and chanted to "give science a day in court!"
Susquehanna establishes largest university-sponsored solar array in Pennsylvania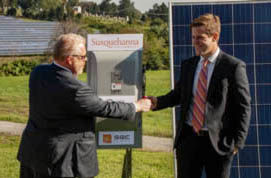 The solar initiative is a partnership with WGL Energy Systems, which has distributed generation projects installed or under contract across 20 states and the District of Columbia. According to Michael Coyne, vice president for finance and administration, "To shed some light—pun intended—this solar field isn't our final destination; it's a milestone along the way to the university being a carbon-neutral campus."
UNC Asheville establishes public-private partnership to promote climate resilience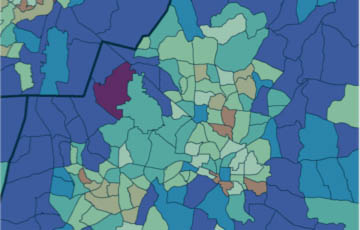 The joint activities will focus on delivering resiliency-based solutions to communities across the United States. Operations of the partnership—to be known as NEMAC+FernLeaf—will be based out of The Collider, a global innovation center for climate entrepreneurs, in downtown Asheville. The public-private partnership utilizes FernLeaf's proprietary software—AccelAdapt—a tool that empowers local governments to assess vulnerability locally and take actions that are targeted, implementable, and equitable.
UNC Chapel Hill students targeted by white nationalists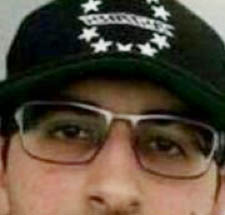 Hopefully, the name Jack Corbin doesn't mean anything to you. In better times, someone like Corbin wouldn't mean much at all. The frequent user of the social platform Gab, who goes by that moniker while hiding his real name, has become fixated on targeting UNC student activists online.

The right-wing platform allows hate speech, but not threats of violence. Most people who have heard of Gab in the last couple of weeks know that the two are not so easily separated. Robert Bowers, the Pittsburgh Tree of Life synagogue shooter, was a frequent user of the platform. Bowers posted on it right before his murders and interacted with Corbin the most out of all the alt-right figures on Gab.

Corbin, who reportedly lives nearby and discusses UNC students by name, has generated a following of more than 2,000 people on Gab. One of these followers has taunted a female graduate UNC student who has protested the Confederate statue, Silent Sam, "saying he would take her to the lampshade factory, apparently a reference to stories of Nazis who made lampshades from human skin." Read more here.
Want to see your campus or club featured with RCC? Send in your environmental events and achievements to office@rachelcarsoncouncil.org with a description and photos!
NC Environmental Justice Summit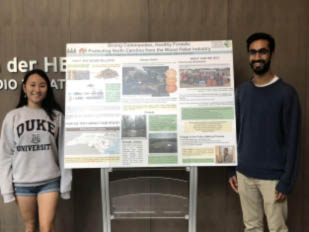 The 2018 NC Environmental Justice Summit titled, "Making Revolution Irresistible: A Summit Celebrating Promise, Change and Action", featured three Rachel Carson Council representatives. Elijah Brunson, the RCC Environmental Education Associate, hosted a workshop on creating a just transition to an equitable future which incorporated interactive exercises and theater of the oppressed. Two Duke students, Shom Tiwari and Sarah Sung, held a poster presentation on the environmental justice effects of the wood pellet industry, using the research done during their summer 2018 internship at the Rachel Carson Council's National Office. Keep an eye out for Clear Cut, a report created from this research by RCC, coming in the new year.
The Princeton Review's Guide to 399 Green Colleges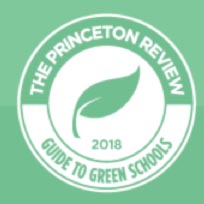 The Princeton Review's Guide to Green Colleges profiles universities and colleges with commitments to sustainability based on their academic offerings, campus policies, initiatives and activities. This year's guide has just come out and features multiple schools in the Rachel Carson Campus Network.
Watch: The chemistry of a cover-up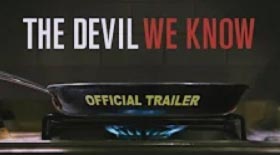 The Devil We Know profiles the community surrounding Parkersburg, West Virginia, home to DuPont's Washington Works factory, where one of the company's most profitable products – Teflon – has been manufactured for decades. Parkersburg, situated in the rural south's Chemical Valley, is a working class town that has relied heavily on DuPont jobs. The film tells the story of the community organizing for their health and the corporate efforts to conceal their stories.
2019 EcoCareers Conference Early Registration Now Open!

Just as businesses must learn to integrate sustainability into their projects on a warming planet, all graduates, regardless of major, ought to be prepared to integrate sustainability into their careers in business, technology, manufacturing, government, and beyond. This two-day virtual event on February 27 and 28, 2019 will host leading sustainability sector experts and is designed to help students find well-paid jobs in a changing economy, identify top academic programs and green credentials and explore sustainability career skill development opportunities.
Presentation & Report on the IPCC's Understatement of Existential Climate Risk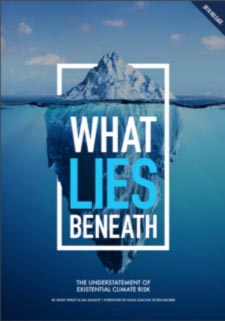 Having tracked climate science findings for over a decade, David Spratt's analysis is that the IPCC report dramatically overestimates the remaining "carbon budget" humanity has left to emit and the time we have left before the earth warms up to 1.5°C. Reviewing the climate science from a perspective of existential risk management, Spratt also questions the wisdom and ethics of the 1.5°C target itself, arguing that a more appropriate and safe goal would be somewhere below 0.5°C - the Holocene maximum. You can watch a recording of his presentation, review his slides and read the full report to see for yourself.
New Survey Finds Strong Support for
Climate Solutions Among Muslim-Americans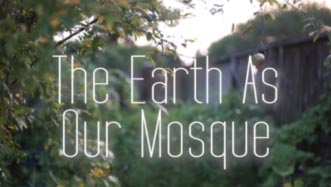 Of the more than 1,180 Muslim-Americans that fully participated in the online survey, the overwhelming majority correctly understand the origins of climate change (largely human activity); Are deeply concerned about the current and future impacts of climate change upon all of Allah's creation, especially the most vulnerable and future generations; Support shifting toward cleaner energy sources, and imposing a corporate polluters' fee. Results also suggest strong support for taking measures to address climate change from Muslim-Americans even across political orientation. Learn more about the Office for Interfaith and Community Alliance effort's around climate change here.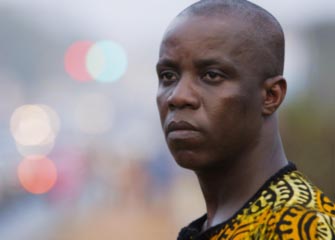 Nov. 27 'Silas' Film Screening at Duke
Liberian environmental activist Silas Siakor will visit Duke University for a screening of the film about his life 'Silas' and a Q&A session. Growing up during the rule of convicted war criminal Charles Taylor, Siakor saw valuable raw materials leave his country in exchange for weapons. When change promised by the democratically-elected president Ellen Johnson Sirlea in 2005 failed to come, Siakor and his colleagues used an encrypted mobile phone app to show the international community how human and environmental rights in Liberia continue to be widely violated. Silas follows their story.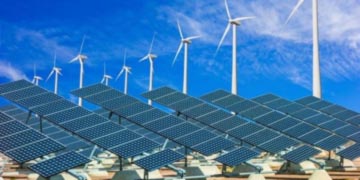 Nov. 29 Hofstra hosts Long Island's Energy Future for Young Professionals
In a fast-paced, high-tech world reliant on energy, universities and business leaders are working together to consider the advancements being made in the field and the options available for young people on Long Island. Join the Young Professionals Committee of the Long Island Association as they host a panel of experts for an evening discussion on the future of energy. Ticket proceeds will go to Habitat for Humanity's Green Build program and Junior League of Long Island.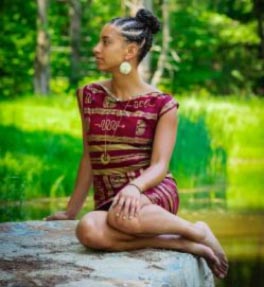 Nov. 29 "Farming While Black: African Diasporic Wisdom for Farming and Food Justice" at Mount Holyoke
Leah Penniman, a farmer, educator, author and food sovereignty activist, will present a lecture on food justice, "Farming While Black: African Diasporic Wisdom for Farming and Food Justice." She will speak about how anyone can be part of the movement for food sovereignty and help build a food system based on justice, dignity, and abundance for all members of our community. In 2011, Penniman co-founded Soul Fire Farm, with the mission to end racism in the food system and reclaim ancestral connections to land. Soul Fire Farm is part of a global network of farmers working to increase farmland stewardship by people of color, restore Afro-indigenous farming practices, and end food apartheid.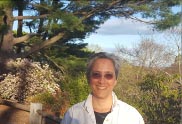 Dec. 3 Yale hosts: "Embodying Social Injustice: Why Past and Present Structural Racism Matters for Health and Justice Today"
Nancy Krieger, PhD, will discuss how health inequities in the US today reflect how people biologically embody structural injustice, both past and present. Challenging the dominant view that the only inheritance that matters for health is genetic, she will consider the ongoing health impacts of the socially inherited histories of Jim Crow and racialized economic segregation. Using ecosocial theory, which considers who and what drive societal patterns of disease distribution, Krieger will explore why thinking historically matters for challenging structural injustices and advancing health equity today.