A newsletter on campus events, research, and civic engagement
Bucknell Students and Faculty Protest in Support of Green New Deal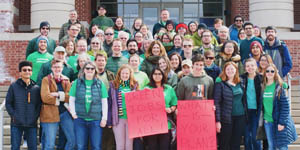 Bucknell students and faculty joined with community members demonstrating in support of the Green New Deal on Bucknell campus recently.
University Assistant Professor of Environmental Studies Andrew Stuhl was quoted: "This is a bold resolution addressing issues that, when taken in isolation, are typically considered intractable – global climate change, the fossil fuel economy, and historical and ongoing social injustice."
The event comes Amid a wave of recent student activism in support of the Green New Deal, pressuring politicians all across the country for their support. Read more at the Bucknellian
Florida State is aiming to run the nation's first all electric bus fleet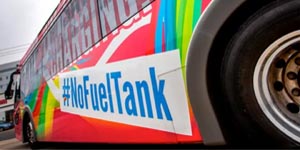 Florida State University put out what is called an ITN, an invitation to StarMetro and other private companies to provide buses on campus and told them they would appreciate and give preference to bus technologies that were not diesel.
"At the time, we thought electric was out of our price range," Director of Transportation Matthew Inman said "But StarMetro came to us and said they could put a plan together for electric that would be financially feasible."
Starting in the fall of 2019, students at Florida State will be able to utilize an entire new fleet of electric buses as they move about campus. Expected to ultimately save the university nearly 10 million dollars in maintenance, the buses represent an investment in a cleaner, quieter, and more sustainable campus. Read more at FSU News
Northwestern engages in ambitious plan to make campus more sustainable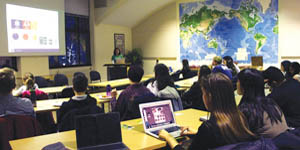 Students and administrators have been collaboratively engaging to increase sustainability efforts on the Northwestern Campus. Adopted in 2017, the five point strategic plan entails initiatives from increasing energy efficiency in campus buildings to targeting some single use plastics. Dive deeper at The Daily Northwestern
Georgetown proposes 240 acre solar farm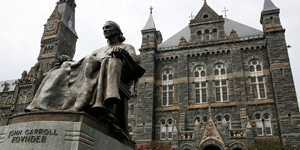 Georgetown University in Washington DC has taken an ambitious approach to increasing campus sustainability: proposing a 240 acre solar farm to help supply energy to their DC based campus. Reception to the project has been somewhat mixed, with some groups voicing concerns over the impact on area forests and waterways. The project has yet to be approved by the Maryland Department of Environment. Read more at Fox 5
University of California, Berkeley, commits to 100% clean energy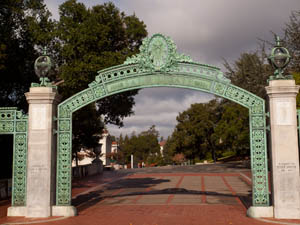 University of California Berkeley has made a commitment to sourcing all of their energy, from campus electricity to transportation, from renewable sources by 2050. In dialogue with student organizers, the commitment represents one of the most ambitious by a major university in the nation.
"As is the case with so many of our most important initiatives, this critical step would not have been possible absent strong, passionate student leadership," said UC Berkeley Chancellor Carol Christ. "That, together with our commitment to the greater good is what makes Berkeley, Berkeley." Read the full article at Environment America
Penn State Professor of Atmospheric Science Dr. Michael Mann presents call to action for students to push for action on Climate Change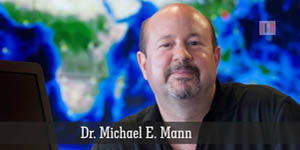 ".... the divestment campaign has spread across colege campuses. More than 6 trillion dollars in holdings have been pulled out by nearly a thousand institutions and more than 50,000 people. Students are making their voices heard.
And there are many other ways to make your voice heard: writing about the climate crisis, talking with your friends and family, supporting organizations focused on climate action. And then there is voting." Read more at The Knowledge Review
RCC Campus Coordinator Tours NC Schools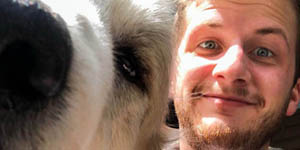 From February 18 - 22, RCC Campus Coordinator Mackay Pierce visited schools in the RCC campus network to conduct workshops, meet with professors, and recruit for the new RCC fellowship program. Check out his blog post about his adventure! The program, starting in the fall of next academic year, is a paid opportunity for students with a passion for environmental organizing. Visit the RCC website for more information.
In March, Mackay will be visiting schools in Virginia. Want him to visit your campus?
Contact him at: Mackay@rachelcarsoncouncil.org
And be sure to check out the new RCC report Clear Cut on the wood pellet industry in North Carolina. Read more here.
RCC President Bob Musil visits Hood College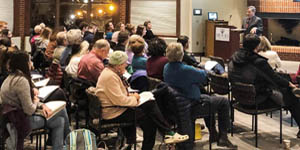 Rachel Carson Council President Dr. Bob Musil gave a lecture at Hood College in late February. The event was well attended and Musil's lecture covered Rachel Carson's legacy and what lessons we could carry to the environmental problems of today; as well as Carson's connection to her friend Grace Lippy, a former professor at Hood.
"We might never have heard of Rachel Carson, but for Grace Lippy and Hood College," RCC President Musil told his audience at Whitaker Center Commons.
Hood College became the 52nd college to join the Rachel Carson Campus Network.
Read more about the event here.
Workshop on Non-Violent Direct Action with Internationally-Known Trainer George Lakey

On March 18th, Guilford College will be holding a training on non-violent direct action in the Quaker tradition with an internationally- recognized trainer.

A wonderful opportunity to learn non-violent direct action from Quaker George Lakey in a participatory workshop. Get the full story and sign up at Guilford College
• • • • •
Applying Downscaled Climate Models to Inform Restoration and Climate Change Adaptation in California: Environmental Engineering Seminar

The University of California Berkeley researchers will be presenting their work on climate models for California and how they might inform adaptation strategies for the state. Click here for more information
• • • • •
Antioch Bird Club Hosts Spring Walk and Talk
First Signs of Spring: A Bird's Perspective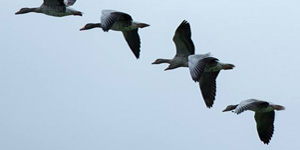 Join members of the Antioch bird club for a brief presentation and birding walk at the start of spring.

With just a few weekends left in winter, many birds have started getting ready for spring. Back by popular demand, join the Antioch Bird Club for an educational presentation about the spectacle of spring migration. Click here for more details