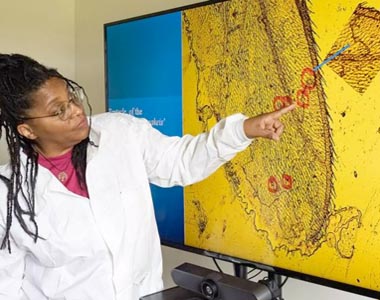 Colleges and universities continue to be the subject of politically motivated assaults on academic freedom, curricular content, and diversity, equity, and inclusion initiatives (DEI) that undergird and make possible critical campus work on environmental justice and health. Especially with ultra-conservative Governors already lined up to run for President, regardless of whether or not former President Trump actually does, college presidents, faculty, and student activists will need to speak out and be more engaged and vigilant than ever.

In this issue of the RCC Campus Dispatch, we highlight stories about the most egregious, high-level attacks on higher education, but there are far more in various state legislatures, even county and town governments.
In "The Tale of Three Governors," Josh Moody looks at Florida, Texas and Virginia's recent attacks on diversity, equity, and inclusion. In Florida, for example, Gov. Ron DeSantis has banned Advanced Placement (AP) African American Studies, claiming it "lacks educational value." Similarly, in Texas, Gov. Abbott has stated that using Diversity Equity and Inclusion practices in hiring is illegal. He is determined to eliminate the teaching of critical race theory, which in reality simply "…explores how race and racism intersect with U.S. law and systemic issues." Not to be outdone, in Virginia, Gov. Glenn Youngkin is also set on eliminating teaching related to Critical Race Theory and has scratched the word "equity" from the Virginia educational system.
Especially in environmental science and studies, equity needs very much to be named. It still remains on the far horizon, as a paper by Erika Marin-Spiota, a professor at the University of Wisconsin-Madison, along with her colleagues, has found in "Hostile Climates are Barriers to Diversifying the Geosciences":
"Black and African American, Hispanic and Latinx, and Asian graduate students are disproportionately underrepresented in the geosciences compared to other science fields Women make up 30% of the science, technology, engineering and mathematics (STEM) workforce; in the geoscience workforce, they make up only 24% and hold 20% of geoscience faculty positions (a gain from 14% in 2006). Women are predominantly represented in the most insecure and lowest salaried levels, making up a little over 40% of US geoscience non-tenure- track instructor and lecturer positions. Black, Hispanic, American Indian, Alaska Native, and Asian Pacific Islander women together represent only 5% and 7% of US bachelor's degrees and tenure-track faculty, respectively, in the earth, atmospheric and ocean sciences."
Nevertheless, despite disparities and direct attacks on higher education and its commitment to DEI, there are still hopeful signs nationwide. Check out, for example, news coverage of Morgan State University, a leading HBCU. Its Patuxent Environmental and Aquatic Research Lab, or PEARL, was granted $1 million to study microplastics in Chesapeake Bay for the next three years in order to train more Black environmental scientists. And at Duke, to create a more diverse pipeline, its Marine Lab in Beaufort, NC, is inviting middle school students on April 1 to learn about STEM, resources, and role models. Held annually, Growing Equity in Science & Technology, or GEST, is a collaborative, graduate student-led event that brings together scientists from different Eastern North Carolina institutions to showcase the diversity of practitioners and careers possible in STEM.
And, in a bold move that will hopefully create a nationwide trend, Hampshire College in Amherst, Massachusetts, has promised matching tuition for students who transfer from New College of Florida where students say Gov. Ron DeSantis' hostile remake of the school into a conservative Christian college has marred their liberal arts experience.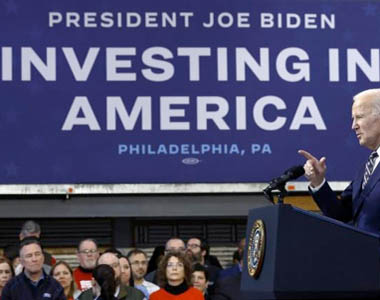 And, in important news for making college more accessible, equitable and diverse, President Joe Biden has announced in his budget request an increase of $820 for each Pell Grant and $90 billion of support over ten years for free community college. To help you follow and weigh in as concerned campus environmentalists on the often-confusing array of budget and appropriations in Washington, especially those related to climate justice, we are introducing a new section on policy and politics by RCC's new Director of Policy and Programs, Maya Cohn, who comes to us from Capitol Hill where she was a long-time environmental aide to Sen. Patrick Leahy (D-VT).
Our March issue also features our popular "Fellows Speak Out" section with essays by RCC Fellows across the country on critical issues and ideas for students. These include an impressive set of offerings on the latest developments for the campus fossil-fuel divestment movement, including a look at the economic impact of universities on their host cities (not all good…), the impressive work of RCC Fellow Daniel Garcia carried out at Indiana State University despite a hostile state government and a lack of any real student activism, and a paean to introverted environmentalists and Rachel Carson by RCC Presidential Fellow and author Joy Reeves.
This issue also marks a shift at the helm of our RCC Campus Program as Associate Director, Mackay Pierce, who helped initiate the RCC Fellows Program, graduates to become RCC's first Senior Fellow filing dispatches, reports, and discoveries as he hikes the Appalachian Trail from Georgia to Maine. Taking on our RCC Campus Program, including the RCC Fellowship, is environmental scientist Mackenzie Bodman, our new Associate Director for Civic and Campus Engagement. She has produced this issue of RCC Campus Dispatch along with RCC President & CEO, Dr. Robert K. Musil.
Of course, read on for more news, books, films, and how to apply for 2023-2024 RCC Fellowships whose deadline has been extended to April 30. And please send us environment, justice, and civic engagement news, information, or stories from your college or university.
— Bob Musil, President & CEO and Mackenzie Bodman, Associate Director, Civic and Campus Engagement.
SUNY Geneseo and NOAA Ocean Exploration Bring the Deep Sea to Undergrad Classroom
SUNY Geneseo's Assistant Professor Mackenzie Gerringer and thirteen biology undergraduates and alums partnered with the National Oceanic and Atmospheric Administration's (NOAA) Ocean Exploration program to study the deep seas in an online classroom. Their project, partially funded by the National Marine Sanctuaries Foundation, focused on how to use deep-sea biology data in the classroom and its educational benefits.
Human-wildlife Conflicts Rising Worldwide With Climate Change
Research on the impacts of climate change often considers its effects on people separately from impacts on ecosystems. But a new study is showing just how intertwined we are with our environment by linking our warming world to a global rise in conflicts between humans and wildlife.
The research, led by scientists at the University of Washington's Center for Ecosystem Sentinels and published Feb. 27 in Nature Climate Change, reveals that a warming world is increasing human-wildlife conflicts.
Texas Universities Eschew DEI Initiatives at Governor's Direction
The domino effect of Texas Gov. Greg Abbott's DEI ban is in full tilt.
In Texas, the anti-DEI dominos are falling, in a design constructed by Gov. Greg Abbott. In February memos to state agencies and public universities, Chief of Staff Gardner Pate announced the administration's intentions to ban the "innocuous-sounding notion of diversity, equity and inclusion" — on the grounds of reducing identity-based discrimination.
A Tale of 3 Governors
The Republican governors of Florida, Texas and Virginia are drastically reshaping higher education in their states—which some see as a precursor to the 2024 presidential race. Though the 2024 presidential election is still more than 600 days away, a couple of well-known Republicans have already entered the primary race. Others—including Florida governor Ron DeSantis—have indicated they will likely join the fray.
New College of Florida Students Have a Surprising New Transfer Opportunity. It's to a Private Institution Out of State.
Hampshire College has promised matching tuition for these students, who say Gov. Ron DeSantis has marred their liberal arts experience.
For months, New College of Florida students have watched Ron DeSantis, the state's Republican governor, start to remold their institution and the liberal arts experience they cherish.
Florida University Fires Professor After Racial Justice Lessons Prompted Parent Complaint
A Florida English professor whose lessons about racial justice put him at odds with his university's administrators has been fired, the professor said.
Sam Joeckel, a veteran professor at Palm Beach Atlantic University, said in a statement Thursday that the West Palm Beach school had "made the disappointing decision to terminate my contract early."
Duke to Host STEM Event
Area middle school students are invited to Duke University Marine Lab in Beaufort April 1 to learn more about science, technology, engineering and mathematics, or STEM, activities, resources and role models. Held annually, Growing Equity in Science & Technology, or GEST, is a collaborative, graduate student-led event that brings together scientists from different Eastern North Carolina institutions, showcasing the diversity of fields, practitioners and careers that are possible in STEM. Throughout the day, students will rotate through interactive activities led by local scientists, with each activity representing a different field.
Morgan State Looks to Solve a Diversity 'pipeline problem' in Environmental Sciences
For years, the study of environmental sciences has taken place in an overwhelmingly white world. While African Americans make up about 13% of the U.S. population, they receive fewer than 3% of environmental science degrees annually, according to a 2020 Data USA study. Now, officials at Morgan State University, a historically Black institution, are trying to change that. The university was granted $1 million to study microplastics in Chesapeake Bay for the next three years which is an opportunity to train more Black environmental scientists.
Biden's Budget Calls for $820 Pell Increase
The administration also wants $90 billion over 10 years to make two years of community college free.
President Biden is seeking a third increase to the annual Pell Grant, of $820, as part of his budget request to Congress, which was unveiled Thursday. Department officials said the budget proposal, which is for fiscal year 2024 beginning Oct. 1, would help build a higher education system that grows the middle class, drives the economy forward and prepares students for highly skilled jobs.
Show Me Your Budget
One of President Joe Biden's favorite lines is "Don't tell me what you value, show me your budget, and I'll tell you what you value." In announcing his federal budget plan on March 9, President Biden was clearly setting down his priorities, hopes, and even campaign material. But presidential budgets are mostly aspirational, the stuff of the bully pulpit. Same for the Congressional budget process which in effect, sets guidelines, but does not decide final, real dollar amounts.
Conversation and Collaboration: Student Voices are Helping Shape Duke's Climate Commitment
On September 29th of last year, Duke University announced its Climate Commitment. In a 90-minute announcement, administrators, alumni, faculty, and graduate students discussed the importance of Duke to be truly committed to the future of the climate and Earth. Sitting in the audience in our large auditorium, surrounded by those I had previously worked with on environmental and sustainability projects, I grew excited to learn that Duke, the institution that had been my home for the previous three years, would be making a difference for the planet.
Where Will Your Campus Endowment Go in the Future?
Divestment is a hot topic in today's social, political, and economic climate. Among RCC Fellows, and many environmental activists across college campuses, divestment is best known as a strategy to denounce and delegitimize the fossil fuel industry (among others) through dissolution of fossil fuel assets in an institution's endowment. But an important component of divestment — and less frequently mentioned — is the process of reinvestment.
Tulane Needs a Sustainability and Divestment Committee
A Speech to the Tulane Undergraduate Assembly by Sahil Inaganti
Louisiana and Tulane are on the frontlines of climate change and environmental injustice.
Scientists agree that climate change is increasing the frequency and intensity of severe weather and our lived experience validates that. Since I have been at Tulane, there have been eight hurricanes that have either canceled or affected classes. Notably, Hurricane Ida which canceled in -person classes for an entire month.
A Campus Without Activists?
"What's the activist culture like on your campus?" A question that knocked me off my feet. I racked my mind for an answer and came up empty-handed. I could think of a couple of one-time events, fads of their time, but no true culture that thrives, or even survives, on my campus. That's an interesting position for Indiana State to be in, considering the astounding amount of social and political upheaval that has characterized the country recently. And that's not to say attempts haven't been made; outside of campus, there is a youth climate activism organization called "earTHlings" which has historically engaged in weekly Fridays for Future demonstrations.
Is Divestment Enough? What About the Impact of a University on its Host City?
Student activists at universities have led the charge in the fossil fuel divestment movement. Divestment from high-profile institutions like Harvard and Columbia has grabbed headlines, and such divestment decisions are considered sign-posts of progress in the fight against fossil fuels as a means to combat the climate crisis. While divestment has received much attention, it is only part of the whole picture for climate justice movements as they relate to universities. It is important to consider universities' relationships to their host cities and spaces, which extend far beyond one financial decision.
Can a Rachel Carson Introvert Succeed in the Climate Movement?
As much as I love climate advocacy, there have been several moments throughout my young adulthood when I have genuinely asked myself, did I pick the wrong career?
The question would pop up in unexpected places, such as protests, when I realized the only thing I dread more than climate change is being handed a megaphone to talk about climate change in front of a large crowd. It haunted me at conferences, when I hovered nervously by the food table or slipped off to an unoccupied hallway, desperate to recharge.
Rachel Carson Country
The ocean is a place of paradoxes. It is the home of the hundred-foot blue whale, the largest animal that ever lived. It is also the home of living things so small that your two hands might scoop up as many of them as there are stars in the Milky Way.
— Rachel Carson, "Undersea."
For as long as my family has lived in Virginia, I have, as often as I can, committed to the windows-down, progressively flatter drive from Richmond to the sloping coasts of "Rachel Carson country."
Why I'm Talking Up 'In the Shadow of the Ivory Tower'
By Joshua Kim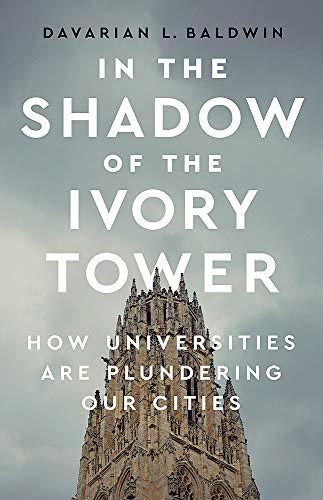 The conversation about a book that I want to have with colleagues at urban universities.

The book I've been talking up to my higher ed network lately is Davarian L. Baldwin's In the Shadow of the Ivory Tower. Baldwin, an American studies professor at Trinity College, has written a devastating critique of the urban university.

Contrary to the conventional wisdom that universities are universally local net positives, Baldwin builds a case that institutions of higher learning all too often damage as much as improve the communities in which they are embedded.

Baldwin's argument on the problematic relationship between residents and urban universities is grounded in several case studies. The book contains in-depth chapters on Trinity (Hartford, Conn.), Yale (New Haven, Conn.), U of Chicago (Chicago's South Side), NYU and Columbia (NYC), and ASU (downtown Phoenix campus). Students of higher education will learn much about the institutional history, growth and challenges of these universities in all of these chapters.
Among the urban town-gown themes that Baldwin explores, three stand out. The first is the history of the urban universities profiled to attempt to wall themselves off from the low-income and largely nonwhite populations of the urban cores in which they reside (or have expanded into).
While acknowledging that the recent trend among university leaders has been to embrace urban community-campus connections, Baldwin concludes that rhetoric and actions seldom line up. In his estimation, wealthy city schools continue to construct physical and cultural barriers between themselves and the communities in which they are situated.

Horseshoe Crab Moon
Produced & Directed by Mitchell Smith
48 minutes | SDH captions | Scene Selection
"A tremendous resource that provides insight into one of the great wildlife wonders of the world..."
—David Mizrahi, PhD, Vice-president for Research and Monitoring, New Jersey Audubon Society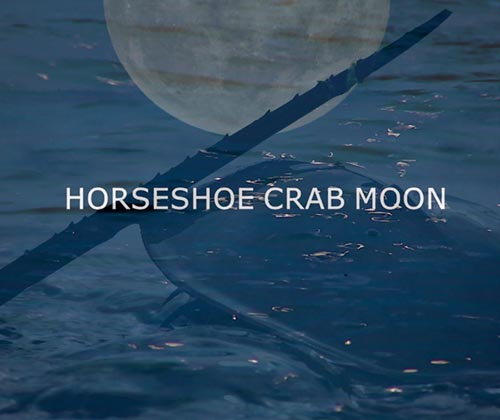 Horseshoe Crab Moon follows biologists Larry Niles and Amanda Dey and their team of dedicated researchers and volunteers as they study the decline of the Horseshoe Crab along the Delaware Bay area and its relationship to the precipitous population crash of the Red Knot, a globe-trotting sandpiper whose numbers have dropped nearly 80% in the last 20 years.

Through a combination of meticulous cataloging of crab egg numbers and the physical health of various shorebirds of interest (including Red Knots, Turnstones and Sanderlings) and careful monitoring of migratory flight paths using geolocators, these scientists are crafting a body of scientific data that can be used to influence state and federal policies related to the conservation of coastal wetlands and bays from crab overharvesting and commercial development.
Horseshoe Crab Moon is an inspiring story of the scientist and field biologist's successful efforts to connect an ancient ecosystem with the interconnected relationship of the moon, tides, Horseshoe crabs and sandpipers.

RCC FELLOWSHIPS OPEN FOR 2023-2024
About the RCC Fellowship Program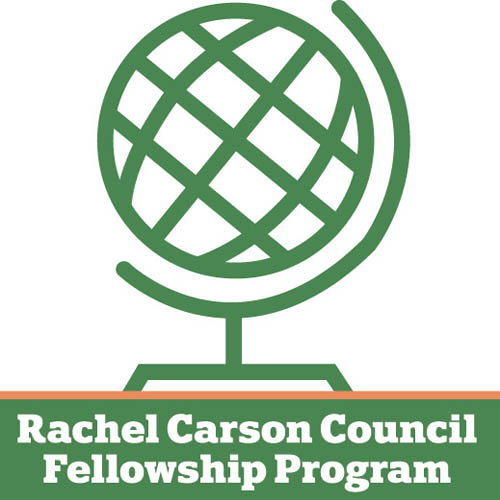 The RCC Fellowship Program is designed to identify outstanding students with a passion for environmental education, organizing, and advocacy and provide them with financial support to carry out valuable projects and campaigns on behalf of the RCC. To apply to the program, students propose their own projects that are focused on sustainability and environmental justice to be carried out on their campuses and in their communities. Individuals considering applying to the program may consider a wide variety of potential projects. Former fellows have run projects ranging from divestment campaigns to podcasts on environmental justice issues and campaigns for renewable energy infrastructure on their campuses.
Special consideration will be given to fellows applying in areas where the Rachel Carson Council has ongoing campaigns or work. These include, but are not limited to: divestment, renewable energy, particularly solar energy, and environmental justice. More information about RCC's work can be found on our website.
RCC Fellows become nationally recognized environmental youth leaders. If accepted into the program, Fellows will become active members of the RCC national campus program with thousands of active faculty, students, staff and administrators at 64 campuses. They will also benefit from the mentorship of longtime national climate and environmental advocate, expert, and author Dr. Robert K. Musil, and RCC senior staff.

Plan Your 2023 Campus Events with RCC now!
RCC prides itself on its National Campus Network of 64 colleges and universities. We are working to engage faculty members, students, and administrators in our efforts for a more just and sustainable world. With our growing fellowship program, our presence on campuses across the country has never been greater. Contact RCC today to bring our staff to your campus for lectures, workshops, or meetings to help find the best ways to engage your faculty and students in the efforts against climate change, environmental justice, and the work of the Rachel Carson Council.
Campus Visits with RCC President, Dr. Robert K. Musil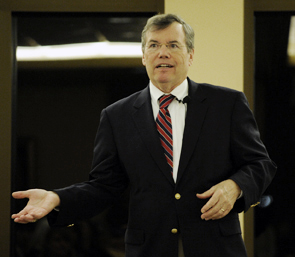 RCC President & CEO, Dr. Robert K. Musil, a national leader in climate change, environmental justice and health is again available to book for in-person campus speaking events! Musil has been called "informative, challenging and inspirational all at once." He is "motivational" with "intellectual depth" and "extraordinary impact."

Dr. Musil is available for campus lectures and visits involving classes, meetings with campus and community groups, consultations with faculty and administrators, or for Earth Day, Commencement, and other special events. Stays range from one to three days. Reduced fees are in place for 2023-2024 and can be designed to meet reduced budgets.
To arrange a campus visit with Dr. Musil, contact the RCC President's Office at office@rachelcarsoncouncil.org or call 301-214-2400.
The RCC also offers talks, classes, and workshops on student engagement, activism, sustainability, and the RCC Fellowship program with, Associate Director of Civic and Campus Engagement, Mackenzie Bodman, Associate Director of Climate Justice, Bella Jaramillo, Associate Director of Communications, Claudia Steiner, Director of Policy and Programs, Maya Cohn.
To arrange, contact Associate Director of Civic and Campus Engagement, Mackenzie Bodman.

The Rachel Carson Council Depends on Tax-deductible Gifts From Concerned Individuals Like You. Please Help If You can.

Sign Up Here to Receive the RCC E-News and Other RCC Newsletters, Information and Alerts.