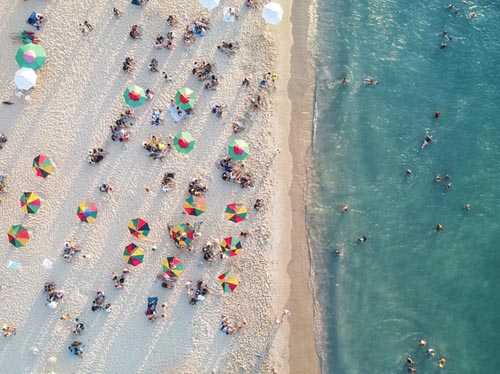 As someone who grew up a short drive from the beach in Miami, July is synonymous with sandy car seats, thick layers of sun block, and fresh mango in the cooler. As the summer sun beams brightly and temperatures begin to soar, the urge to be near the coast is impossible to ignore. This summer, millions of people will flock to the beach and marvel at the rolling waves and burnt orange sunsets. In these moments, the ocean seems infinite; but, we must not take it for granted. Just a few weeks ago, the United Nations Secretary General António Guterres declared an ocean emergency at the UN Oceans Conference in Lisbon, Portugal. So, if you head to the shore, remember to keep the beach clean, respect wildlife, and share with others how much the ocean means to you.
More people at the beach means more human interaction with marine wildlife. Sharks, and other wildlife, may be closer than you think. But fear not! As we head into Shark Week this month, remember that the biggest predators in the ocean are humans. You can dive into some "fin-tastic" shark content in the arts and culture section. It's also turtle nesting season. If you have the privilege of watching hatchlings head to the sea, remember to keep your distance, stay quiet, and avoid bright lights and flash photography.
Finally, temperatures are not the only things bringing the heat this summer. Energy is a hot topic, with environmentalists upset at the Biden Administration's reversal on campaign promises against off-shore. Public comment periods have now opened for Department of Interior's 5-year program for new offshore oil and gas leases which the Rachel Carson Council opposes. You can help turn the tide away from drilling and toward sustainable energy sources. In our Ocean Action section, you can write directly to the head of the leasing program, Kelly Hammerle, at DOI, and then send public comments through the official link we provide.
Rachel Carson had a special love for Atlantic Coast beaches from Maine to Florida. But she had a special attachment to those in North Carolina. It's part of the reason the RCC has a Coasts and Ocean Program and also advocates to protect them and the people near them from climate change, sea-level rise, wood pellet production, factory farms, gas pipelines, and more. RCC Presidential Stanback Fellow Stephanie Murphy, who specializes in environmental policy, offers her personal reflections on her recent North Carolina trip to advocate for the RCC at the capital in Raleigh.
The Ache of Loving a Landscape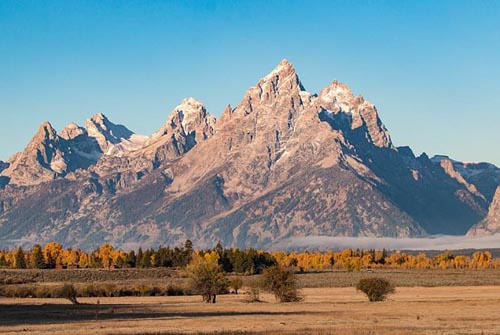 On the path from Washington, D.C., I-85 carries me south from Richmond down towards Raleigh. Tall, vibrant trees line just about the entire stretch of highway. They grow so far into the sky I have no landmarks to ground myself, an unusual feeling for a Rocky Mountain Northerner accustomed to jagged mountains that roar out of the ground, guiding me home. A different landscape, yet a familiar feeling. I grew up in the Tetons, a haven for outdoorsmen and environmentalists alike. Wyoming boasts some of the U.S.'s most coveted natural wonders in Grand Teton and Yellowstone National Parks, the Wind River Range, and Devils Tower to name a few. Yet despite its beauty and potential for clean energy leadership, the state's primary political powers work hard to slow the green transition, driving many young people like myself away from our home state. To be an environmentalist in North Carolina or Wyoming is to know the ache of loving a landscape that suffers in the hands of extractive, polluting interests.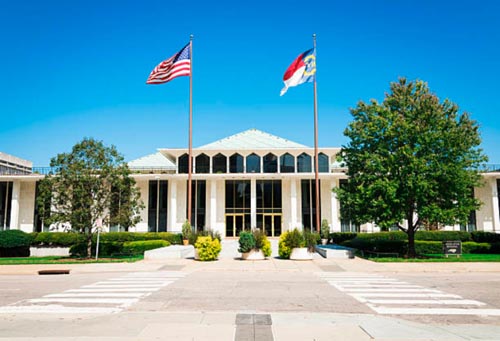 In late June, I had the privilege of visiting the North Carolina State Legislature in Raleigh. I spent two days navigating the maze of the Capitol halls. Four state legislators were kind enough to meet with me and discuss an array of environmental issues: the new wind energy leases off the Carolina Coast; regulating pollution from factory hog farming operations; and challenges to reducing plastic waste in the state. I'm no sports fan, but it's clear that environmentalists in North Carolina, like Wyoming, are stuck playing defense. Democratic legislators emphasized that without environmental leaders in the majority (both the North Carolina House and Senate are Republican; the Governorship is currently Democratic), environmental action is largely limited to curbing harmful policies where possible. Oftentimes, it isn't possible. Progressive goals, with the exception of the clean energy bill, remain on the backburner unless North Carolina voters turn the political tides this fall. Voting is always a critical right to exercise, but if for no other reason this fall, make your voice heard for the wonder of the landscape you love.
______________________________________________
Stephanie Murphy, RCC Stanback Presidential Fellow
Stephanie Murphy is co-lead of the RCC Coasts and Ocean program. She is a Master of Environmental Management candidate at Duke University where she specializes in environmental economics and policy.
Washington Launches Program to Cut Underwater Noise in Puget Sound
Quiet Sound plans to work with the Northwest shipping industry to make it easier for marine creatures to navigate, find food and communicate. In many places around the world, the start of the coronavirus pandemic dampened the usual cacophony of human noise in marine waters. From cargo ships and ferries to cruise ships and recreational boats, vessel traffic dropped. The ocean became quieter, and marine life responded, their clicks, whistles, and calls suddenly traveling farther.
A NASA Scientist and a Programmer Have Made Music From Ocean Readings
A NASA scientist and his programmer brother have created an online program that combines ocean colour and sediment data with musical notes. The music is created by mathematically translating layers of "ocean colour" data, and every note is created using real data collected over the space of a year — the same data is used by NASA's Goddard Space Flight Center scientists every day. The "oceonographic symphonic experience" was created to highlight the interconnectivity and ambient nature of the ocean through the use of sound, in order for people to measure and hear for themselves.
Deep-sea Mining Creates a 'cylinder of sound' Risking Impacts on Marine Life
Noise pollution from proposed deep-sea mining could radiate through the ocean for hundreds of kilometers, scientists predict, creating a "cylinder of sound" from the surface to the sea bed. An analysis by scientists from Oceans Initiative in the U.S., the National Institute of Advanced Industrial Science and Technology (AIST) in Japan, Curtin University in Australia and the University of Hawaii, published in the journal Science, has found that noise from one mine alone could travel 500 km (more than 300 miles) in gentle weather conditions.
What Does a Melting Glacier Sound Like? More Data for Climate Scientists
The study of global warming through sound has boomed in recent years thanks to the availability of cheap, high-quality devices. The sound of melting glaciers is disturbingly similar to the psychedelic tunes that made Jim Morrison's The Doors one of the greatest rock and roll bands of all times. That was my first thought as I listened to recordings of the Kongsvegen glacier in Svalbard by Ugo Nanni, a researcher from the University of Oslo who records glacier sounds using a seismometer. He post-processes the frequencies to make the sounds audible.
More Than 1 Million Gallons of Oil – So Far – Collected From Longest-running Spill in U.S. History
Taylor Energy platform continues to leak oil in the Gulf after 18 years. More than 1 million gallons of crude oil have been collected from the longest-running oil spill in U.S. history, located off Louisiana's coast at a Taylor Energy platform that collapsed during Hurricane Ivan way back in 2004, the U.S. Coast Guard announced Tuesday. The amount of oil collected so far is eye-popping. The damaged wells at the platform around 20 miles from the mouth of the Mississippi River are still leaking.
Biden Caught Between Climate Goals and High Gas Prices as Administration Releases New Drilling Plan
The Biden administration released a proposed plan on Friday for where the federal government intends to hold offshore oil and gas lease sales in federal waters for the next five years. The plan would mainly limit drilling to the Gulf of Mexico, with one proposed lease sale in waters off Alaska. The Interior Department's five-year offshore leasing plan is required by law. But it comes at a time when the Biden administration is caught between conflicting goals: its own commitments to slash planet-warming emissions from fossil fuels, and political pressure over high gas prices.
2 Companies Win Auction For North Carolina Offshore Wind Leases
Two companies have won leases for offshore wind farms off North Carolina with bids totaling $315 million.
Duke Energy Renewables Wind, a subsidiary of Charlotte-based Duke Energy, bid $155 million for one lease. TotalEnergies Renewables, a subsidiary of a French energy developer, won the other, with a $160 million bid.
The side-by-side leases are 55,000 acres each in the Carolina Long Bay wind area. The site is 17 nautical miles south of Bald Head Island.
Ocean Advocates Seek More Time to Review, Comment on Offshore Wind Impact Study
Calling a 45-day deadline to review and comment on a 1,400-page draft environmental impact statement for New Jersey's first offshore wind project "unreasonable and unjust," Clean Ocean Action is asking the federal government for an additional 60 days to do so. It's also urging other organizations and private residents to do the same. Ocean Wind 1 is a joint venture between Ørsted and Public Service Enterprise Group.
Fresh From the Deep Video Series Provides Inside Look at Newest Ocean Explorations
MBARI's mission is to advance science and technology to understand the changing ocean. Exploration is critical to that objective. We use a suite of robotic devices to survey ocean ecosystems, but our remotely operated vehicles (ROVs) are one of the most important tools in our kit. The high-resolution cameras on our ROVs give us a closer look at life in the ocean's inky depths. MBARI has been exploring the deep waters off the coast of Central California for more than three decades.
Forget the 'Jaws' Effect: Sharks Are Heroes in Climate Change Battle to Save the Oceans
When the UN declared an "ocean emergency" this week, few would have expected experts to suggest that the fate of the world rested with one of its greatest predators ― sharks.
But far from being the monster in the movies, the king of the sea can play a saviour role and could now hold one key to combatting climate change.
Earlier this month, the Department of the Interior's Bureau of Ocean Energy Management (BOEM) released a five-year proposal for the 2023-2028 National Outer Continental Shelf Oil and Gas Leasing Program. The plan includes up to 11 potential lease sales, with ten sites in the Gulf of Mexico and one in Alaska's Cook Inlet. The proposal has drawn criticism and disappointment from both environmentalists and the oil industry alike.
Offshore oil drilling harms the health of our oceans and coastal communities through toxic emissions and oil spills. During the DeepWater Horizon spill, nearly 134 million gallons spilled into the Gulf of Mexico in the span of three months killing hundreds of thousands of marine species and hurting coastal communities' health and livelihood. Offshore oil drilling also releases high concentrations of methane, a greenhouse gas 25 times more potent than carbon dioxide. The impact of methane emissions from offshore drilling platforms in the Gulf of Mexico are equivalent to driving an average car about 31 billion miles.
The good news, though, is that the current proposal does not rule out zero lease sales. We are calling for the Biden administration to uphold its campaign promise of ending drilling on federal lands, including offshore.
The public comment period for the proposal is open until October 6th. RCC drafted a public comment letter which you can find here! You can submit our template letter or comments of your own at https://www.regulations.gov/commenton/BOEM_FRDOC_0001-0592.
In addition to our letter, we circulated a social media toolkit, in both English and Spanish, for other organizations to promote and share with their members.
BOEM is hosting four virtual public hearings in August.
Then to make absolutely sure your voice is heard loud and clear, write directly to Bureau of Ocean and Environment Management (BOEM) head Kelly Hammerle. Just hit the take action button to make your voice heard!

Dive into Art and Culture
Our colleague, RCC Presidential Fellow, Maggie Dees, who follows birds and their ecology for the RCC Bird Watch and Wonder Program offers her review of Wastelands, a new book by noted bird writer Scott Weidensaul that looks at the effects of North Carolina's hog CAFOs or factory farms on birds, people, and the pollution of coastal waters.
Can the Little Guy Ever Win?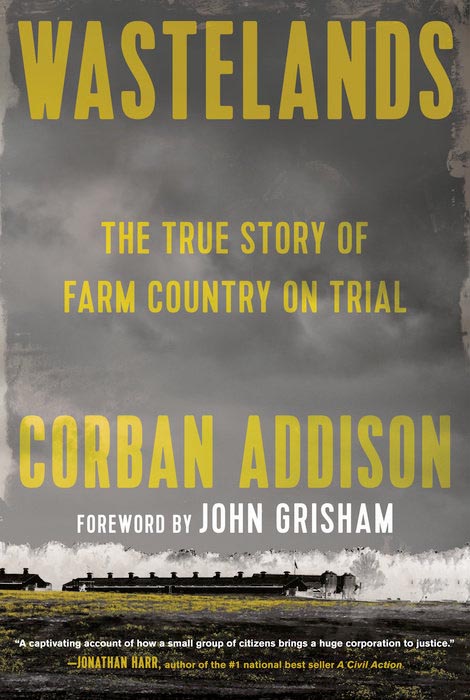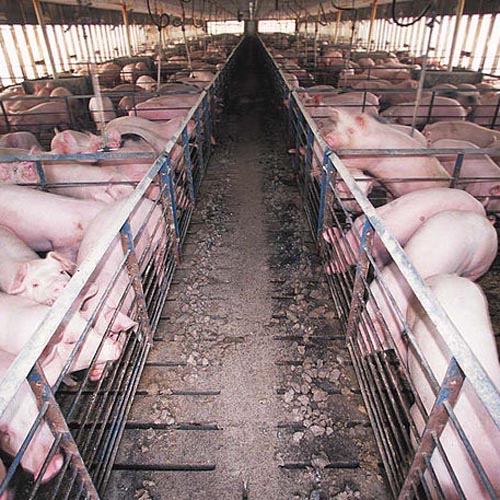 Wastelands: The True Story of Farm Country on Trial (Penguin Random House, June 2022) by Corban Addison turns the detailed legal journey of 500 eastern North Carolinians who filed nuisance lawsuits against numerous factory farms, or Concentrated Animal Feeding Operations (CAFOs), into an exposé of the injustices of hog farming in North Carolina. The suit takes on Smithfield Food, the corporation with which each farm suffering the "nuisance" of stench, polluted water, air, and soil is under contract. Mona Wallace, an energetic, fast-talking and successful attorney with Wallace and Graham agrees to take on the Goliath that is Smithfield because she understands the importance of "compensating the plaintiffs for past injuries and fixing the industry for the benefit of future generations."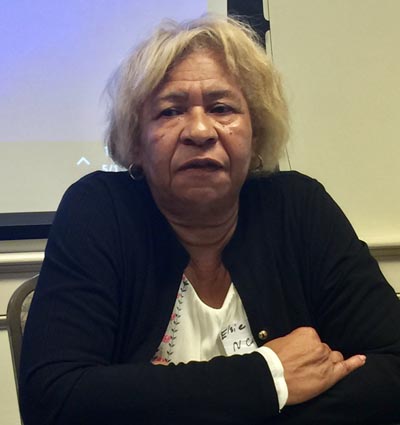 Addison is careful to show how these cases were more than just the nuisance lawsuits they appeared to be on paper. Legal action is the final result of the perseverance of North Carolinians throughout decades of being ignored by those meant to represent them; it is the culmination of a persistent, dogged struggle by numerous people to improve their quality of life.

The personal stories of those affected and the opposition they faced lift this legal saga into a compelling narrative worthy of John Grisham whose Introduction graces the book. Central to the tale is Elsie Herring, whose land was inherited from her formerly enslaved grandfather. Herring moved back to Duplin County to take care of her elderly mother and a brother with Down syndrome. Instead of returning to the home she grew up in and loved, she found her home disrupted by a CAFO. She immediately began her decades long battle to restore peace in her own and her neighbors' homes. Elsie Herring wanted a home where her mom and brother could live comfortably and happily, but that was no longer the case. Like others in Wastelands, Herring had been ignored by her own representatives for years. The only one that tried to help was ousted from office by Smithfield. That's when Mona Wallace and her team took on Herring's case and hundreds of others.
Wastelands does not shy away from the corrupt nature of the near-monopoly Smithfield (now owned by the massive Chinese company, WH Group), has on pork and the harm it perpetuates for every citizen in hog country. The book breaks down the history of Smithfield and the men who started it. But Addison also digs deeply into the contaminated soil of systemic and well-funded legislative advantage that Smithfield and the hog farmers have enjoyed in the halls of the state capital in Raleigh.
This excellent exposé of the influence of CAFO owners in the legislature, juxtaposed to the real world of the plaintiffs, allows Addison to get to the the heart of this story, environmental justice. Addison lays bare the damaging implications of CAFOs that most often dominate the landscape of minority communities. A majority of the plaintiffs are Black community members who have occupied their land since their ancestors were allowed to own land. Addison underscores that the plaintiffs lack political voice. And he is perfectly willing to call out those elected government officials who oppose the nuisance claims and were therefore "fomenting an internecine war against minority rights." These officials chose to be ignorant, Addison says, to the detriment of their minority constituents simply so they could continue to benefit from the hog industry.
"This land is not the province of the white farmers alone… Yet white claims to the soil have always been prioritized over Black claims. The law has never truly admitted the equality of those who are equal in the eyes of God. This must change."
At the conclusion of the final trial, Addison triumphantly portrays the myriad of emotions the plaintiffs experience upon their victory in winning one of the largest punitive verdicts in state history -- $473.5 million. The joy, relief, hope, and promise reach beyond monetary compensation into the beating heart of vindication -- their voices are finally being heard after decades of dismissal. After months of being berated and threatened by their farming neighbors and pro-hog politicians, their complaints were finally justified and revealed to the world as real and unjust. While the defense lawyers continue to fight tooth and nail in appellate court, Smithfield has evidently lost enough money and taken enough hits in the court of public opinion to start making changes in its hog farming operations. Addison feels sure that this is the beginning of real change in the pork industry, especially in North Carolina, and a better life for those who live there.
"Lives will be changed because of this. Futures will be rewritten."
• • • • • • • • • • • • • • • • • • • •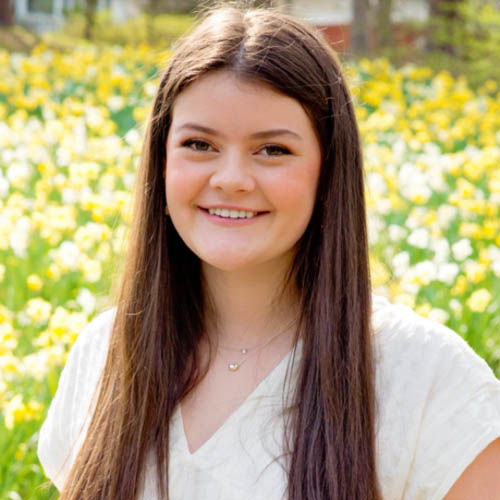 RCC Stanback Presidential Fellow – Maggie Dees

Maggie Dees co-leads the RCC Bird Watch and Wonder program and works with RCC President Bob Musil on special projects. Dees is a sophomore in the honors program at Virginia Tech University majoring in environmental science. She is from Salisbury, North Carolina, and is passionate about environmental justice and conservation.
Checkout this review of Atlas of Disappearing Places, an integration of stories and compelling facts about changes to our global ocean and coasts in the face of climate change.
The Atlas of Disappearing Places
Our Coasts and Oceans in the Climate Crisis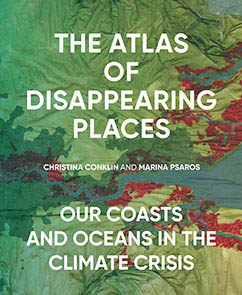 A beautiful and engaging guide to global warming's impacts around the world.

"The direction in which our planet is headed isn't a good one, and most of us don't know how to change it. The bad news is that we will experience great loss. The good news is that we already have what we need to build a better future." —from the introduction

Our planet is in peril. Seas are rising, oceans are acidifying, ice is melting, coasts are flooding, species are dying, and communities are faltering. Despite these dire circumstances, most of us don't have a clear sense of how the interconnected crises in our ocean are affecting the climate system, food webs, coastal cities, and biodiversity, and which solutions can help us co-create a better future.

Through a rich combination of place-based storytelling, clear explanations of climate science and policy, and beautifully rendered maps that use a unique ink-on-dried-seaweed technique, The Atlas of Disappearing Places depicts twenty locations across the globe, from Shanghai and Antarctica to Houston and the Cook Islands. The authors describe four climate change impacts—changing chemistry, warming waters, strengthening storms, and rising seas—using the metaphor of the ocean as a body to draw parallels between natural systems and human systems.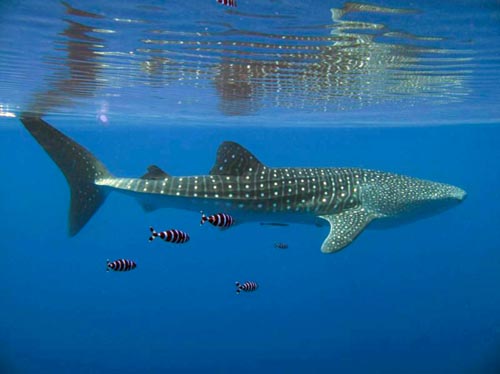 Shark Week is around the corner! We love a good spotlight on sharks, but just remember that the media has often demonized this keystone species. At the top of the marine food web, sharks are critical to keeping ocean ecosystems in balance. Yet in just a few decades, overfishing and other human activity has caused the shark population to decline nearly 70%. We are the bigger predators and the ocean is sharks' home. Check out these resources to learn more about this remarkable and threatened marine animal that has existed since before dinosaurs roamed on land.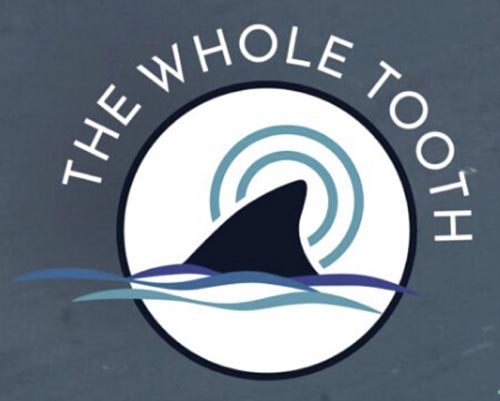 Save our Seas Foundation: The Whole Tooth Podcast

Hosted by Dr Isla Hodgson, every episode takes a deep dive into a question sent in by a listener with the help of shark scientists and conservationists from all over the world. How do sharks take naps? Why do sharks glow in the dark? Can great whites REALLY smell blood from miles away? How do I become a marine scientist? No question is too big or small – we'll answer whatever you want to know! Read more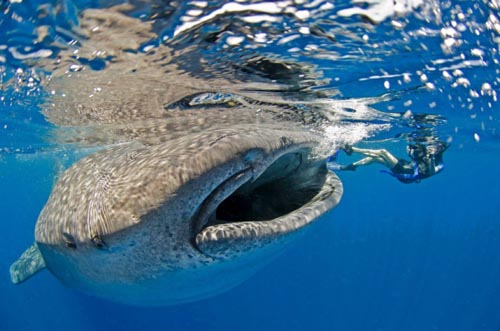 Click! Photographers Capture Stunning Photos of Sharks around the World

Have you ever seen a shark up close? This gallery of photos will allow you to experience and understand these fascinating creatures without ever stepping foot in the water.
Read more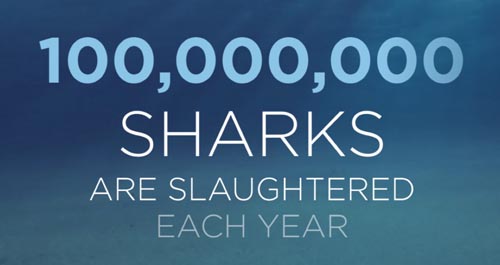 Fueled by his fascination, fear and love of sharks, award-winning filmmaker Eli Roth, in his first documentary, travels the globe exposing the horrors and environmental devastation of the shark fin trade. Read more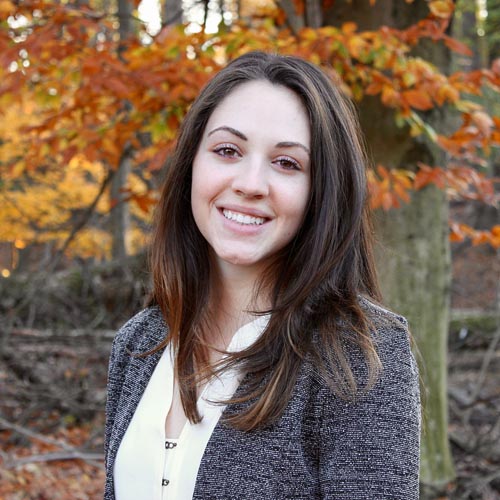 Stephanie Murphy, RCC Stanback Presidential Fellow

Stephanie Murphy is co-lead of the RCC Coasts and Ocean program. She is a Master of Environmental Management candidate at Duke University where she specializes in environmental economics and policy.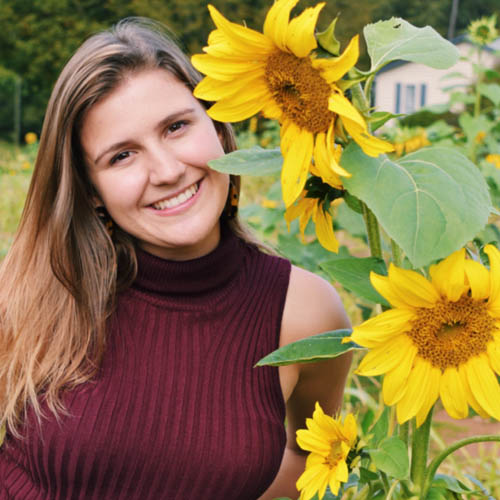 Kaylee Rodriguez, RCC Stanback Presidential Fellow

Kaylee Rodriguez is co-lead of the RCC Coasts and Ocean program. She is a senior at Duke University pursuing a major in Public Policy, a minor in Environmental Science and Policy, and a certificate in Policy, Journalism, and Media Studies.

The Rachel Carson Council Depends on Tax-deductible Gifts From Concerned Individuals Like You. Please Help If You can.

Sign Up Here to Receive the RCC E-News and Other RCC Newsletters, Information and Alerts.